Over the past year, managers of shoe companies have had to take an exam on management skills, the ability to analyze information and make decisions. After analyzing the market, the purchasing specialists of the Monarch group of companies decided to enter into an exclusive distribution contract with the American brands Naturalizer, Santana and Steve Madden. The motivation for choosing these particular brands is their technological design, comfort and an attractive price.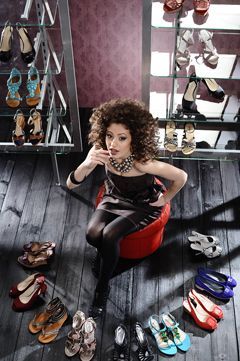 According to Elena Petrova, Marketing Director of Monarch, brands in Russia have huge potential: "Shoes made in the USA and Canada are more suitable for domestic consumers than European ones. Adapted to climatic conditions similar to Russian ones, it is more comfortable to wear and more attractive in price. " The company has entered into an exclusive contract with brands not represented in Russia and Ukraine, which have a clear positioning and are suitable in terms of stylistic and technological characteristics for our target audience.
Naturalizer is a mid-range shoe with very comfortable lasts and a feminine design - already sold in 500 stores in the US, Canada, Asia, Japan, Korea and Malaysia. A unique feature of the brand, which is reflected in the name itself, is environmental friendliness, which applies to materials, production technologies, and even disposal after wearing. All natural materials are easy to recycle and do not harm the environment. Natural materials are used for production: genuine leather, including snake, crocodile and lizard leather, suede, organic cotton, silk, velvet, astrakhan fur, tweed. The environmental interest is that fixtures and fittings are made from metals that do not oxidize and are made without the use of chromium and nickel. The company uses biolatex foam insoles that are easier to recycle.
"The Naturalizer brand caught our attention for several reasons. Firstly, its target audience completely coincides with ours. The core of our audience is women between the ages of 35 and 55, who are comfort-oriented, value service and make unemotional, measured purchases. Secondly, one of the advantages of the brand is a wide range of sizes, including "half sizes" and different completeness, which are very relevant for our country, which, however, are not offered by many manufacturers, "explains Elena Petrova.
The first Naturalizer footwear collection will appear in the MONARCH Shoes stores in August 2010. And in 2011 it is planned to develop mono-brand stores of the brand in Russia and Ukraine. The company will also develop a wholesale business.
The Canadian brand Santana interested the Monarch company with the uniqueness of the winter collection. High-tech boots with membrane lining and water-repellent impregnation will allow the network to expand the range of warm shoes. "We plan to promote Santana footwear through our own network and wholesalers," Elena Petrova shared her plans. "Russians will be able to buy their first boots of this brand next fall".
Steve Madden is a completely different brand from Naturalizer and Santana. It is designed primarily for a youth audience, which is attracted by the original style and affordable prices. The brainchild of American designer Steve Madden, the brand is in great demand among those who know fashion and seek to highlight their individuality with bright, stylish shoes and accessories. A characteristic feature of the brand is the frequent change of collections, which are updated every 2-3 weeks. Among the fans of the brand are many Hollywood stars, actors and pop performers of the first magnitude, including Madonna.
The Monarch company has extensive plans to promote Steve Madden in the Russian market. In September 2010, it is planned to open the first mono-brand Steve Madden stores in Moscow, St. Petersburg and Kiev, and then in other cities of Russia and Ukraine.
Справка о компании
The history of the Monarch group of companies began in 1990 with the opening of offices in Toronto (Canada) and Bratislava (Slovakia). In 1993, an office was opened in Ukraine. In 1999, a production service was established in Russia. The assortment of the chain of stores consists of 5 own brands: MONARCH, Elit by MONARCH, Wildcat, Kaiser, Good Shoos. The partners of the group of companies are world famous European and American brands such as Rieker, Via Uno, Northland and many others.
After analyzing the market, the purchasing specialists of the Monarch group of companies decided to conclude an exclusive distribution contract with the American brands Naturalizer, Santana and ...