Russian women have always genetically gravitated towards European clothing and shoes. And no matter how hard they try, no matter how much domestic designers sweat, they still fail to divert the attention of our women from Europe. French clothes and Italian shoes have always been a source of pride, and if they are also brought directly from these wonderful countries - a reason for your friends to cry.
Therefore, a business based on cooperation with Italians or French, especially if it is a clothing or footwear business, must certainly be successful. With the right management, of course. Moreover, an attractive design has already been provided - it has been honed, if not for centuries, then certainly for decades. Agree: since the Italians are destined to live on the "boot", then they are written to create masterpieces of shoe art. Tatyana Madassova, a Russian representative of famous Italian factories, told Evgenia Bubnova about her Italian holidays.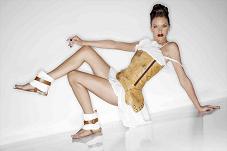 - Tatyana, how did your business start?
- My business started back in 1993, when I was in my last year at the institute - I graduated from the Faculty of Economics. The first stores opened in Siberia, where I come from. Then, bags and leather goods were sold in stores, and these were the first Italian collections in our city. I don't know why I chose this particular business, I just really like to delight customers, especially women, with beautiful things. Here, it played into my hands that Russian women love to feel attractive and adore everything related to beauty. I still work in this industry, but at a completely different level. I believe that if you like what you do, it brings not only material results, but also moral satisfaction.
- Why did you choose Italian factories?
- Cooperation with factories, which I represent now, began in the 1998 year, when Russia was experiencing another crisis. Knowing Italian, I organized a small showroom in Siberia, where I collected orders from customers in this region. From that time until now, our company has represented in Russia the interests of the main Italian brands of the middle price segment. Initially, we were known as representatives of our beloved Italian company MANAS. This brand is known to women around the world. In my opinion, MANAS is the best example of a company that makes fantastic models and unusual designs for a very wide audience of women with different tastes and views on fashion trends. Plus, MANAS is a very comfortable shoe and the most original understanding of style.
- What lines does the MANAS factory represent and to whom are they oriented?
- From the MANAS factory, we present two collections under different names, these are Lea Foscati and Design. Over the past five years, excluding the last year, the sales of these brands in Russia annually grew by more than 100%. This worried me, because I was afraid to get shoes of not very good quality. We encountered these problems and successfully solved them. Today, almost all of our customers are satisfied with the service and quality of our work (it is clear that there is no limit to perfection). My experience with MANAS was successful, and I decided to represent other Italian factories with the same pricing policy. We select partners, evaluating the quality of the manufacture of shoes and the collections of each exposed line. This is a unified approach, if not in the world, then in Europe - in my opinion, there are no serious differences in doing business in Russia and other countries of Eastern Europe.
- What other factories and brands do you represent in Russia? Are they as successful as MANAS?
- We have shoes for the stronger half - MIRAGE. Each season, MIRAGE offers new collections of different styles - these are both classic and sport.
The new brand for Russia is Apepazza. In my opinion, he has a good future in our market. This is a collection of shoes for a woman who loves to dress brightly and chooses, for example, sandals with various accessories made of natural stones.
Moda Ruggi company appeared in the 50 of the last century and was originally engaged in the wholesale of shoes. Apepazza's own line was born only in the eighties. The brand has a very interesting advertising support, both in magazines and in prospectuses.
Bruno Premi is a very advanced brand that has huge success with buyers in Europe, as this company is very widely represented in European countries - from Spain to the Scandinavian countries and the Baltic states. Although it appeared relatively recently, in 2000, in just ten years it managed to achieve excellent financial results - partly thanks to the experience of the owners Elvio Zanon and Bruno Premi, partly due to an ambitious start. Now Bruel SPA produces two brands Bruno Premi and BPZone. Thanks to participation in leading European exhibitions, from year to year these brands are becoming more and more famous around the world. In Russia, we plan to position the Bruno Premi brand in stores of a higher level, which will allow them to have a sales ratio of over 300%.
And finally, we have a collection of gorgeous moccasins made from various materials of different colors from Gianros. This brand was born in the late sixties on the initiative of a young married couple of Dominic and Marella Mekozzi. At first, only three people worked in this company, who sewed women's loafers. Then Gianros grew up and supplemented the men's collection for women. A factory was built that meets modern production requirements. At present, Gianros successfully combines traditional shoemaking, technical innovation and thirty years of experience in the production of moccasins, that is, all the necessary components of success are evident.
We successfully sell all the listed brands through our Russian partners. I hope they are pleased with our collections and our service. Given the current crisis in the market, these brands can be examples of the most successful combination of price and quality.
- In which cities and regions of Russia is your brand shoes represented? Where are things going? How do you plan to develop further?
- We work with many cities and regions of Russia. In 2000-2007, the largest sales were in Central Russia and the countries of the former Union. Further, with our Russian partners, we plan to open stores with brands that we represent in Russia. We also open a showroom in the center of Moscow where we want to go up a level both in the presentation of the collection and in the service.
- As far as we know, you are directly involved in the design of the shoes presented. Which image, in your opinion, is most in demand today?
- Yes, I participate in the birth of many of the collections that I represent. Factories invite me to participate in making design and engineering decisions, because I know their collections and style, and also understand what customers want. For example, mainly the next season, Autumn-Winter 2010 / 2011, will become a very bright, confident woman. Romance has gone out of fashion, the time is coming for strong women, who, in Russia, I think, are more than enough.
- How did the crisis affect your business? - The crisis has become a kind of dividing line for everyone, which clearly showed that it is time to start thinking and demanding differently: only the strongest survive. Therefore, on the one hand, a crisis is good, on the other hand, it is necessary to weigh each step and analyze each event and its action. Now it is very important to stimulate consumer demand, and if we were able to maintain the interest of customers in our products, then, I believe, there will be no serious problems.
Tatyana Madassova, a Russian representative of famous Italian ...