For many years, the Greek company Relax Anatomic has been producing innovative anatomical shoes that meet the requirements of orthopedic doctors. The Relax Anatomic design meets all the needs of the modern woman who seeks style and comfort. Relax Anatomic shoes offer a wide range of sporty and classic shoes for all ages in high heels, mid heels and flats.
Relax Anatomic is produced by highly professional craftsmen in a factory in Greece, where only luxury natural materials are used. Lacquered soft leather is especially popular - naplak, which has no analogues in quality and color. The company's factory has the most modern machines for the production of anatomical soles and lasts.
Shoe collections are created in a truly unique way. The main differences are that inside the sole consists of several layers of latex, which provides comfort when walking on uneven surfaces.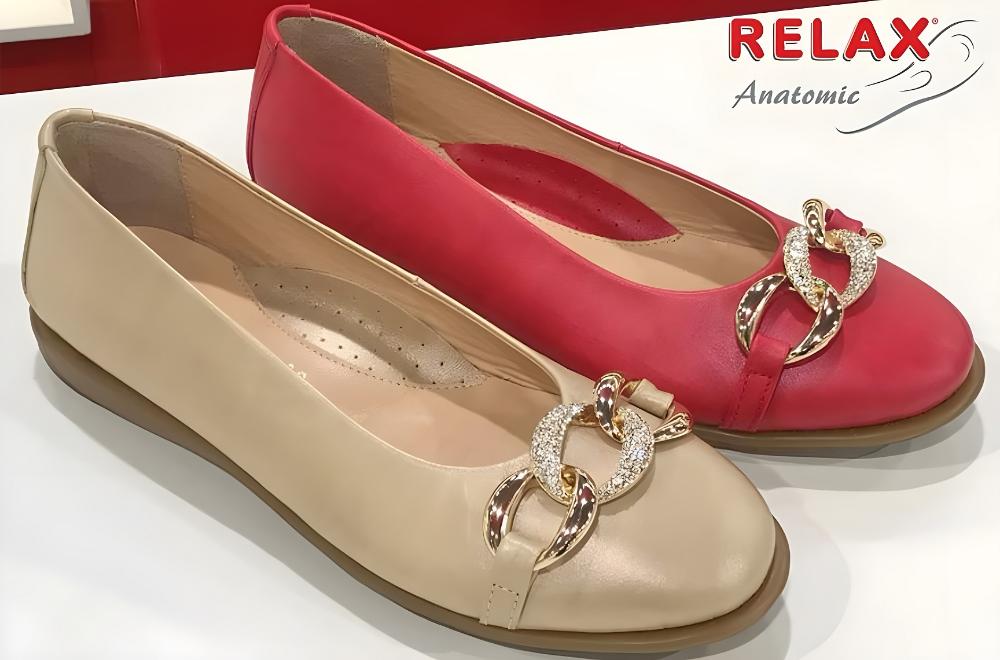 Two unique technologies are used in the production of Relax Anatomic shoes:
- Sacchetto ("sachetto") – connecting shoe parts; using this technology, the shoe lining is sewn to the insole. As a result, the inside of the shoe is a single whole - a kind of leather sock;
- Stitch & Turn ("stitching and turning") - the upper of the shoe is sewn to the sole without attaching to the rigid materials of the sole and is turned inside out. Combined with the right last, this ensures a perfect fit to the foot and guarantees maximum comfort.
Relax Anatomic models have a huge advantage over other brands:
the insole will not come off, will not wrinkle or rub your foot;
the shoes fit perfectly on the feet;
the foot moves naturally in the shoes, the shoes are comfortable to wear;
shoes with flat soles are soft and flexible, since the models do not have a main (frame) insole.
Relax Anatomic shoes are perfect for women with injured and problematic feet, who endure stress during the day especially acutely and even painfully. The insoles offer arch support, and the extra fullness of the models provides more room for your feet.
The anatomical factory Relax was founded in 1983 by the parents of Mr. Dimitrios Fanurgiakis, who himself worked in a shoe factory since 1965. All these years, the family has specialized in the production of women's comfortable shoes. In 2000, Dimitrios started the production of soft and comfortable shoes using the "sew and turn" technology.
Until 2012, sales were only in Greece, and were growing every year. In 2013, the factory participated for the first time in the international professional exhibition MICAM in Milan (Italy). The success of the brand today is very great, and every year more and more countries import Relax Anatomic shoes.
Currently, Relax Anatomic brand shoes can be found in more than 30 countries and, of course, in Russia. At the request of the Russian distributor - the AXA Shoes company - the Relax Anatomic factory has increased the fullness of its models to K (10) and the size range to size 42, which is quite common among Russian women.
For many years, the Greek company Relax Anatomic has been producing innovative anatomical shoes that meet the requirements of orthopedic doctors. The Relax Anatomic design meets all needs…