The share of men's assortment in Russian shoe stores has been growing in recent years, and one of the reasons for this is the emergence of young generations of men - more active consumers of goods and services in the fashion industry. The basic laws of visual merchandising of a male brand are the same as for a female, but everything has its own specifics of presenting a men's assortment. It is interesting that men often evaluate the presentation and presentation of goods intended for them on an unconscious level, and this, of course, must be taken into account in the work. Anna Balandina, one of the leading expert practitioners of the Russian fashion market for commercial visual merchandising, tells about these and other features of men's assortment VMs.
According to experts of the fashion market, the share of men's assortment on the shelves of Russian shoe stores has been growing steadily in recent years, and today the share of men's shoes in the Russian shoe market is 27% (second place after women's). The same trend is observed in the global clothing, footwear and accessories market: according to Euromonitor, the growth dynamics of the men's clothing and footwear segment for the second year in a row is ahead of the female segment in growth rates, in 2016 it increased by 4%. In our country, a new, "post-Soviet" generation of male buyers (those born during the 1991-2000 years) with a new consumer culture is forming - more active consumers of fashion industry products than male Russians of the previous generation. Time demands from retailers new approaches and new standards of visual merchandising for the men's assortment of shoes - display, presentation of goods, decoration of the trading floor and shop windows.
The basic laws of visual merchandising (hereinafter referred to as VM) for a men's shoe brand (or men's line) are the same as in any other segment. They are common, but there are specifics of the presentation of the men's assortment.
1. You need to understand that if a brand (or a store) has several lines, for example, male and female, then in no case can they be smoothly intersected. Only clear zoning is possible - male and female. Even if there is a large wall in the trading floor on which your entire collection can fit, you should not exhibit male and female collections there. Exception: if the equipment on the wall is divided by niches in which you can visually separately place shoes and accessories of different genders. But in this case, you will have to work out the presentation additionally with VM elements, POS materials and, if possible, lighting aimed at the key product.
If there are two lines in the store, it is best to zone the space clearly into two parts: in one, only female models will fit, in the other only male models.
Large brands (H&M, ZARA, UNIQLO) operating in the fast fashion segment have zones for men and women assortment even on different floors. The new retail strategy of these brands involves the opening of separate stores for women and men, usually located on different floors, strictly one above the other. All consumers are comfortable.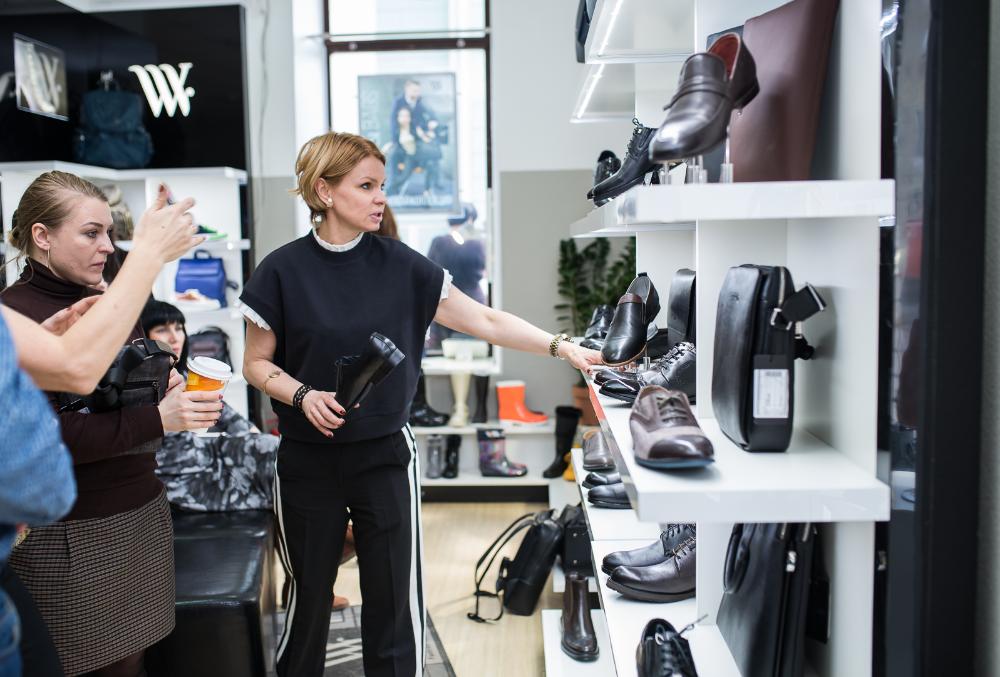 Why do you need to do this?
The thing is that subconsciously men are embarrassed by the neighborhood with women's shoes, they do not buy in the "female" zones, but bypass them. Men in the shopping process should not be embarrassed by women's assortment, not to knock down their "fragile" mood to make a purchase.
2. If you have a "mixed" store format, then the male zone should be located in the line of sight from the entrance. Yes, a man can go through the women's assortment zone to the men's assortment, but only if it is a customer loyal to the brand. If the man goes through the shopping center, and the men's assortment zone is not visible to him, since he is in the back of the hall, then he will simply prefer another store - again at the subconscious level.
Why do you need to do this?
Because if a man doesn't know your brand (your store), and sees a women's shop window and rows of brightly colored boats and stilettos, he will either conclude: there's a women's brand in front of him, or he subconsciously prefers another brand where he will choose a man's product more comfortable - "not surrounded by a women's assortment."
3. Men are mostly conservatives, therefore, building VM standards for the men's assortment, it is important to think, first of all, about the conservative majority of your segment, and not about the trendy minority. Most men prefer dark-colored shoes - sport casual, classic, but at the same time, if you make a dark and basic presentation, this will not benefit the brand.
It is important for the merchandiser to present all trending (brighter and more fashionable) models that are in the collection as a priority and as advantageous as possible. A collection will sell poorly if it does not have a trend assortment at all. As a rule, shoppers enter the store for a brighter trend assortment than the one they end up buying - that is, the trendiest, most fashionable and vibrant models are drivers of the entire seasonal collection, albeit highly risky at the same time. Their correct priority position in the presentation affects both the sales of the entire collection, and the sales of trend models themselves.
The objective of 1 commercial presentation of a shoe store is to attract a customer to the store. To do this, you need to make the calculation as dark as possible and take this into account when purchasing. It is proved: if you bought black models alone, "because they are better sold", then in general the collection will sell worse than if you also bought trendy, bright, vibrant models that go poorly.
Why do you need to do this?
Bright trending models are necessary: ​​buyers enter trends because they subconsciously consider themselves "more fashionable" than they really are. Trends are the clues that help attract most shoppers to the store.
4. If your men's collection is still dark, it does not have fashionable models and bright colors, then it is important to work out the assortment well with bright POS materials and additional VM equipment, for example, coasters, which are also dark if possible. The coasters should not be too high and it is better not to use semi-vertical, inclined coasters. Yes, the shoes are clearly visible on them, but a person is used to looking at his shoes from top to bottom (the way he wears them), therefore it is better to place them in the store in a horizontal rather than a diagonal plane familiar to the eye.
Also, do not put too many models on the coasters: if you select every second shoe in this way, the effect will disappear. According to the calculation: do not place the vertical shelves too close to each other, the shoes should "breathe" - the distance between the shelves for the summer assortment is at least 25-27 cm.
It is important to choose the right texture and color of the equipment materials so that shoes of different colors look presentable on it, for example, equipment made of light wood or white (light) matte plastic.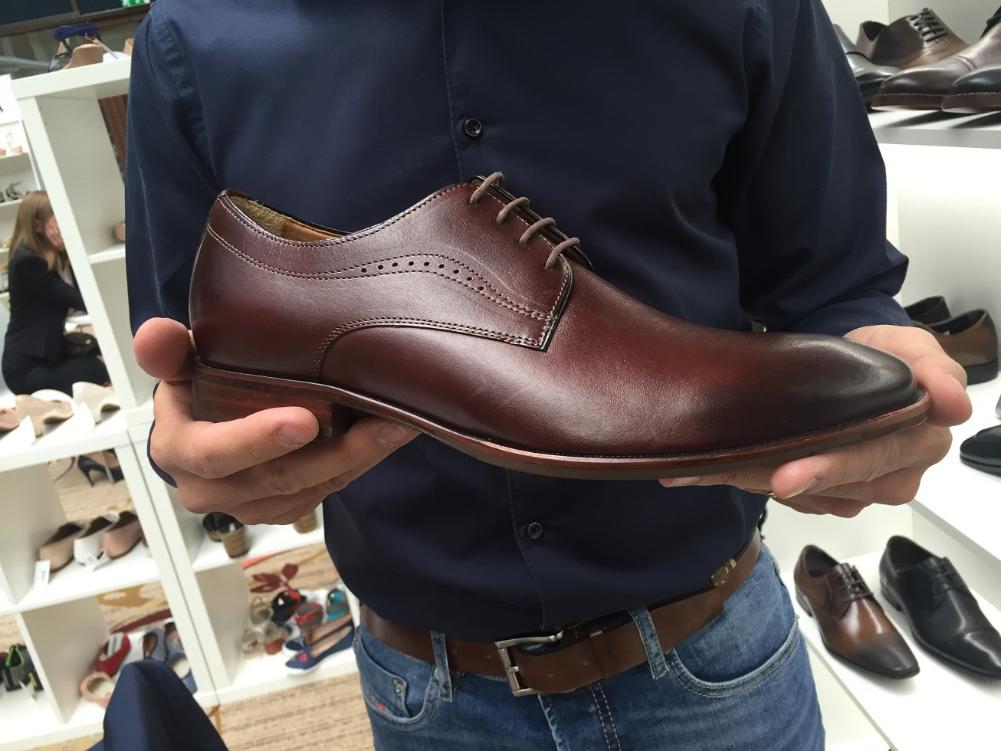 Why do you need to do this?
If the collection is dark, it will "get lost" against the background of dark equipment and will sell poorly. Too colorful or ribbed texture of equipment materials also interferes with the perception of the goods.
5. Be sure to group the models of the men's collection:
Group shoes according to the principle of "families" (half-pairs of the same model in color and models of the same style from similar materials), combined with complementary goods (gadget bags, backpacks, caps, umbrellas). Such a group reinforces sales, increases the number of goods in one check and saves the presentation of dark men's shoes, as it creates visual dominants that will make the collection more readable.
Why do you need to do this?
Related products, men's leather goods increase sales and the average check: a man is inclined to buy everything at once in one trip to the store, than to devote several days to shopping.
6. And finally, the shop windows. Of course, showcases with an emotional component work better, there must be some kind of seasonal emotion. If the brand is male and female, and the storefront has one, then you need to think in advance of off-season display equipment so that you do not have to put male and female brogues together on the same shelf, breaking them with a large umbrella. A well-thought-out emotional component in a seasonal display that matches the brand's DNA is welcome. In my opinion, mannequins in the window of a shoe store are not needed: if there is no clothing product, no collection, then they are useless, they will only distract. Emotions are needed not only in window dressing, but also in the retail space of the store, and in the presentation itself. Emotional seasonal images work great if they are emotional and designed for your target audience. At the same time, the product should not be the main one: you do not take pictures of shoes, but people in your shoes and their emotions, with which your brand will be further associated. Say, if you have a classic men's assortment, the image of a successful man in a business suit against the background of a business center or a skyscraper made of glass and metal will suit you; if we need to advertise a sport casual collection, then your idol is a sports, cheerful man, a supporter of a healthy lifestyle against the background of nature, a yacht, a bicycle. By the way, women on men's brand posters are also welcome. Please note: for many male brands, a couple (a man and a woman), or a group of heroes - friends or colleagues, participate in an advertising photo shoot, because the life of men is impossible without women. An advertising photo image of the brand's collection should create images of such men and convey such emotions that your target customer subconsciously wants to associate with, that is, successful and happy, then he will be interested in the brand and go to your store.
Why do you have to do this?
When choosing clothes and shoes, men are often guided by motives at a subconscious level, this is the way male psychology works, so actively influence their emotions.