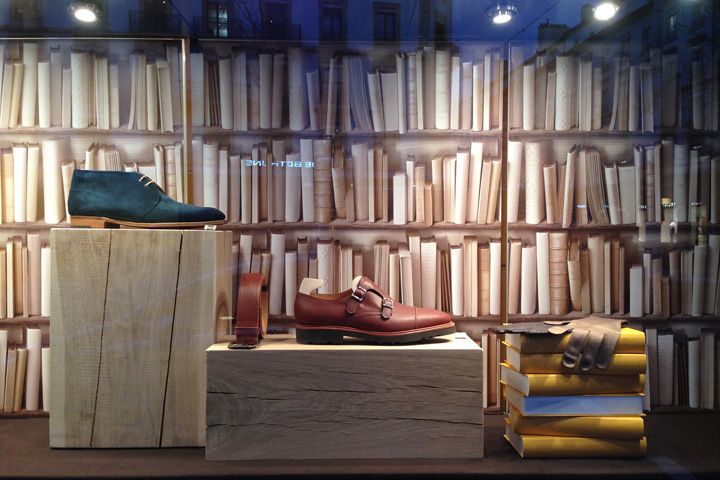 09.03.2016
10447
Features shoe display cases
Professionals know that there is nothing better than a storefront to attract a customer to a store. Despite the fact that the rules for window dressing are universal for all stores, there are nuances for the presentation of shoes.

The peculiarity lies in the relatively small size of the product compared to the display space. It is often necessary to observe how shoes get lost among bulky designs, so it is better not to use too massive elements of display furniture and decorations.

According to the laws of human perception, the product should be located at eye level of the passing buyer, that is, the ideal height is somewhere between 1400 and 1500 mm, says Ekaterina Agatova, Deputy General Director of Project Line. At the same time, shoes can be displayed from a height of 500 mm, since people are used to evaluating them looking from top to bottom.

It is worth paying attention to the height of the basement of the building, if we are talking about street retail. Regarding the very layout of the display case, the level of the product may be at a height below 1400 mm.

The main question that arises in the design of shoe display cases: how to fill the rest of the space and how to highlight the goods?

According to Ekaterina Agatova, the simplest solution is to create bright lighting that focuses directly on the assortment. If the showcase is a little far from the passing customer flow, then bright lighting will attract attention, even if the product itself is difficult to see at a distance. The idea is to break the scale. Those who stand farther from the display window see a picture on a poster and a highly illuminated spot at the place of the displayed item. And those who are already standing close to the shop window, see a brightly lit product, but at the same time a huge poster turns into an abstract canvas, on which you can not see the details. Such a showcase solution takes into account all possible points of view of customers and allows you to attract their attention.
Professionals know that there is nothing better than a storefront to attract a customer to a store.