A little less than a year, the new metropolitan shoe store THE MISIA @ the_misia needed to bring the number of its Instagram subscribers to 15 thousand. Although the sporty style was at the peak of popularity when opening THE MISIA, retail owners hoped to create not just a sneakers-store, but a conceptual street culture store with a unique assortment of Adidas, Puma, Nike. A large role in the promotion of the project is played by Instagram and photo content. On how to take pictures of shoes in order to attract maximum attention to them, the Shoes Report talked with the development director of THE MISIA Vyacheslav Glushkov @slavagee.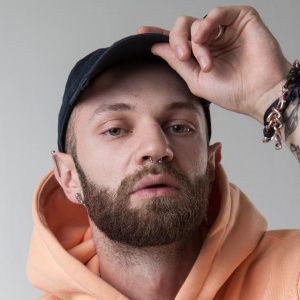 Vyacheslav Glushkov
- Director for store development THE MISIA.
THE MISIA concept store is part of the Inventive Retail Group, whose retail projects also include mono brands Apple, Sony, NIKE, Lego, Samsung, Street Beet store and others.
The interior of THE MISIA store
Your store opened relatively recently, and you already have a very good relationship with Adidas, how did it happen?
Perhaps this is noticeable, because the clothes we have are only Adidas, as well as a significant part of the shoes. But we are friendly with both Nike and Puma, we get a lot of exclusivity from them. Just Adidas is now very active. Some time ago, the brand was in a certain kind of stagnation, new models were not in great demand. Then there were several turning points, such as the launch of collaborations with Farrell Williams (Pharrell Williams) and Kanye West (Kanye West), a change in the policy of ambassadors, and now it is one of the most talked about sports brands.
Our store is positioned not as a sneakers-store, which has 300-400 models and articles on a shelf, but as a kind of conceptual space that sells street-style shoes and clothes. This is the fine line between retail space and the gallery. Relatively speaking, we ourselves are part of street culture. At THE MISIA, we place great emphasis on selection, choose what cannot be found in all other stores — these are rare styles, models from limited collections, and collaboration results. This is what allows us to keep interest in the project at a high level with the total number of pairs in 120 to 150 positions.
Major sports brands break down their product range into several levels of accessibility. There is a mass market, which is presented in stores such as Sportmaster, there is an assortment of specialized sneakers, such as Street beat or Drop and regular monobrands, and there is a special exclusive assortment of flagship and concept stores, which, in particular, is THE MISIA.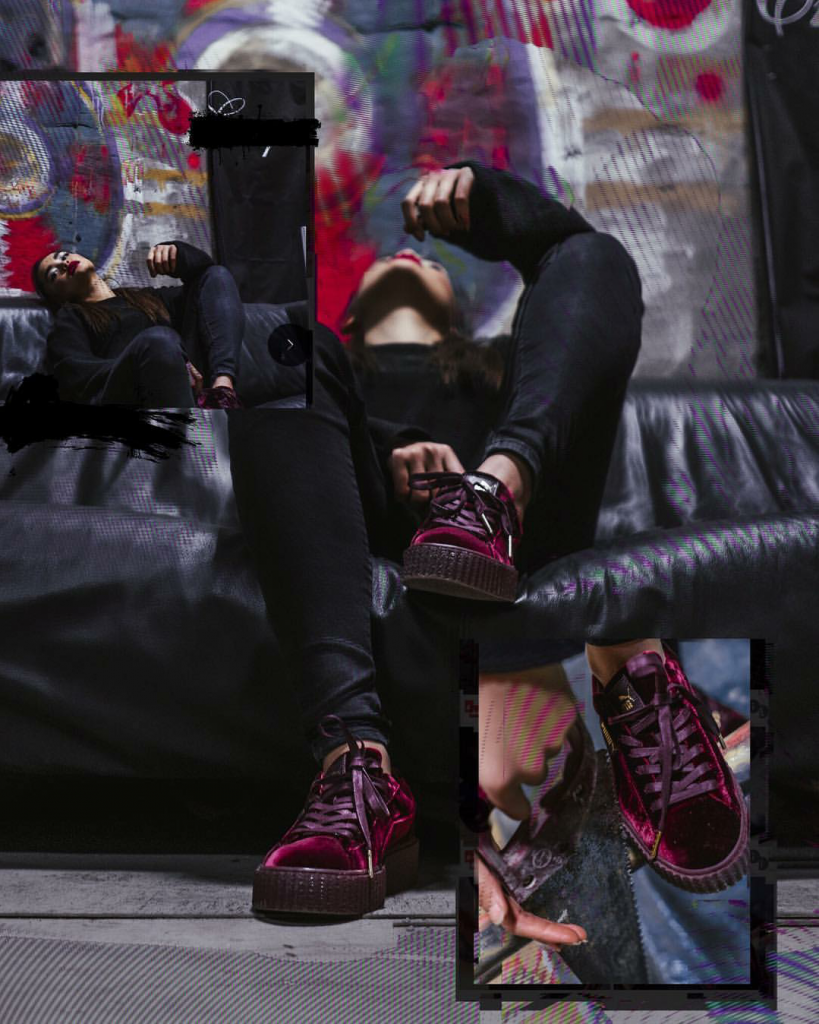 Photo from Instagram THE MISIA
Therefore, when they were selling Adidas yeezy boost, you were almost the second retailer, where could you get them?
To be precise, Adidas yeezy boost was sold in only five stores in Moscow - in the Brand Shop, in the flagship boutique Adidas, in KM20, WoodWood and ours. They tried to give Adidas in the Podium Market, but apparently realized that this was not that niche at all. In the summer, Moscow was visited by delegations from global brand offices, they looked at shops - they also came to visit us. Our space speaks for itself - conceptual design, a narrow set of articles, good promotion opportunities. You see that our windows are now sealed with advertisements for the new Adidas model, which was released only yesterday ... Adidas appreciated all this, and we received the first Yeezy release in the fall, a few months after the opening. Nobody had it!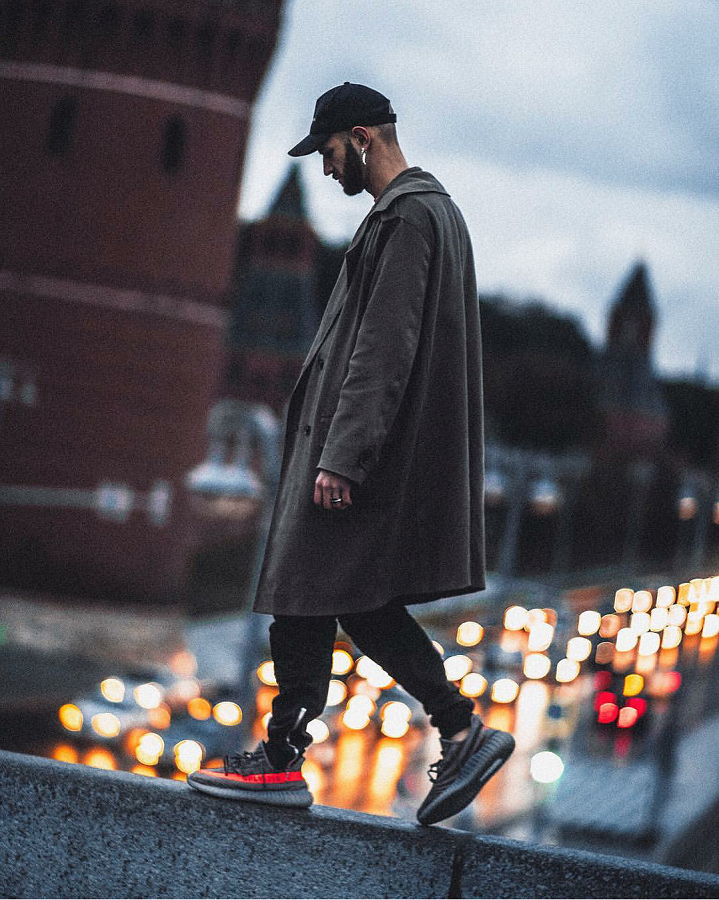 Photo from Instagram THE MISIA
The photos in your Instagram have sneakers, but the pictures themselves and the style attract attention. This is more fashion photography ...

Yes, we primarily need fashion photos. We are not presenting a pair of sneakers, but something more. For each model that we have on the shelf, there is a certain story - and we try to tell it through the pictures. If these are basketball models of sneakers, we can remove them on the basketball court, but in an unusual pitch for this location. We are surrounded by art, street traffic and through this we present the product, sneakers are part of the street culture. All our photos are related to the street, even if we take a photo of sneakers on some background, then we choose the industrial background - concrete, mesh.
Why do you need to take your own pictures, because Adidas has its own images?
Naturally, we also use them, but it's interesting to differ, this is the advantage. First of all, we post everything on Instagram, other networks - Facebook, Telegram - duplicate this content. Instagram is a powerful tool for promotion and sales, in fact, it has replaced websites. In this social network, it's easier to view the grid of models presented in the store, find out the sizes, address, call - there is everything to make a purchase decision.
We use several options for photo images. The first is shooting in the street at full height. Second, shooting on feet — when the legs are photographed in large detail — from the knee or from the middle of the ankle. A photograph of feet is created in order to emphasize details, it is essentially macro photography. As a rule, there are differences in the outer and inner sides of the shoe, there are such details as a tongue, heel, laces, and the sole. Often you need to focus on the material. To show it all, on feet fits perfectly. After a person looked at the details, the overall image, he concludes whether he needs these sneakers or not.
There is also a photo of the sneakers in the interior, it can be shot on a normal background, it can be a concrete wall, a wall with graffiti or wood, we often shoot on the piano, at a certain angle, with a low aperture to blur the background. For such a picture, you can use different objects - a book, a spray can, a vase, a figurine - all of them can become elements of a photo composition. But they need to be selected taking into account the model of the sneaker. You should not remove the black sneaker next to some bright figurine, as it will draw attention to itself. The emphasis should remain on the shoe, but additional elements make the photo more interesting. Such a photograph is bright, it has an unusual angle, a non-standard angle, some kind of blur, something that catches the eye. An ordinary shot of shoes on a white background, the viewer will flip through, and this one will pay attention.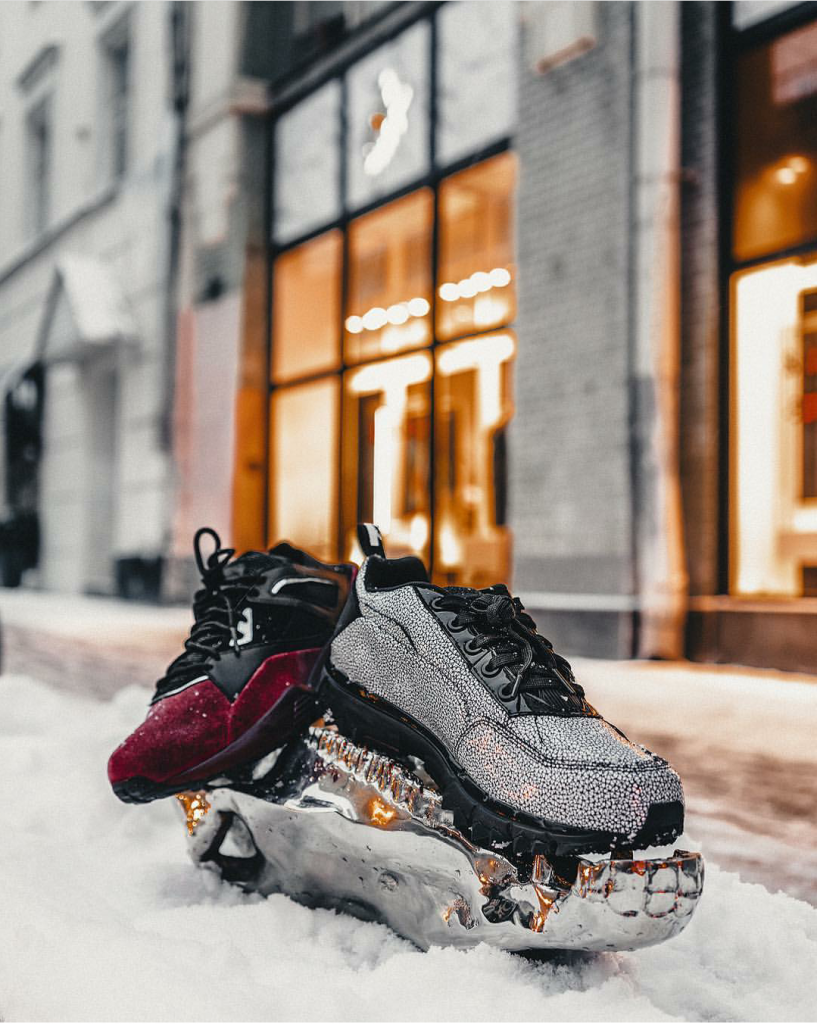 Photo from Instagram THE MISIA
Do you need serious photo equipment to create such pictures, or can you take them to your phone?
You can remove it to your phone. I took a very long time shooting on an ordinary iPhone. Now Iphone 7 plus even allows you to blur the background of the photo, and there are people who basically photograph only on the Iphone, and it turns out beautifully. It is important to get a hand, find your style, understand how you will process photos. Blur can be done manually, there are programs. But naturally, the use of professional photo equipment gives a radically different feeling.
But there is another point - as you know, there are three basic characteristics of photography - shutter speed, aperture and ISO. The camera we are shooting on is also suitable for night shooting - it has a high photosensitivity. Shooting at a slow shutter speed allows you to stop the movement, and if you shoot on the phone, due to the movement of the legs, the image of the sneakers may be blurred.
If you take pictures in a poorly lit room, the diaphragm plays a big role. Plus she is responsible for the depth of field.
A separate process is photo processing, many for this hire specialists who correct some imperfections or draw colors. We do the processing ourselves. Our team has two strong players - Ernest 19Tones and Denis Bychkovsky. They are masters of photo and post processing.
Do you have an Instagram account for a long time?
Account exists since March. At the beginning of publication, it was spontaneous - a stream of pictures, videos or sketches that inspired us. And then a concept was invented. Now we adhere to the rule - publish three photos in a set, meaning that these are photos of the same format, color, processing nature, and they are combined. One or several products may be depicted in the photo, the main thing is that the images are in harmony with each other. We started our Instagram in this way in September, and this gave an unprecedented surge - the number of subscribers has grown from 3 to 15 thousand. Often people subscribe to our Instagram just because they like the pictures. But if one of them wants to buy sneakers one day, I think they will remember about our store.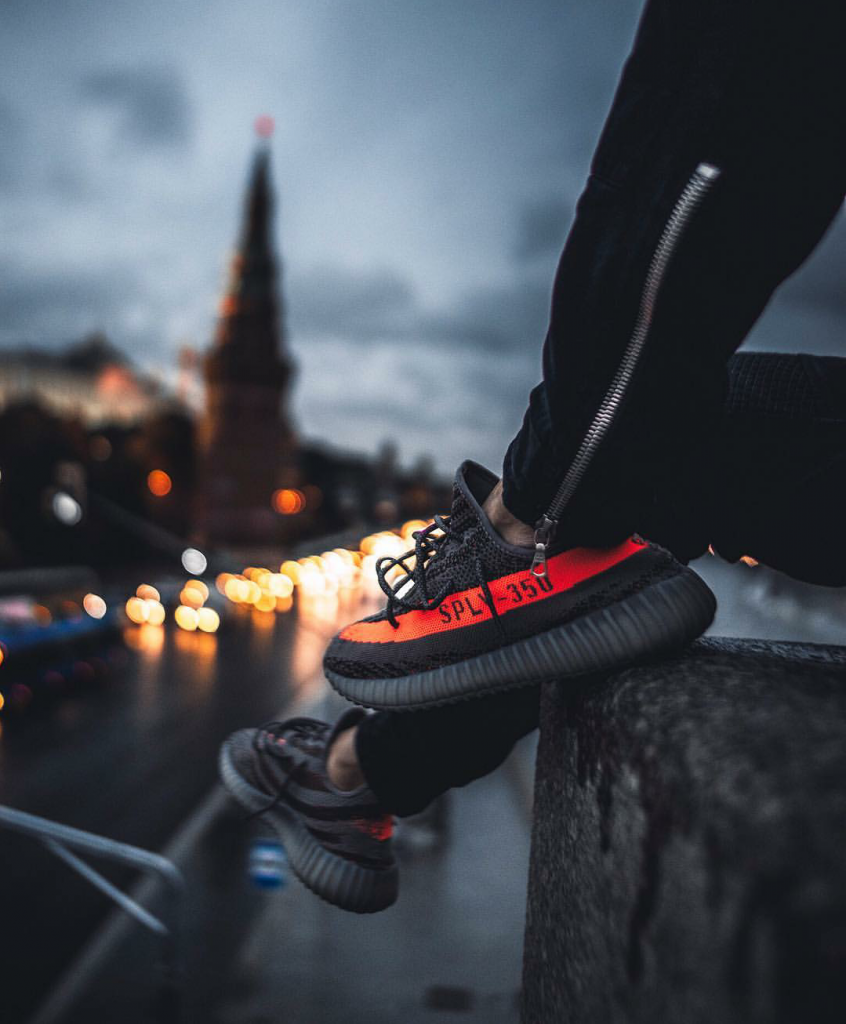 Photo from Instagram THE MISIA
Do you shoot video?
We are experimenting, have shot several videos. As a rule, this is a backstage shooting, that is, the plot of the video is about how we shot the photo. Some time ago, videos were inferior to photos in terms of views, and over the past six months, there has been an increase in interest in video content around the world. Now, with the release of the new release, we can shoot the 15-20 second video about sneakers, about how our model walks in them, how the sole responds - where it is compressed, where there are some creases, this is also important. There is an idea to shoot a full-blown video for one to three minutes, but hands have not reached yet. I think in the spring we will shoot more actively.
Your sales probably aren't the most active season right now?
Yes, winter models of sneakers are usually strange. There are several options that everyone likes, but for the Russian winter, this is not the most comfortable shoes. Although sneakerheads are still buying. Winter sales are generally weaker. But there are discounts, for example, now on the collection of the last season - 50%.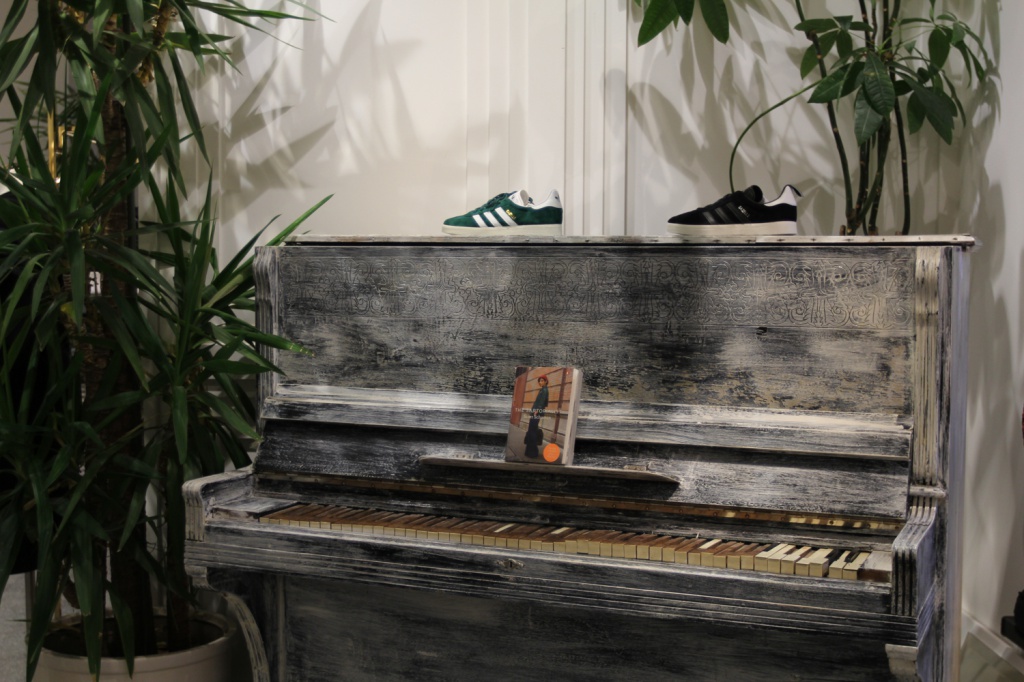 The interior of THE MISIA store
How many sneakers are in your personal collection?
More than two hundred. They are all different, there is something that has never been worn at all, there are expensive models that I put on a couple of times, there are sneakers that I wear often - something comfortable and moderately exclusive. I collected the collection for seven years, but the first two years are not considered, because then I just delved into and, it seems, threw everything that I bought. Thoughtfully, I have been collecting the last five years.
And what does it mean thoughtfully, what's the point?
Interest may be in the history of the model - like almost the entire early Jordan line-up, in collaboration with any brand, store, singer, like with Kanye West, in force or in color. There are reprints of popular models. In December, Nike sneakers were released, in which Michael Jordan walked in the movie Space Jam, in the picture he changes three pairs and they all came out in December last year. It can be models of an interesting silhouette. Last year, ADIDAS NMD became a hit - a plexus of three retro silhouettes - boston super, micro pacer and rising star. Running shoes can be long-term and short-term interest. For example, there are three or four NMD models that I like right now. But the new model is interesting for a month, and what came out last summer, I will not wear it anymore, it's boring. On the contrary, it may be interesting to reprint old models, they are equally valuable both now and after 20 years.
I often travel for business or leisure to other countries - from Los Angeles to Taiwan. In each country there are some exclusive models that are nowhere else to get. There's an ebay where I recently found a rare couple of 2009 years of director Spike Lee's collaboration with Nike. In general, to create a collection, you should decide what you want, a sneaker is a million, there are people who are interested in one direction - basketball, retro-running, street ...
In Moscow there are only two such conceptual stores - Kuznetsk Bridge 20 and yours?
Without false modesty, I'll say there are no others. Each store has its own specifics, with most shoe stores we do not constitute direct competition, each has its own audience. If a person buys sneakers in the Sneakerhead store, most likely he won't come to us, they know him well, he has discounts there. But there are those models that can be found with us and not found in Sneakerhead and vice versa - tomorrow they will have a very cool release of three Jordon models that were released in 2016 year. And we will not have these models.
The interior of THE MISIA store
Are there enough fans of sneakers now?
Yes, there are more and more of them, this is the mainstream. In the States, the wave has been going on for several years. Previously, people walked along the street in summer in sandals, moccasins, and shoes, but now number one is sneakers.
Do you have an online store?
Most likely, we'll open, we receive a huge number of requests from other cities, and even from America. In the USA - this culture is even more developed, what we can sell for a week, it flies away in an hour. People want to buy a certain model, but they cannot and order it from Europe. An online store is a logical step, we are working on it.
Are you satisfied with the results of attendance, sales?
Yes. A very cool community is growing around us - our friends, photographers, artists, figures of different areas of street culture, dancers - they create some kind of "noise" around the store. They talk about us on the street and talk a lot - hence the cool attendance.
There are several more rooms in our store where you can place one-time pop-up shops, and from February to March we will have a pop-up of the Russian Outlaw clothing brand open. It is planned to open a Uniqlo showroom with limited brand collections. In March, a pop-up of one luxury brand with a collection that is developed in the style of street culture will open. We are going to release our own line of clothes, and will soon launch the THE MISIA collaboration with one of our rap artists.
Photo courtesy of THE MISIA
It took a little less than a year for the new metropolitan sneaker store THE MISIA @ the_misia to bring the number of its followers on Instagram to 15 ...