The crisis is sweeping across the country like a plague, sparing neither boutiques nor ordinary retail outlets. Over the past two months, Diesel, Murphy & Nue, Alexander McQueen, Stella McCartney stores have closed in Moscow, and some Mango stores have closed. And this is not a complete list of stores that lost profitability during the crisis. In addition to the general decline in demand, high rental rates are putting a spoke in the wheels of retailers. Anna Komissarova studied what happens to the rental price.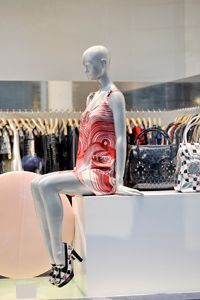 For tenant - tenant
It would seem that the trend towards a general decrease in rental rates has become steady. The level of reduction in rental rates for retail premises since the end of the 2008 year and in the first few months of the 2009 year reached 15-20%. However, not all retail space is getting cheaper in the same way. Therefore, any attempts by tenants to jointly switch to a more optimal payment scheme in a crisis ended in failure.
In October last year, many retailers turned to landlords with an open letter demanding "to calculate the amount of the lease agreement based on the planned sales volume of the retail operator with subsequent adjustment according to the actual sales volume", "postpaid system for calculating rent payments", "introducing a temporary moratorium on payment participation of retail operators in the marketing programs of shopping centers ". However, landlords reacted negatively to these requests, pointing out that the number of visitors in shopping centers did not significantly decrease. Developers talked about the impossibility of lowering rates due to the need to cover their own construction costs and fulfill credit obligations.
Time has shown that a decrease in rental rates is inevitable for those shopping centers that, even before the crisis, were not popular among consumers. These landlords realized that it was better to receive a modest, but income, than to stay with empty space.
Floors and ceilings
Thus, the success of negotiations to reduce the rental burden depends on the specifics of the retail space. The demand for shopping centers with an excellent location, great consumer traffic, and a professional management company is still great, so leaving a tenant who is unable to pay at the previous rates is not perceived as a tragedy.
Oksana Kondratyeva, the head of the rental department of the Moscow Atrium shopping center, believes that stores that were "out of place" left the shopping center. Their areas were occupied by tenants standing in line. In general, in such shopping centers, it is noted that the line of tenants has decreased by 10-30%. In such shopping centers, rental discounts do not exceed 10%, that is, while the rates are "held" by management companies.
Developers of new properties have to be very flexible in order to attract tenants. According to Dmitry Zolin, managing partner of LCMC, they have to cut rates by at least 15-20%. Alexandra Kryzhanovskaya, an analyst of the research department at C&W | S&R, argues that lease agreements for projects under construction are currently concluded with the condition of "open" rates, which will be discussed upon completion of construction.
In the functioning shopping centers, tenants and lessors are in tense negotiations. Moreover, they are carried out individually, behind closed doors, and are not made public. According to our data, individual retailers manage to get a discount of up to 40%.
The situation in street retail is similar. The owners of such points are, as a rule, private individuals who live by renting one or more premises. A tenant's refusal to pay can hit a lot, so this type of landlord is willing to make concessions. In addition, they are not bound by loan obligations, like developers. According to Alexandra Kryzhanovskaya, street retail bets fell by 20-40%. On Tverskaya Street, for example, where in recent years rental payments have been greatly "overheated" and reached $ 10 thousand per square meter. m per year, now rates have returned to the level of two to three years ago.
Recent studies predict during the 2009 year a further decrease in prices and rates by another 15-25% depending on the location and quality of the premises. Thus, the overall decline will reach 30-55% relative to the level of 2008 of the year.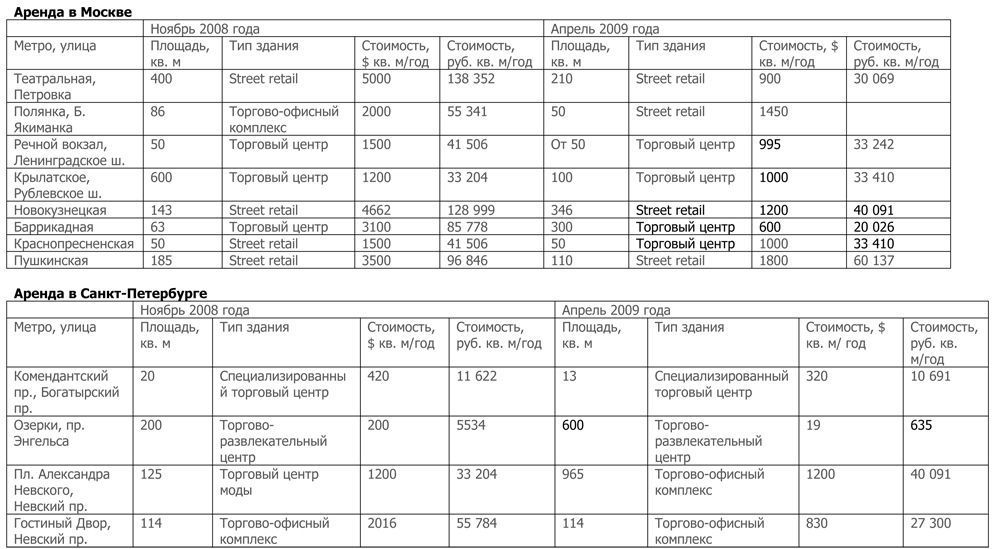 For your information:
The process still went
Tenants, like sunflowers, are always looking for a place in the sun. And if developers do not meet them, then tenants move to more comfortable conditions for them. According to the Association of Fashion Industry Enterprises (APRIM), the outflow of tenants in the first weeks of 2009 has already passed to dozens of stores
According to data on February 7, 47 stores were closed in Capitol shopping centers. The reason for the mass withdrawal of tenants was the tough stance of the management company Enka, which did not agree to tenants' proposals to lower rental rates.
The Fashion Bazaar, Iguana, Kuda.ru, Confetti, Thy, Jeans Symphony, Jasper Gold, Extreme, Ultima Moda, Benetton, Sela, La Chemiserie closed on Leningradskoye Shosse , GEOX, Dolce Vita, The Best, Le sags, Naf-Naf. Total 18 stores.
On Kashirskoye Highway, Angelika, A Pair of Nogas, Betalink, Prime Zone, Iguana, Gregory, Taxi, Buzantium, Buldog, D-Style closed. Total 11 stores.
In the Marina Grove, the "Sack", "Betalink", "Kuda.ru", "Fur Coats", Da Vinci, Hit, Morgan, Gregory were closed. Total 8 stores.
Tobacco shop, Betalink, Kuda.ru, Bags, Perfection Line, Silver, Iguana, Sergio Cipriani, Ultra, Raymond were closed in Belyaevo.
The crisis is sweeping across the country like a plague, sparing neither boutiques nor ordinary retail outlets. Diesel, Murphy & Nue, Alexander McQueen, Stella stores have closed in Moscow over the past two months ...