The last two years have been so generous with unforeseen events that you involuntarily think: "Is it necessary to plan at all?" Still, you need to plan. The sales plan is the benchmark for your business. Therefore, SR expert Maria Gerasimenko gives recommendations on how to make a simple and correct calculation of the sales plan for 2023. Why and how to implement a sales funnel?
How to develop an effective motivation program? You will find answers to these and other questions in our article.
Maria Gerasimenko
-
General Director of Fashion Advisers, business coach, expert in the field of management and development of fashion business. Main areas of activity: building business processes in the fashion industry, assortment matrix management, visual merchandising, sales and service management, development and implementation of loyalty programs.
Website: fashion-advisers.ru
Online school: school.fashion-advisers.ru
Telegram: @fashionadvisers
Recently, on my Telegram channel "FASHION-BUSINESS SECRETS", I conducted a survey on the topic "Do you have a sales plan".
The votes of the participants were distributed as follows:
62% - calculate your sales plan;
28% - they want to calculate the plan for a long time, but there is no time;
7% - do not see the point due to a series of unforeseen events;
3% - do not want to change anything and continue to work intuitively.
Indeed, the last 2 years are so generous with unforeseen events that you involuntarily think: "Is it necessary to plan at all?"
Still, you need to plan. In rubles, pieces, check complexity, conversion. The sales plan is a guideline. For you and your team. Without a plan, it is impossible to reach the desired goal.
What should NOT be a sales plan:
The fact of last year's sales + 10-15-20%;
Same for the whole season/year;
Big beautiful figure;
Unattainable sales volume.
What a sales plan SHOULD depend on:
The fact of sales of past periods;
Seasonality;
Delivery schedule;
Investments in development and promotion.
In order to calculate the sales plan for an already operating store, it is enough to analyze its performance indicators for the past 1-3 years. Next, outline work to improve performance and calculate the expected effect (ROI) from investments in business development.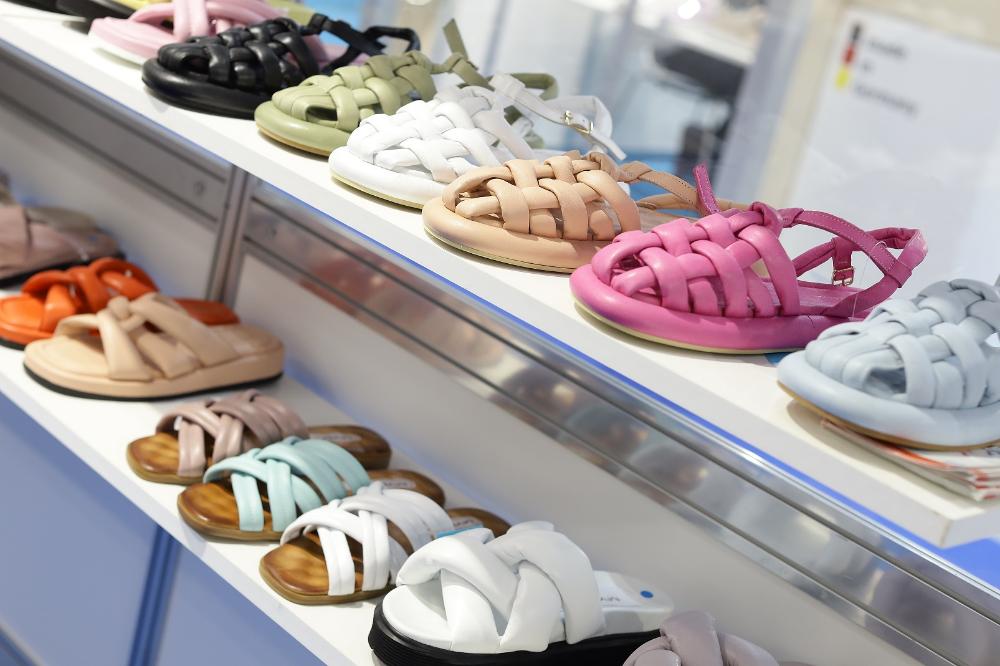 We usually calculate the plan of a new store from the cost of rent. In most cases, the following formula is suitable for fashion retail:
Store revenue = Rent * 4
For stores located in Class A shopping centers, we often increase this figure to 5.
We calculate the probability of achieving this indicator based on the average values ​​of performance indicators in retail. For shopping centers and street retail, they can seriously differ.
Calculation for shopping centers: on average, 1% of shopping center traffic goes to a particular store. About 10-12% of the number of people who enter your store will make a purchase. The minimum norm for the complexity of a receipt is 1,8 pcs/check. We multiply this figure by the average unit cost of your future store. This way you can quickly calculate a rough sales forecast for the store.
Example:
Is it worth opening a store in the Meteor shopping center if the store rent costs 1 rubles?
Official attendance of the shopping center "Meteor": 1 people / month. Shopping centers often inflate traffic figures and take data based on the results of the most active periods. Therefore, to reduce optimism in the calculations, you can safely subtract 710%.
1. (1 people - 710%) * 000% = 30 people / month - potential traffic to your store.
2. 11*970% = 10 people/month – potential conversion.
3. 1 * 197 = 1,8 units - the average number of sales per month.
If the average cost of a unit in a store is 3 rubles, then
2 * 155 rubles \u3d 000 rubles - the planned revenue of the store per month. According to the rental formula, our minimum revenue should be 6 * 465 = 000 rubles.
The expected revenue is higher, which means, most likely, the game is worth the candle.

SALES FUNNEL: WHY AND HOW TO IMPLEMENT?
The sales funnel is the path that a customer takes from the first contact with your offer to the purchase.
Using the funnel, you can evaluate the effectiveness of each stage and understand at what point you miss sales. Analysis of the actions of the company and its employees at each stage helps to increase the conversion into a purchase.
Different stores may have different number of funnel stages, it depends on the sales channels and ways of communication with the client. Let's look at two classic examples, consisting of seven stages: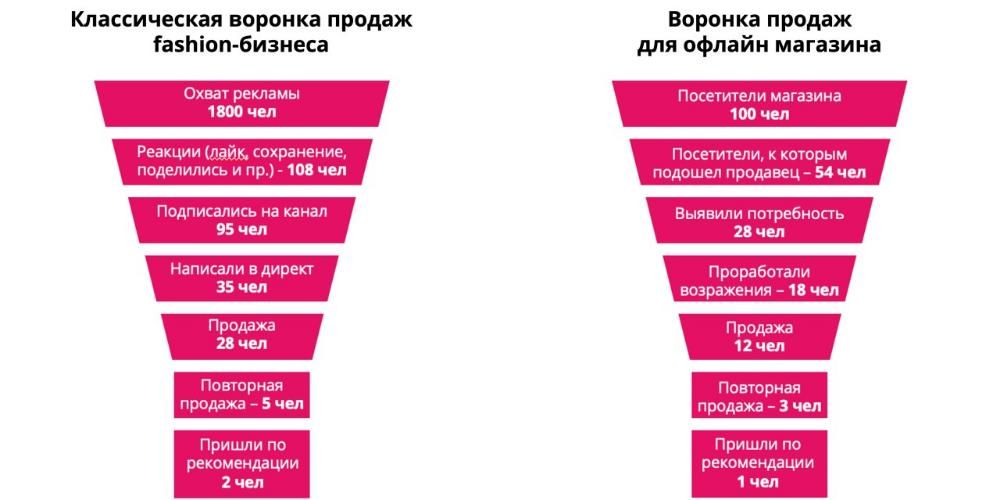 From top to bottom, fewer and fewer customers pass to each subsequent stage. People change plans, change their minds, and leave at every stage of the sales funnel. And then it becomes clear at what stages you are underperforming, and what needs to be changed in the company.
THREE STEPS TO CREATE YOUR BUSINESS SALES FUNNEL
STEP 1. Identify the stages of the sales funnel
Above, I gave two examples of sales funnels consisting of seven stages. The stages of your sales funnel may vary. There may be more or fewer stages, or they may be different altogether.
The number of funnel stages depends on how loyal your customer is and through which sales channel the purchase is made.
It is not difficult to single them out: just write down all the stages of interaction with the client, from which select those where the probability of losing a client is especially high.
STEP #2. Implement Metrics
The most difficult and important stage of work. Usually, it is at this stage that the illusion "I already see everything, why do I need these plates?" arises, there is no time to enter data and carry out calculations.
Therefore, I recommend that novice entrepreneurs start analyzing at least the main 4 stages of the store's sales funnel: traffic, conversion, upselling (check complexity), repeat purchases. When you see the result and get a taste of it, expand the calculation table and start analyzing the effectiveness of advertising, online sales channels, etc.
There are solutions to automate data collection: traffic counters with automatic data entry into your sales control system, sales robots for monitoring performance indicators and CRM systems. And yes, among them there are solutions for small and medium-sized businesses with a low implementation budget. My favorites: Bitrix-24 CRM and Heado sales robot.
STEP #3. Improve performance
Business indicators need to be worked on, more precisely, optimized and improved.
For example, you decide to launch contextual advertising. In a month, you see that the number of impressions, on average, is 510. Buyers see it and, passing through all stages of the funnel, bring you 350 rubles. You realized that this advertising channel is effective for you and brings good sales. So, it is worth investing in it additional budget.
Or one more example. You have noticed that the conversion rate for one of the employees lags behind the overall performance of the team. Check with a mystery shopper and realize that he is completely incapable of identifying a need. You conduct training and implement scripts, after which the conversion rate levels off, and the store's revenue increases.
It happens that observations of a low resale indicator (check complexity) indicate the absence of related products or the inability of sellers to offer them correctly. Simple changes bring amazing results - up to 30% increase in store revenue.
All your actions aimed at business development are meaningless if you cannot calculate the result of your efforts and investments.
The language of business is numbers. And if you want to succeed in this business, you should learn how to count them.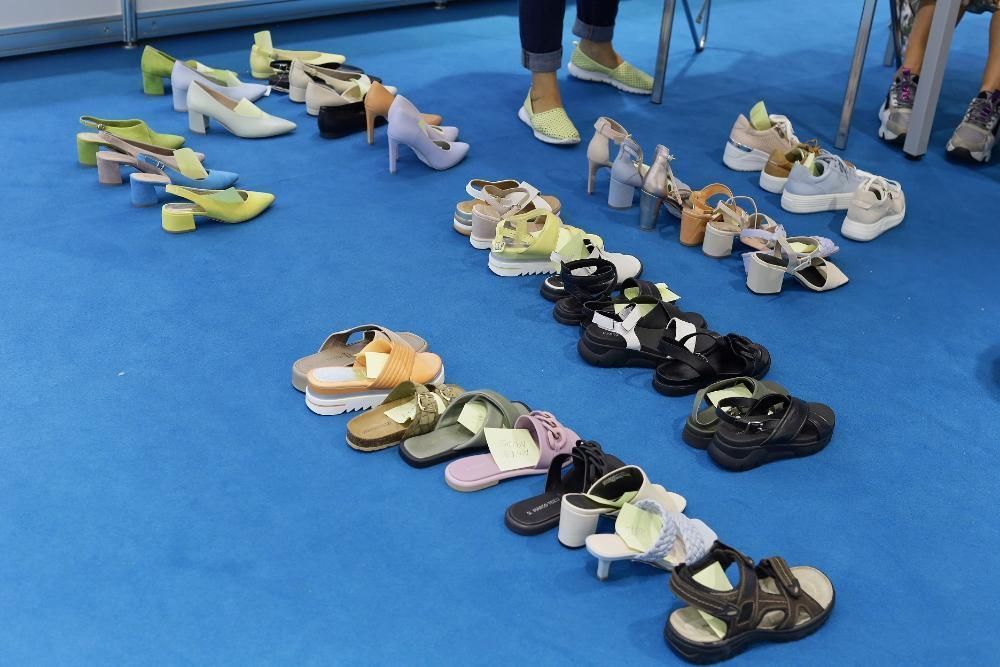 HOW TO DEVELOP AN EFFECTIVE MOTIVATION PROGRAM
Motivation program is a set of tangible and intangible tools and incentives that encourage an employee to achieve their goals.
Material methods include salary, bonuses for achieving targets and other benefits that have a monetary value.
Payroll Fund (PWF) The team of store employees usually makes up 8-15% of its revenue. The exact weight of the payroll in relation to the turnover of the store depends on the economic model, seasonality and the regional salary level.
Employee salaries can be dependent on the achievement of the sales target, store conversion, personal conversion, store UPT (average check complexity), personal UPT, average store check, personal average check, NPS (net promoter score), mystery shopper service quality score, wins in a weekly contest.
In order not to overload the motivation program, choose the most important 4-6 indicators for you. It is desirable that among them there are indicators both personal and team.
Example:
The main part of the salary depends on the fulfillment of the personal sales plan, and the bonus part depends on the team UPT and conversion.
The mystery shopper service award with a high score is also personally received by the employee who served him.
The use of personal and team indicators makes the team more cohesive and motivates each employee to achieve personal results.
Non-material motivation assumes that in your company, in addition to salary, bonuses and bonuses, there is something else that motivates employees to continue working in your company. There are many methods of non-material motivation, I will highlight 5, in my opinion, the most effective:
Method number 1. Motivational board.
Must have in every store. On the motivational board we place:
goals and plans;
achievements of each employee;
success in the competition;
motivating quotes.
For high-tech companies, you can do all this in a CRM system, and display the results on a monitor in the back room.
Method #2. Education.
Training is a useful tool for both employees and the company. You can conduct training within the company, or train employees from well-known business coaches.
Aerobatics in training as a method of non-material motivation is when, in addition to training in sales, you give an employee the opportunity to learn according to his interests or hobbies that are not related to work.
Method number 3. Working space.
Employees like to work in beautiful stores with an interesting concept.
A big bonus is the functionally and stylishly designed space in the utility room.
Other cool benefits include:
Method number 4. Contest.
Competition can be both tangible and intangible. Depends on the prize.
In general, you create conditions within which there is an opportunity to show yourself and defeat an opponent.
IMPORTANT:
The recommended duration of the contest is 1-2 weeks, the prize should be of interest to everyone, and the optimal goal of the contest is to raise the sagging stage of the sales funnel.
Method number 5. The best worker of the month.
The method is very similar to the contest, however, it is a little different. We determine the best employee based on the results of his work for the month. As a reward, he receives additional privileges
For example: the ability to choose a work schedule (if possible) and additional days off.
IMPORTANT! Consider rewards ahead of time.
An effective motivation program includes both tangible and non-tangible tools. If your employees' salaries are still not dependent on meeting performance targets and achieving the plan, it's time to change that.
The last two years have been so generous with unforeseen events that you involuntarily think: "Is it necessary to plan at all?" Still, you need to plan. The sales plan is the benchmark for your business.…