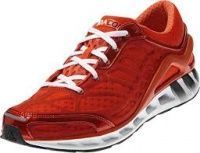 03.04.2012
3912
2012-04-03
Adidas company one from world leaders for production sportswear shoes and accessoriesintroduced the new ClimaCool Seduction sneakers. During the For 10 years adidas has been producing sneakers with breathable ClimaCool technology. ClimaCool Seductionс 360-degree foot ventilation and stylish design became the pinnacle of an entire ClimaCool shoe generation and it thing season. Whatever from thatwhat drives you in sneakers ClimaCool Seduction you are spectacular and organically look like on the treadmill track so and on fashion the party.
Brand face pop diva Katy Perry Not only playing sports in sneakers Clima Cool Seduction, but also puts in them dance numbers for their shows. Specifications ClimaCool Seduction already deservedly appreciated during famous workouts athletes ambassadors adidas brand: soccer superstar David Beckham, NBA regular season's most valuable player in season 2010–2011 Derrick Rose and triple FIFA Ballon d'Or winner Lionel Messi.
Adidas, one of the world leaders in sportswear, shoes and accessories, introduced the new ClimaCool Seduction sneakers. For 10 years, adidas has been producing sneakers with ...