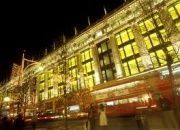 24.12.2012
2552
2012-12-24
One of the most famous London department stores Selfridges has offered its customers a unique shopping experience. During the New Year's fuss and hype, the No Noise space opened in the department store. Before entering the No Noise zone, buyers are asked to take off their shoes and turn off their mobile phones; rustling packages is also strictly prohibited.
According to the author of the idea and the founder of the department store, Mr. Selfridge, noiseless shopping will help customers to shop more deliberately and with concentration.
One of London's most famous department stores, Selfridges, offers a unique shopping experience to its customers. During the pre-New Year bustle and hype, the department store opened the No Noise space ("Without ...