Stuart Weitzman is a master of paradoxes. He uses wallpaper and 24 carat gold for his shoes. He does heels are made of bamboo and adorn pompons with evening boats.
Your first store Stuart Whitesman discovered in 1993 year, and still he is not only the chief designer, but also the owner, chairman of the board of directors and mastermind of his company. 2 million pairs are sold worldwide every year! 300 models are released for every season! Now he has opened 31 store in the USA and 33 store in other countries. At the same time, Whitesman himself is a gentle man with glasses who is torn between New York and Alicante, Spain, where his shoes are located. He sews shoes for three categories of shoppers: celebrities, fashionistas and - most importantly - women who make careers. For the first fashionistas - tall heels and experimental colors. For celebrity - shoes for attending the Oscars (in one copy - from precious metals and precious stones). For business ladies - classic pumps with and without heels, leather sneakers, slippers on the cork. Whitesman is distinguished from other designers by his calm attitude to stilettos: "The press and catwalks haul high heels above the skyscrapers. And how does it end? The fact that shoes without heels are sold five times better than studs! A woman does not have to always look super-sexy. If she tries to be like that all the time, they just stop noticing it. Yes, flat shoes are not sexy, but they are cool! And looking cool is no worse than looking sexy. " Although his collection has any shoes.
Mr. Whitesman made history as the creator of the most expensive pair of shoes in the world. In these silver shoes at the Academy Awards in 2002, Hollywood actress Laura Elena Harring shone in the movie Mulholland Drive. The sandals were decorated with 464 Kwiat diamonds and made using platinum on the weave. By the way, the grateful Spaniards, to whom Whitesman in Alicante provides about 2600 jobs, this year issued a postage stamp with the image of the very expensive couple. Although the master of paradoxes himself managed to set a new record for value. If the pair depicted on the brand was once valued at 1 million dollars, then another pair called Rita Haywort is valued at 3 million dollars. A very simple outwardly model is decorated with earrings from diamonds and precious stones obtained from the collection of Rita Hayworth.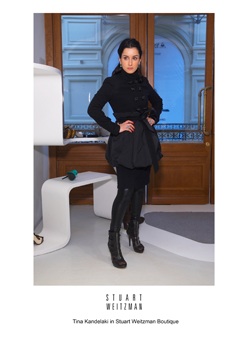 - Mr. Whitesman, how did you come up with the idea of ​​making shoes specifically for the Oscars - was it a fluke or an intuition?
- I was always upset that after the Oscar ceremony only star clothes were discussed, and I decided to do something outstanding to attract interest in shoes.
- How did the brand appear in Russia?
- I have always respected Russian culture. And as soon as there was a chance to start working in Russia, I immediately took advantage of it.
- Do you have stores open only in Moscow or have customers already appeared in the regions?
- So far, the Stuart Weitzman boutiques have opened only in Moscow, we have two stores on Red Square and one in the Crocus City Mall.
- At what point did you feel like a happy businessman?
- When I just graduated from university and started working with my father.
- Stuart, you are both a designer and a manager - where and how do creativity and business merge? How important is creative intuition for business and how important is accurate calculation for creativity?
- My father was also a shoe designer, his talent was passed on to me with genes, and I had a happy opportunity to absorb his experience from infancy. And I always thought about business, which is why I graduated from Wharton Business School. I enjoy combining the solution of business problems with the search for creative ideas, simply because I do not perceive work as a heavy burden, for me it is a favorite hobby.
- Is taste brought up or is this feeling innate?
- Impeccable taste is always born in the soul.
- How have women changed over the past 25 years? Their mood, attitude to life, work, family?
- Today, a woman is gaining more and more influence in society, and this is reflected in everything: lifestyle, clothing style, manner of serving herself. I like to think that I can please a modern woman - demanding, relaxed and confident.
- Whose feedback on your shoes do you consider the most important?
"I love it when a woman comes to me and tells me that she admires not only the design, but also how comfortable the shoes are." This is the best compliment for me!
Stuart Weitzman is a master of paradox. He uses wallpaper and 24-karat gold for his shoes. He makes bamboo heels and decorates with pom-poms for the evening ...