Alexander Hotto Italian shoes are appreciated for their excellent design, handicraft and the use of the latest developments in the field of leather processing. Meanwhile, few people know that the impeccable Italian design of these shoes is the merit of MGUDT graduate Ilya Fedotov, who has been collaborating with the A. Hotto brand for the third season.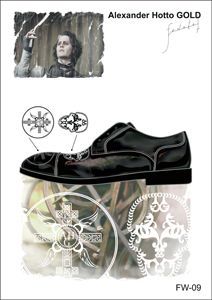 - It is a rare case that a Russian designer works for a well-known Italian brand. Why do you think the Italians invited you?
- I myself do not fully understand this. Perhaps they were impressed by my ideas, liked the style and approach to work.
- And how can you characterize your approach?
- I always try to delve deeper into the process of creating a new collection. What I'm doing is not empty ideas that accidentally come to mind. These are thought-out concepts, models in which there is not a single random detail. I create them based on fashion trends, moods in society, the situation in politics and economics. Long before starting work on design, I conduct my own market research: I look at trends, images, moods in fashion. The result is relevant and, importantly, commercial models. For me, the commercial component is of great importance, because the creative also follows from it.
- The approach is clear, but what do you do for the A.Hotto brand?
- At A.Hotto I run the Gold line. This is the most creative line that sets the tone for the rest of the brand's lines every season. So, I dedicated the collection of the last autumn-winter season to ski boots. But it was a subtle, not a direct association. The collection consisted of four themes: vacation, office, club and guru. Some of the models are made of crinkled leather. This created the feeling that the boots had just come out of the press. From ski shoes, the collection borrows shapes and fasteners. The theme "Guru", the most creative and complex, occupied only one percent of the collection, because few people can understand such shoes, and only a few buyers. This is the only non-commercial theme of the collection, but I give my best in it. The concept of the collections changes every season. My art director Dmitry Buerov and I can discuss it for several days, thinking over and saying all the little things.
- It often happens that your ideas do not understand?
- Commercial people do not understand often. This happens, as a rule, at the moment when they are faced with a non-profit model. And I just physically do not have time to tell them everything in order to fully reveal the idea. Still, I try to make 99% commercial shoes. Today, for example, the theme of gangsters, robbers, vampires is very popular. So, at Dsquared2, the image of the gangster in the opera became the title in the latest collection. At Alexander McQueen, too, the entire collection is built around a mystery man who first appears on the catwalk as Dracula, and then turns into an executioner in a leather suit and boxing gloves. My works are built in a similar vein. For example, I made ugg boots in the baronial style. In form they somewhat resemble those to which we are accustomed. But upscale patent leather, graceful fit give them sophistication, and accessories and decor in the form of a skull and a Masonic cross remind us that a person does not live by bread alone. They hint that in today's situation more attention needs to be paid to spiritual development. Such "medieval" design solutions give people the unique charge of power that they now need.
- Before working with A.Hotto, you worked for a while with Russian designer Igor Chapurin, then at Podium. Can you tell the difference between working with Russian and foreign brands?
- Comparison is quite difficult, since I have never cooperated with a fully commercial organization. Chapurin, Podium, A.Hotto are creative brands that pay great attention to the author's "I". Everything is saturated with fashion in them. Their managers are absolute professionals, in addition, they look very fashion. Therefore, it is easy and pleasant to work with them. I support their creative approach to work. Returning to the question of understanding, it's actually not very important for me what people around me think (of course, with the exception of close people), whether they understand me or not. It is important for me to do something different from everything else. Studying the theory and practice of business, I realized that during a crisis it is necessary to do complex exclusive things that others are not capable of. Need to take risks. In difficult crisis situations, the buyer changes. He becomes more thoughtful, sensitive and wants to express himself as much as possible. Including due to shoes. Therefore, A.Hotto shoes are popular among a certain type of people today. In the Central Department Store, for example, the last collection was sold out very quickly.
- Do you think that the fact that the Italians still have all the shoe factories as small family enterprises is a plus or minus for business development?
- You know, when I entered the university, I found out an interesting fact about my family. It turns out my whole family - shoe makers even before the time of Peter I. The family went from the city of Kimra, and in the Russian shoe history of Kimra - this is a separate, large and important chapter. And there lived my ancestors - shoe makers. And my relatives told me about this after I entered the shoe faculty, but I could go for a suit. This is probably fate. So, family business, the transfer of business from generation to generation is a serious thing.
- Are you not afraid that if you make commercially unprofitable models, nobody will simply cooperate with you?
- No, I'm not afraid, because I can make commercial models, and it is my personal choice to do one or the other. Creativity is not only in design, but also in materials. Outwardly, shoes can look very traditional, but the unique dressing of the leather, its texture will help it become inimitable. According to perception, tactile sensations such shoes are more reminiscent of couture.
- How did you come to the point that you want to make unusual shoes?
- The desire to create something extraordinary was always with me. But I easily switch, and when they tell me that I need to do something more familiar and traditional, I do it. I myself control this process of switching from one business to another, I can forget about dreams for a while and completely concentrate on the practical things that I am doing at the moment. And then it's also easy to return.
- Did the crisis situation somehow affect the work on the new collection?
- If we talk about A.Hotto, then the materials became more understandable. That is, the leather has become less pretentious. Outwardly, it looks traditional, and a year ago it could resemble plastic. Not by feeling, of course, but purely visually. As a result, a person looks at this model and does not understand what exactly he likes about it, but still buys it. This is the commercial component of these design developments.
- Do you remember your first sold pair of shoes?
- It was still at the institute. Then I created the Cossacks a la "Bohemian Gothic." By the way, after that I still have not seen anything like it anywhere. With shoes, I try to emphasize masculinity in men, and femininity in women. This is a very delicate work based on sensations. Literally millimeters decide everything. To make such a model, one must carefully calculate everything.
- Do you think about creating your own brand? - Yes, there are ideas. We are already thinking about a concept. She will be very deep. I want to create shoes that would not cause doubts as to whether they are needed or not. Which I would like to buy immediately. I work not for money, but rather for the idea. Therefore, it is important for me to realize what I have in mind. If someone likes it, someone buys and wears it - this is a victory. And no matter how much a person. I don't suffer from gigantomania and I'm not going to sell shoes in millions of copies.
Italian shoes Alexander Hotto is appreciated for its excellent design, handwork and the use of the latest developments in the field of leather dressing. Meanwhile, few people know that impeccable Italian design ...