With this phrase, a conversation began with Viktor Frolov, Vice President of the Russian representative office of Analpa. According to him, the crisis only plays into the hands of his company's business, and the retailers - partners of Analpa feel quite confident with the assortment of Keddo, Betsy, Crosby and Tesoro shoes.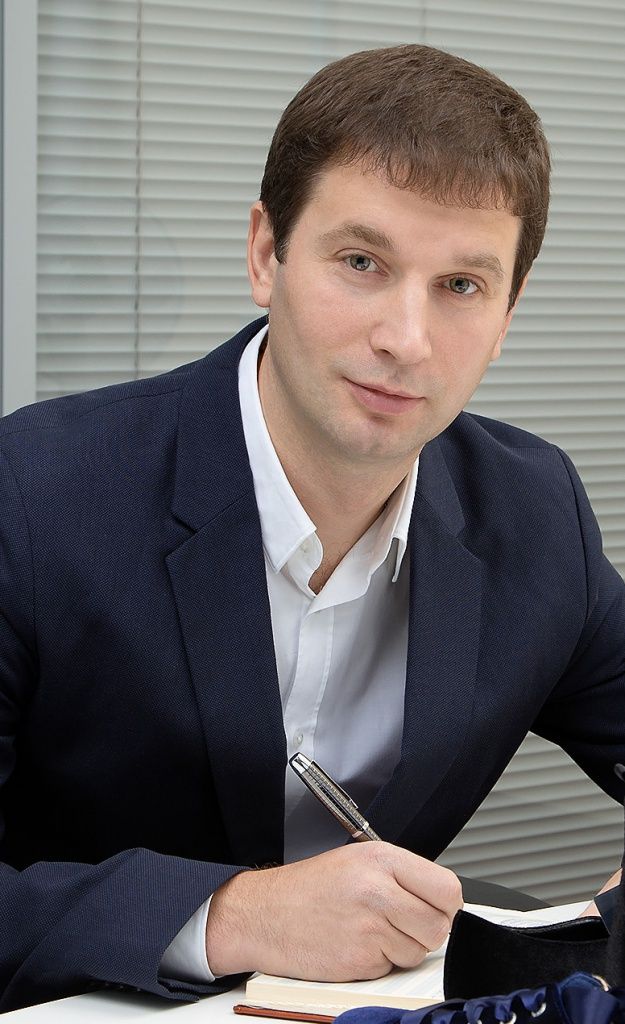 Vice President of the Russian representative office of Analpa Victor Frolov
Russia is experiencing another crisis, which hit shoe retail hard. They say that if the situation with shoe sales in Moscow is more or less normal, then in the regions the picture is very sad. KEDDO stores are in many cities of Russia, how do you survive this crisis?
The company "Analpa" is, as they say in the shoe community, a full-cycle company. This means that we are engaged in everything: from model development to the sale of goods to the final consumer. Moreover, all major sales occur through wholesale and distribution channels. The bulk of KEDDO stores are the stores of our partners, which are open through a franchising system. Indeed, some of our franchisees complain that sales in their stores have decreased compared to the pre-crisis period. But most partners are generally satisfied with the demand. For our part, we also notice that from season to season customer orders continue to grow, and this is natural, since our brands are presented in the price segments "medium" and "medium minus". It is in these price niches that demand has now shifted, and there are very few high-quality mass-market shoes on the market today.
After the Centrobuv chain leaves the market, our brands, in fact, have to compete with products that have a number of characteristic features. Firstly, the delivery of this product from China is often made with flaws in the preparation of accompanying documents, secondly, the majority of suppliers have the same models, and the components of this shoe - from soles to upper and lining materials - are made of polyurethane. Given all this, we can say that most of our partners in the regions work outside the competitive field, and those who competently build assortment policies without creating "competition on the shelves" of their store, selling our brands of shoes, feel quite confident.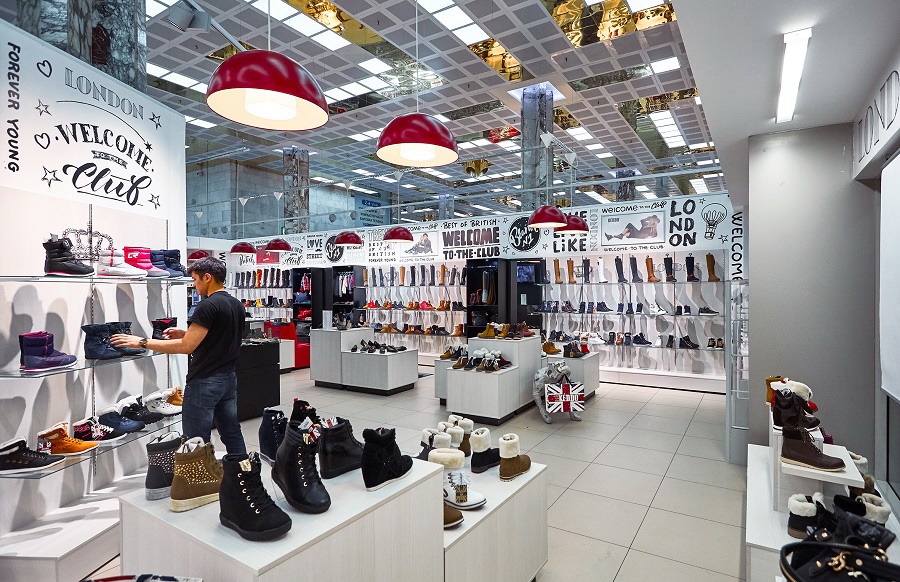 KEDDO store in Moscow in the Moskovsky shopping center
That is, the crisis has not affected you much?
No matter how funny this may sound, we are always looking forward to the onset of the crisis. Firstly, because we produce inexpensive shoes, that is, the number of our customers in the crisis increases. Secondly, the system of the company's work is built specifically on the production of shoes, and not on procurement, and production can always be tailored to the needs of the market. Thirdly, paradoxically, in the crisis there are more spontaneous purchases "in the mood". Now no one wants to buy shoes from 50-shades of black, everyone wants brightness and personality at a fair price, and this is what we offer.
But, despite the fact that to some extent the situation of the economic crisis is at hand, we took a number of anti-crisis measures: conducted an audit of all departments of the enterprise, optimized business processes and costs. With the help of our German office, we are actively using the derivatives system. We purchase foreign currency in advance under forward and option contracts, and this gives us the opportunity to slightly offset the exchange rate difference.

Zenden Group Consolidates Retail Networks, What Development Benefits Through Such a Strategy Can It Acquire?
Zenden today is one of the few federal shoe companies that uses the crisis for development and growth. Moreover, she is not characterized by a strategy of rampant growth, blindly: each of their points is precisely calibrated, rents are optimized as much as possible, sellers are full of team spirit and professionally trained. Retail Zenden has always grown "organically", without leaps and "pumping" investment. But it is obvious that the Group's management does not want to dwell on one segment of the market, especially since with the departure of leaders in the "medium" and "medium plus" segments in which Mascotte operates, competition has decreased. Combining Mascotte and Zenden is mutually beneficial. For Mascotte, this is access to a large financial resource; for Zenden, this is the distribution of risks between price segments of the market. The company "Analpa" strongly supports such a consolidation, especially since both retailers are our customers.
On your site it is indicated that now the KEDDO network has 45 stores, were there any openings or closures of retail outlets in the 2016 year?
As I said earlier, the retail business is not the main one for Analpa, it is rather a tribute to our customers and the KEDDO brand. Customers considered that the brand deserves a separate monobrand store, and we opened several flagship stores in Moscow and St. Petersburg, worked out all the working mechanisms, and showed customers the financial indicators that suit them. After that, those who wish could purchase a franchise and open stores in the regions, in iconic shopping centers. In some countries, such as Kazakhstan, franchising has become the direction of the strategic development of the company.
In Russia, KEDDO stores continue to open actively. Only in October a third store appeared in Samara, one store opened in Irkutsk and several outlets in Moscow.

In which countries, in addition to China, Russia, Ukraine and Kazakhstan, are your brands sold and how? Each country has its own specifics, its own consumer demand, is it possible to enter the markets of different countries with the same product, or do we need to take into account the characteristics of consumer demand in each country?
Analpa is an international company, our representative office is responsible for sales in Russia, Kazakhstan and the Republic of Belarus. One of the European offices is developing business in Ukraine, and as far as I know, several KEDDO stores were also opened there in October. The British office located in Manchester is responsible for development in Western and Northern Europe; Germans manage the business in Central Europe. There are also representative offices in Asia and America.
Collections for all countries, and often within countries, are completely different, and if in China the company sells only leather shoes, then in the USA, Canada and Mexico it is exclusively artificial and inexpensive. The British collection is being developed in a London studio, the Spanish in the Alicante area. French designers go to a company's studio in China, where, based on existing shoes, they make their own lines according to models and materials.
By the way, the KEDDO collections for China and Hong Kong also have significant differences, and Singapore also has its own demand. Australians wear mostly casual shoes from the KEDDO brand, but as I heard Tesoro is also actively sold there.

KEDDO Store in Shanghai
You have one store in Shanghai marked on your site. They say that in order for the middle brand to successfully develop in the Chinese market, one store is not enough, you need a network, is that right?
For the development of the Chinese market, the representative office of Analpa in Hong Kong is responsible. But I was recently in China at the company's annual summit and heard about their successes. Our colleagues chose the Internet to advance in the Chinese market, and this is no coincidence, since the youth of China make most purchases online from their phones and mobile devices.
Brands of the company, mainly KEDDO, are available on all major Internet platforms in China. There are branded stores on T-Mall, Kaola, VIP.com, JD.com and some other sites. Only on T-Mall on Bachelor's Day and Birthday 11.11.16 sold over one hundred thousand dollars worth of shoes. It is impossible to achieve such a result in any store or in any country in the world. In Shanghai, we have one corner open. Our long-time colleagues from Belle HK opened a shopping center and asked us to participate, and it turned out very beautifully. The Chinese are very enterprising, and over time, we began to receive offers to open offline stores like this corner. In December, the first full-fledged store opens in Shiyan, and if performance is good, the next will be in Beijing.

Basically, your company is represented by mid-range brands. But you have brands and more expensive - ID !, Laura Valorosa, Hortos. What are these brands, how do they feel?
The prices for shoes of these brands are indeed slightly higher than those of our other brands, but they also belong to the mid-price segment. Shoes of these brands are well sold, since few people can work with inexpensive leather, and Analpa has a competitive advantage in this.
For the last 20 years, we have been selling imported leather, lining fur and other shoe components, that is, we have access to inexpensive raw materials, due to which the cost of the final product remains very affordable, which ensures continuous growth in order volumes. Some of the shoes are produced at factories in Bangladesh, Ethiopia, Colombia and China, and some in Russia. We have equipped our Russian factory with all the necessary equipment for the manufacture of high-quality leather shoes.
The collaboration of the Betsy brand with singer Nyusha seems to have added fame to this brand, and this year you launched the second collaboration - with Yana Churikova. How do you rate these projects? Will there be a sequel?
I think that the collaboration with Nyusha was a mutually beneficial project. No one has studied, but usually, as a celebrity adds fame to the brand, and vice versa - the brand increases the popularity of the star. Nyusha was one of the stars who have worked with our company in recent years. In addition to her, we collaborated with Roma Zheludem, Elvira T, Olympic synchronized swimming champion Angelica Timanina and others.
But cooperation with Yana Churikova is a special story! Yana Churikova is the director of the MTV youth channel in Russia, with whom we have long and fruitfully interacted. Yana always liked what we do, and she tried to promote our brands long before she began to help us with the development of models. She is a talented person who shares the values ​​of our brand, and her participation adds personality to the models of the joint collection. The recognition of the Betsy brand with the launch of this collaboration has increased, and we plan to continue cooperation with Yana Churikova and MTV.

The end of the year is approaching, as it was for Analpa, and what are your future development plans?
In addition to the development of brands, we are now seriously engaged in such projects as the organization of fast fashion, as well as new areas in production - the production of accessories and new lines of children's shoes. Active growth is observed in all three areas. All these projects are complex, and few people are professionally involved in the market.
Also, our laboratory in the Dutch Waalvik continues to develop new materials for tailoring shoes. Starting from the microfiber we use for the top in the Grunberg and Tesoro brands, and ending with various membranes and 3D technologies.
In addition to the main order, which we send to our wholesale customers, we begin to produce acutely fashionable models for free stock. When fashion for these models comes to Russia in the spring, we will already have them available.
Another important area that the company has been actively engaged in over the past few years is charity work related to early and accurate diagnosis of cancer. The company "Analpa" is trying to contribute to the development of this branch of medicine in Russia.
I want to note that next year is anniversary for us. Our representative office in Russia is celebrating 25 years, and we will try to approach this date with dignity, continuing to delight our partners and clients with the results of our work.
This article was published in the 143 issue of the print version of the magazine.
With this phrase, a conversation began with Viktor Frolov, Vice President of the Russian representative office of Analpa. According to him, the crisis only plays into the hands of his company's business, and retailers - ...