Depending on the format of the store, related products may be allocated more or less space. Common options for laying out "jumble":
Each of these types has its advantages and disadvantages. The goods locked in the window are clearly visible, you can make the backlight and it will not be stolen. But you can't pick it up, the seller must open the window to show something ...
If the goods are laid out in the hall, for example, on special racks, then they must be protected from theft, and this is additional equipment and expenses. Advantage: the buyer can pick up the product, read the label. Here the principle of self-service applies, prompting the buyer to act. In addition, the sales assistant can also immediately show the product and explain its capabilities.
The most common is the layout of the "junction" in the immediate vicinity of the cash register, often behind the cashier's back. The buyer, standing at the checkout, has the opportunity to consider the goods laid out "in front of his nose". If the buyer has not yet received recommendations from the seller to take something from the related product, then the cashier has the opportunity to offer him a suitable product. In addition, there is the opportunity here, near the ticket office, to lay out promotional materials on the "jut" or put a screen with a video about shoe cosmetics.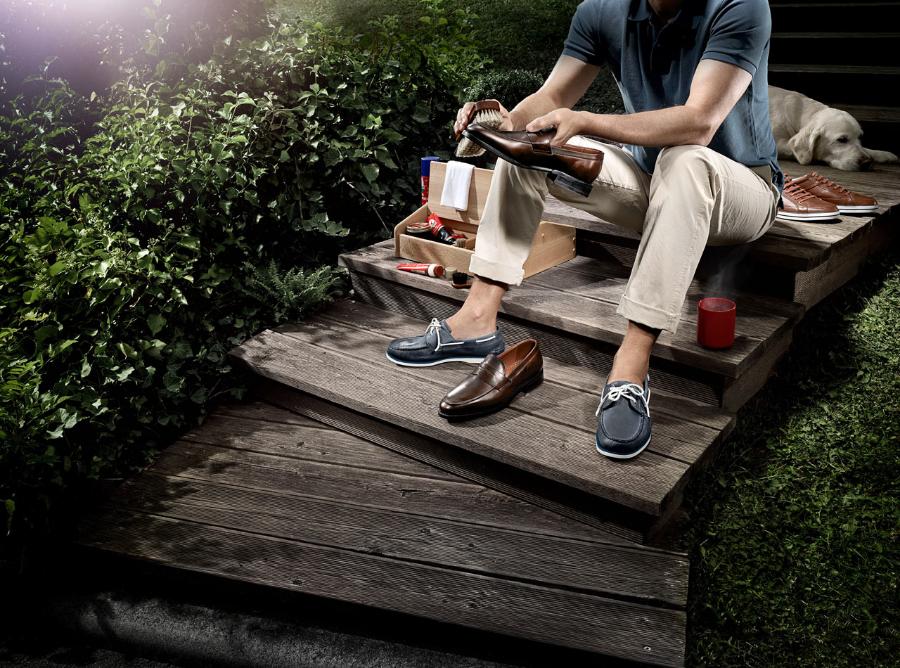 From emotional to rational

In addition to the right place, the calculation model itself also matters. We conditionally divided them into three: emotional, rational and "American".
Emotional the layout can be found in small shoe networks, where there is a responsible employee who is constantly engaged in the selection and design of the "jut". The product is laid out so as to attract attention, and is a kind of beautifully selected composition. Color and decoration play a big role. As a rule, this is a wide range of cosmetics with exotic products and a large palette of colors. With such a calculation, very good training of sellers is supposed, who, from all this variety, can offer the buyer what he needs.
Rational The layout is present in large networks where there is already a proven system of work, but the staff turnover here is usually high. Everything is set "on stream" here. The assortment must therefore be concise and clear, including only bestsellers and seasonal goods. Then it's easy for sellers to remember everything, and it's easy for buyers to figure it out.
"American" Display is when a lot of each product is displayed. The idea was borrowed from the system of displaying goods in supermarkets - a lot of goods were posted, because the demand is very large, and you need to keep stock. Thus, the buyer is encouraged to buy: everyone needs me too. This is usually a small, percussion, seasonal set of products. One product in large quantities can be exhibited on a separate podium near the outlet.
All three calculation methods have the right to life and can be freely combined.
Our laying out recommendations:
An open display in the checkout area (without a display case), the product should be located so that most of it is at the eye of the buyer.

The product must stand tight, with no free space between individual cylinders. Each product should have several cylinders / tubes, but not too many.

If in one group of goods - for example, in impregnations, there are cylinders of different heights, then it is better to put them "slide", while the highest or most important product is located in the middle.

Tubes of creams are set to the front end so that the color is visible.

If this is a premium product, then seasonal, relevant products should be highlighted especially - there is no fantasy here: jars, tubes, cylinders can be in a stand / presenter, accompanied by an advertising poster, a mini-gift.

If the store has a place and it is technically possible, then open display of seasonal goods on the trading floor, on the podium or in a separate rack is also welcome.
Retailers are seeing an increase in the category of accessories.
Director of the Econika brand Alina Stepanova:

"The development of a line of accessories is one of the strategic objectives of the Econika brand. It is based on the goal of improving the customer experience through the ability to choose a stylish image, be inspired to change, find an individual fashion solution for a specific occasion or occasion. First of all, we study the needs of clients, their lifestyle, style and preferences. Interpreting fashion trends and taking into account the knowledge of the client, we develop unique themes that are reflected in capsules, which include shoes, bags, accessories, jewelry. Using this approach, we have successful sales of bags and accessories, increasing their share annually by 30-40%. Over the next few years, we plan to continue strengthening this category with exclusive designs and limited edition capsules. "
Vera Victoria Vito Network Advertising and Marketing Director Larisa Vovdenko:

"We have scarves, wallets, belts, bracelets, umbrellas in our stores. Sales of accessories are growing, purses are especially active. Before the New Year a new batch of ceramic bracelets and rings arrived, and they immediately showed a good sales result, especially since they appeared in our stores during the very season of gifts. "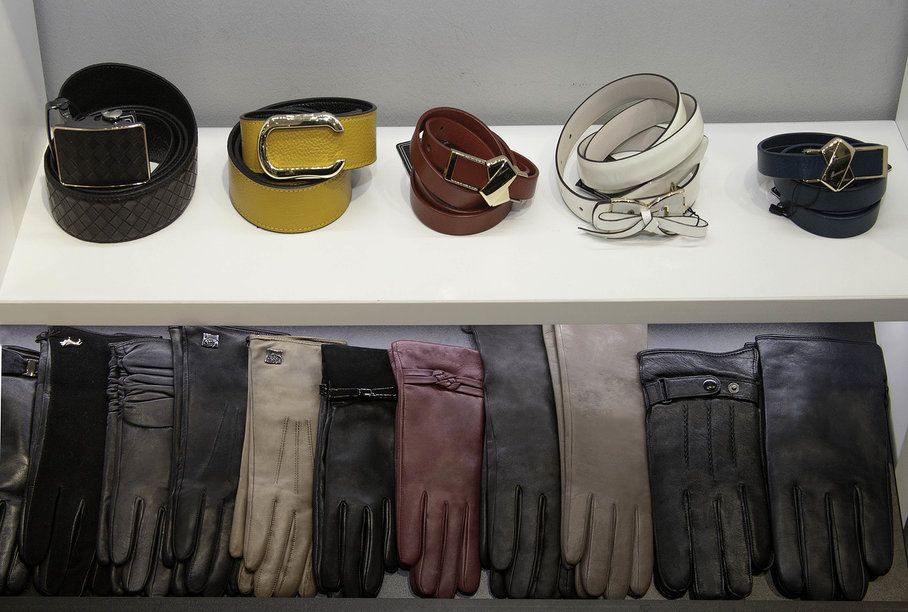 Open display of accessories in the Vera Victoria Vito store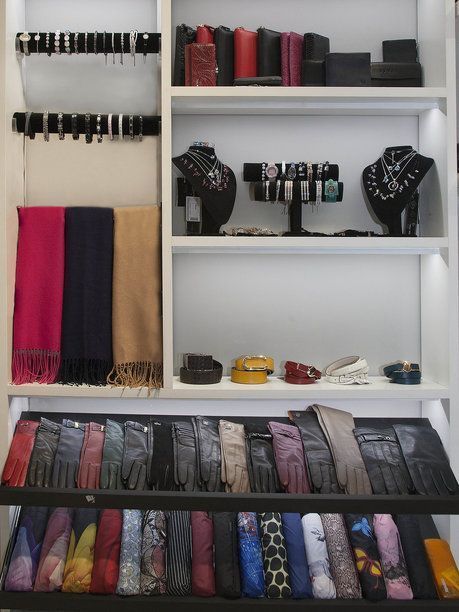 Accessories booth at Vera Victoria Vito store
High sales of shoe cosmetics - in the hands of sellers

The sale of related products is entirely dependent on the seller's skills. Associated goods are not for sale. A buyer may come to a shoe store with the firm intention to buy a pair of shoes, but he never comes with the intention of buying a tube of cream. The main task of the seller is to see and correctly evaluate the buyer, while the seller should be as honest and unobtrusive as possible. Of course, he is interested in selling as many goods as possible, but he should offer only what the buyer really needs, in no case to "push in" the goods.
The Russian buyer combines a high degree of mistrust and at the same time is a grateful, responsive audience if he feels a good attitude towards him. The sincerity of the seller will be appreciated and the buyer will come next time for advice.
Of course, the seller must have information on all the goods, but in practice, we see that often the seller has his favorite products that he offers in the first place. Sellers come up with their own stories and argue why the buyer should purchase these products. There is nothing wrong with it, on the contrary, if these products are offered correctly, then when training you need to ask sellers what products they like and give more information about them. The seller must be sure of the product himself, then he will be able to successfully offer it.
Before the start of the season, sellers need to submit a short line of seasonal shoe care products that will be "shocking." It should not be long, otherwise it will be difficult for the seller to remember all the advantages of each tool. For example, if it is an impregnation - no more than three: gentle impregnation with the care function in the 200 ml cylinder, nano-impregnation of strong action in the 400 ml cylinder, concentrate impregnation in the 75 ml cylinder.
Sellers should understand the types of leather so as not to make a mistake with the selection of products. If the store has a large turnover of sellers and it is not possible to constantly conduct training, then you can choose a certain line of universal goods (there are such funds on the market) that can be used for all types of leathers. For example, modern high-end impregnations are developed absolutely for any materials, including TECH-membranes.

Five general rules for sellers:

Do not impose a product, but talk about its merits.

So offer a product so that a person picks it up.

Offer two products to choose from - usually one of them will be purchased. But no more: a person has only two hands.

Offer a care product at the end of the conversation, when the buyer decided to buy shoes.

Articulate product benefits clearly, concisely, and clearly.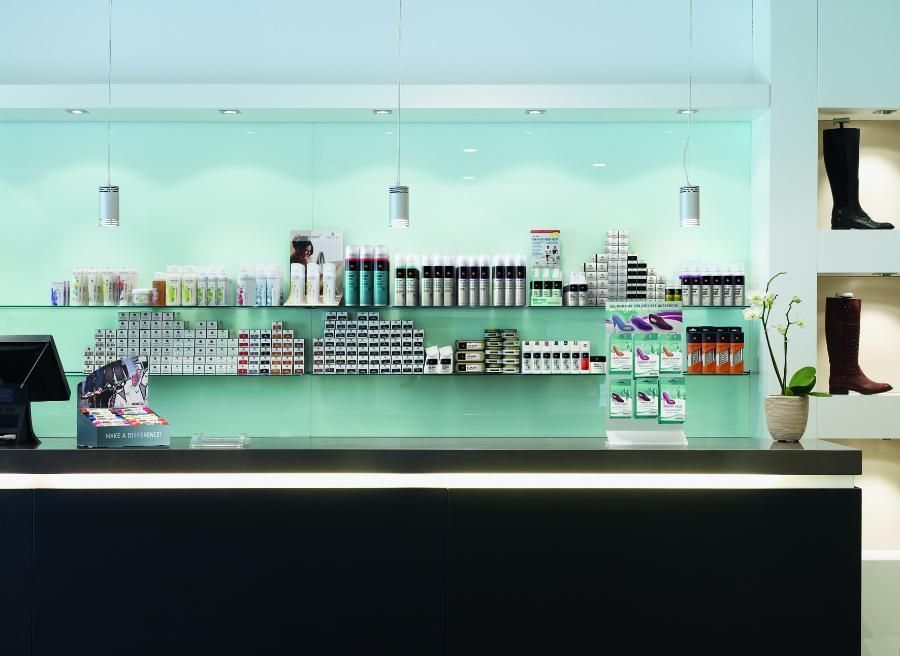 How to form a "cosmetic" assortment

What brand of shoe cosmetics to choose? Here it makes sense to build on those shoe brands that are presented in the store.
If this is a cheap product, then the means for shoes can not be expensive. In addition, in a store of a low price segment, it makes no sense to present a large assortment. One impregnation, one cleaning agent, a cream in three primary colors, a velor-nubuck spray in three primary colors, a pair of brushes are enough! Sometimes they add fat for shoes or a very cheap cream in a jar.
In the middle segment and above, a wide range of products can be presented, allowing to satisfy more refined demand. Creams and products for velor-nubuck leather in a wide range of colors, a large selection of cleaning products, impregnations, various brushes, special products for varnish or synthetic materials, stretch marks for problem areas in shoes, products for delicate leather or leather with effects must be present here and much more. Of course, the emphasis is still on commercial products, but if the seller sees that the girl bought very expensive shoes made of genuine patent leather, then maybe she should not offer ordinary cream for varnish, but special oil for varnish, which will protect the leather more effectively from creases. Oil, of course, costs a little more, but there is certainly a point in using just such a product, in which the seller should try to convince the buyer.
Those who have no experience selling shoe cosmetics are encouraged to start with the so-called starter kit of win-win products, and then gradually expand the assortment based on sales experience.

How to correctly calculate the volume of procurement

If we consider only shoe cosmetics without any other "bundle" - insoles, laces, horns, shoe holders and other things, then to an average store with an area of ​​100 sq. m, selling shoes with retail prices from 4 000 rubles to 12 000 rubles, in the low season, shoe cosmetics will cost approximately 40 000 rubles a month at purchase prices. This, of course, is a very average figure. We have already talked about how many factors matter when selecting an assortment.
There are no general recipes, here we must act by trial and error, while hoping that the latter will not be very many. It can be calculated differently: just take the approximately average volume of shoe sales per month, take 10% from it, divide by 2 (we get the wholesale price) and multiply by 3, since there will be the very first purchase - if you start selling shoe cosmetics from scratch , - and it should contain some stock of goods.
Do I need to arrange sales of creams and sprays?

As practice shows, sales of cosmetics do not make sense. With shoes, everything is different: the buyer clearly understands how much this or that shoe can cost and sometimes he is specially waiting for a sale. Or the buyer sees a substantial discount and is tempted to make a spontaneous purchase, even if he does not really need these shoes at the moment, because "it's a sin not to buy at such a price."
In the case of shoe cosmetics, no one will buy the cream just because it has a special offer and there is a 20% discount. If the seller managed to convince the buyer that he needed a specific tool, he would buy it without a discount.
To offer a care product as a gift during the campaign in addition to shoes is a possible option, but in this case, the present should be chosen so that the buyer can really use it. Such a present should be inexpensive and universal, not requiring consultation on its use. For example, an impregnated sponge is suitable for such purposes to add shine to the shoes. The buyer, of course, will not refuse the presentation, but he still with great pleasure wants to get just a discount on shoes, not a gift. Of course, you can carry out such actions, but this is not the main task of care products. They can be well sold in regular trading.
This article was published in the 131 issue of the print version of the magazine.
Depending on the format of the store, related products may be allocated more or less space.