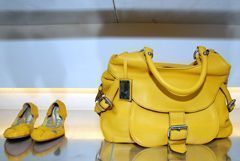 22.12.2010
7591
Middle East Boosts Segment
The distribution of shoes in the Gulf countries was discussed in mid-February in Sharjah (UAE) at a seminar that was dedicated to training shoe retail owners. This seminar was another step towards close cooperation between the Italian trade and exhibition company Riva del Garda Fierecongressi Spa and the Sharjah Exhibition Center. The purpose of the discussion is how to move from the middle segment to the higher one.
The seminar was organized by the Italian company Diomedea. Specialists of the highest qualification shared their experience - the representative of the international school of fashion, design and marketing Polimoda Aki Schocklat, the head of Diomedea Enrico Sietta and the senior manager of Damasco Srl Giuseppe Popolani. The latter company represents the largest Italian shoe and clothing brands in the Persian Gulf and the Middle East. The seminar was looking for new approaches to staff training - from salespeople to managerial staff.
According to Giovanni Laezza, director of Riva del Garda Fierecongressi SpA, "The cooperation program has been developed since the 2008 of the year - so that the professionalism of retailers grows in proportion to demand. In 2010, the format of the meetings changed in the light of the changing economic situation.
The representative of Polimoda school Aki Shoklat believes that the training of managers in the field of fashion business has become a global and interdisciplinary phenomenon. And the Polimoda school is ready to ensure the development of the right marketing strategy when entering foreign markets.
Giuseppe Popolani, senior manager of Damasco Srl, shared his experience in the Middle East fashion retailer and talked about strategies for successful interaction with the largest local retailers. The bottom line is that even a world famous brand needs to be adapted to local conditions.
The seminar ended with a show of the Spring-Summer 2010 collections for women and men, which featured brands such as Alfiere, Alpha Trade, Cerutti, Emozioni, Imac, Jorge Bischoff, Lizard, Michael, Paolo Santini and Renato Cenedella. Italian companies are ready to share their experience with Russian buyers. For this, the latter need to consolidate their desire.
The distribution of footwear in the Gulf countries was discussed in mid-February in Sharjah (UAE) at a seminar devoted to training shoe owners ...