The owner of MakFine, Armen Avetisyan, made a decision two years ago to manufacture footwear of his brands in Russia and acquired the Taltex shoe company, which today produces up to 7 pairs of shoes a day. According to the entrepreneur, it is now impossible to completely abandon the import component in the shoe production, and, nevertheless, its share in MakFine products has already significantly decreased - to 000%.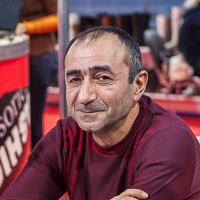 Armen Avetisyan
- Founder and owner of the McFine shoe company and the Taltex shoe manufacturing company. The entrepreneur's assets include a number of shoe retail chains, including MakFine, Nobbaro Retail, Dina Shoes (shoe brands El'Rosso, Benta, Makfly, Vigorous, Nobbaro)
Armen Valerievich, two years ago you decided to develop shoe production in Russia and acquired a factory in Taldom. What kind of shoes are they producing today?
I have several production sites in Russia, I have production in Belarus, but, indeed, the largest factory is in Taldom, today it produces about 7 000 pairs of shoes per day. We work in the low-price segment, but at the same time try to maintain quality. It is known that in the low-price segment everyone is trying to get the best price. Our price is not always the lowest, it can be higher by 5-10% than the Chinese. Nevertheless, at a price we can compete, for example, with the production of the Bris Bosphorus company, although it produces more than 10 million pairs of shoes a year, and we produce about two million. Moreover, we can boast a higher level of quality!
If we are talking about sports shoes, then in terms of quality we are not inferior to the world leaders. We use the chasing method of attaching the sole, a set-in insole, we buy the purest raw materials for PVC from a plant in the South Urals. This raw material is certified for export to Europe, where the quality requirements are higher than in Russia. We also have our own production facilities for casting soles.
Our company strives to work honestly: if we declare that the product 50% fur, then it is; if we say that for the production of soles we use material that withstands -35 degrees, then we really buy such material. We actually have frost-resistant PVC, and what's more important - unlike the shoes of most Chinese manufacturers, they are odorless, that is, the material is neutral ...
Today, with the change in the economic situation, many in Russia are again talking about import substitution. Do you think this is real?
The domestic light industry is now really breathing, and yet it is still far from its revival. The main problem is the lack of qualified personnel. For example, the technical capabilities of our factory in Taldom are not used at full capacity today: we do not have enough specialists. There are no problems with the engineering staff, but the seamstresses and foundry workers are not taught anywhere. The injection molding method of production in Russia is absent as a class! I need about twenty foundry workers for all my units, but only eight work ...
There are German Strobel machines at the factory, we need specialists who are familiar with the specifics of working on this equipment, there are both Chinese and Korean cars, but what difference does it make if there is no one to work on them ?! If you can still type ordinary seamstresses, then specialists at Strobel and injection molding machines cannot be found. We do not have enough specialized vocational schools, the influx of employees into production is small. They go to work in a factory, as in hard labor, they do not want to work. The level of salaries in the region is approximately the same, and we have different systems of motivation, but what if a person is ready to receive little money, just to do nothing ?!
Taldom is just 140 km from Moscow, and the proximity of the metropolis, one way or another, washes away capable, hard-working people. It is clear that workers in a factory in the region cannot receive Moscow salaries, and although we pay a little more than the average for the market, work in production is not the easiest ...
I joined the Taltex founders just two years ago. Prior to that, he produced shoes in China, Turkey, Spain. Of course, Taltex is not my first attempt to organize production in Russia, but before that, nothing really came of it for various reasons.
But I think that producing in Russia is still more profitable, especially if you work on long series. If on one block 150 - 200 thousand pairs of shoes are produced, low cost can be obtained both in China and in Russia, but in our country we are at the very least protected by customs. Sewing in China and competing with Chinese shoes of other brands on the Russian market is difficult, as there is a lot of smuggling from there. When you produce in Russia, it's another matter, now our product is very competitive at a price.
But is all this mainly related to the low price segment?
In the middle segment of leather shoes - the same situation, and, nevertheless, we continue to sew some shoes in Asia. We cannot produce any shoes here - there is no equipment, no hands. For example, in China, your employee, a fashion designer or designer, can go to the materials market and in 15 minutes come with a set of leather and accessories samples from which you can make a new collection. If there the designer draws new accessories, then in two days it can be put into production. In Russia, there are no such opportunities yet. Therefore, if we are talking about the release of shoes in a higher price segment, where there are non-standard accessories, leather - you can't do without import.
In addition, it is worth considering that there are things that are exchange commodities and they have an international price. A year and a half ago, a ban was imposed on the export of raw leather from Russia, and this was the right decision. Because as soon as the dollar began to grow, it became more profitable for our hides not to process, but simply to sell raw to Iran, Afghanistan, India, Pakistan.
They say that they still continue to export hides from the country?
Yes, they still carry it, not all the holes are patched. As a result, the high dollar rate spurs the price of high-quality facial leather within the country, as this product can always be sold abroad. As a result, despite the fact that the dollar has doubled in price, and it seems like our raw materials in dollars should cost half as much, this does not happen.
What is the share of imports in your products?
By the number of pairs, the share of imports in our assortment today is about 15%, three years ago it was 100%, that is, in Russia we did not produce anything. Now the share of the imported component varies depending on the price segment of shoes. I myself produce the sole, but for shoes in the middle price segment we use the soles of third-party manufacturers, we buy them abroad. In the mid-price segment and the medium-plus segment, hides are also imported. In the low-price, there are things completely made in Russia using exclusively domestic materials, but, of course, we work on imported equipment, there are not even domestic sewing needles, shoe nails. Although now there is such a boom in light industry that maybe they will appear soon ... In general, at the moment, the share of imports in footwear production in the middle price segment is somewhere around 30%.
What is happening now in terms of production development?
We master new technologies, develop casting. I can produce not only sports shoes, but also comfortable shoes for women. Now we are going to develop polyurethane. By the way, I received a proposal to purchase a factory in Murom, which works on the same technology with us, but on polyurethane. This company was forced to close due to the crisis, and we were just about to develop polyurethane, and it seems like Murom is not far away, but I abandoned this idea because I want all production to be in one place.
Now my plans are to actively develop production in Taldom, so the production facilities at Taltex will be increased by another 4 000 sq. meters, the total production area will be 7 000 square. meters. This will accommodate a larger number of production units, the staff will also be increased. Today I have several more small production sites in different regions of the country, I would like to combine production assets in the future and create two large centers: one for the production of shoes in the mid-price segment, the second for the production of a cheaper range. One such center will be in Taldom.
Interview conducted by Marina Shumilina
The owner of MakFine, Armen Avetisyan, made a decision two years ago to manufacture shoes of his own brands in Russia and acquired the shoe factory Talteks, which today produces up to 7 000 pairs of shoes ...