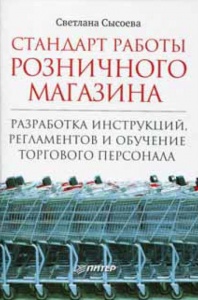 04.12.2013
11868
Retail Store Standard
Has your store developed so much that verbal instructions are no longer enough? Are you looking on the Internet for templates of instructions and documents, but there are only excerpts from someone's diplomas and quotes from textbooks? You turned to large retail chains for help, but didn't help you there?

Try to find answers to your questions in this book. It contains the most important forms for the store's work, ranging from the plan for opening a retail outlet to a sample contract with a supplier, and provides templates for assortment management, organizing the movement of goods, staff work and implementing standards.
In addition to this, an actual sales training for sellers is provided.
The book has long proven its relevance to readers, since before you is its second edition.

What are the specifics:

more than 80% of the book is made up of sample instructions, templates of contracts and forms for assessing the quality of work. All that remains for the reader is to determine the documents necessary for the store, reprint them in the Word program and put them into action.

Find out the price on the website of the publishing house "Standard of the retail store"