What unites Madonna and Penelope Cruz? Britney Spears fragile and impenetrable Mike Tyson? Brutal Sylvester Stallone and ironic Jessica Alba? Beauty Heidi Klum and intellectual Elizabeth Taylor? Designer T-shirts and sneakers with bright prints in the style of "old school" tattoo. This fashion wave, which has not subsided until now, swept the world of show business stars in 2004, when American designer Christian Odigier created a new brand of clothing and footwear Ed Hardy.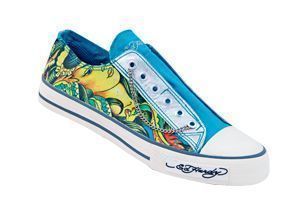 Christian's idea was simple, like all ingenious: American culture is permeated with a love of Harley Davidson tattoos, riotous parties and motorcycles, which means that in order to succeed, you must offer a product that reflects all these affections. The sharp and vibrant style of the legendary master Sailor Jerry, who brought the art of tattooing to America, has never lost its popularity among all segments of the population. The clothing made it possible to tattoo not only the body. With the advent of Ed Hardy, the tattoo created by Sailor's apprentice Jerry, the godfather of modern tattoo Don Hardy, can now be worn!
The eccentric native of France, Odigier began his career in the world of big fashion very early and at the age of 14 he created his first denim collection for the MacKeen Jeans brand. By the age of 19, he had worked with Levi's, Fiorucci, Diesel, Bisou Bisou, American Eagle Outfitters, Naf Naf, Kookai, Liberto, Lee, Von Dutch. At the end of 2004, he was "at the right time and in the right place", which allowed him to buy the exclusive rights to the project of Don Ed Hardy (Don Ed Hardy). Ed Hardy T-shirts and sneakers conquered the world in the blink of an eye, becoming a part of culture and cult. They have made Odigier the king of designer T-shirts, and the Ed Hardy brand one of the most sought after in the world.
Ed Hardy products are sold in more than 3000 stores in Los Angeles, New York, Miami, Paris. The company soared to incredible heights in the first year of its existence, bringing owners income of $ 15 million. Another hit was the line of exclusive models of men's and women's shoes and accessories with tattoo elements from Ed Hardy.
An American tattoo artist born in 1945 in southern California, Hardy was the first to use Japanese-style elements in tattoos. In the 80's, Hardy published several books designed to interest the general public in the art of tattooing. He is currently mentoring Tattoo City, his studio in San Francisco. In his works, Hardy freely mixes the traditions of Chinese painting and Japanese calligraphy, Mexican motifs and coloring of old cars. Such a wide range of hobbies, along with the constant study of various types of art and technical skill, give Hardy's works incredible variety and depth.
Funny skulls on the background of roses and hearts, icon-painted faces combined with eagle wings, tigers, dragons, flowers, sparkling rhinestones on the leather, suede, satin and cotton - a design that unmistakably recognizes the Ed Hardy brand. Maximum catchiness, deliberate brightness, positive sounding of aggressive plots make Ed Hardy gym shoes attractive for adherents of an active lifestyle, free spiritually and determined for success.
Ed Hardy shoes and accessories are really works of art and will not leave their owner unattended, they literally shout: "Look at me!", Therefore no wardrobe can be considered complete if it does not have a pair from Ed Hardy, but be a guy in style Ed Hardy has now become very fashionable.
The 2009 collection of the year features men's, women's shoes and unisex. All models are textile, rubber soles, generously and tastefully painted with the Ed Hardy logo, skulls in cowboy hats, Chinese flowers in bulk, hearts with arrows through, birds of paradise and beauties. In addition to outstanding external data, this shoe is very comfortable, it is ideal for walking, playing sports and parties.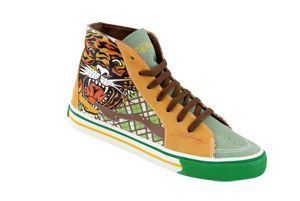 Ed Hardy shoes in Russia are exclusively distributed by TMHF GROUP. For the second season, a fashionable American brand is in demand in fashion boutiques and online stores, and its popularity is growing from day to day. "Tattooed" shoes conquer the hearts of Russian fashionistas and fashionistas!
Information from the site www.edhardy-shoes.ru
For your information:
Very old school The "old school" style is a traditional tattoo style in Western Europe, parts of Eastern Europe and the USA. The first written records of him date back to the end of the 9th - beginning of the 10th century. As a rule, all the images in the "old school" style tattoo are done in bright colors, each detail of the image is filled with one color, and the contours between them are drawn in bold lines. The most characteristic tattoos for this style are anchors, flowers, angels, crosses, skulls, ribbons, stylized images of fire, hearts and birds, most often these are swallows.
The wave of fashion for designer T-shirts and sneakers with bright drawings in the style of "old school" tattoos swept the world of show business stars in 2004, when American designer Christian Odigier ...