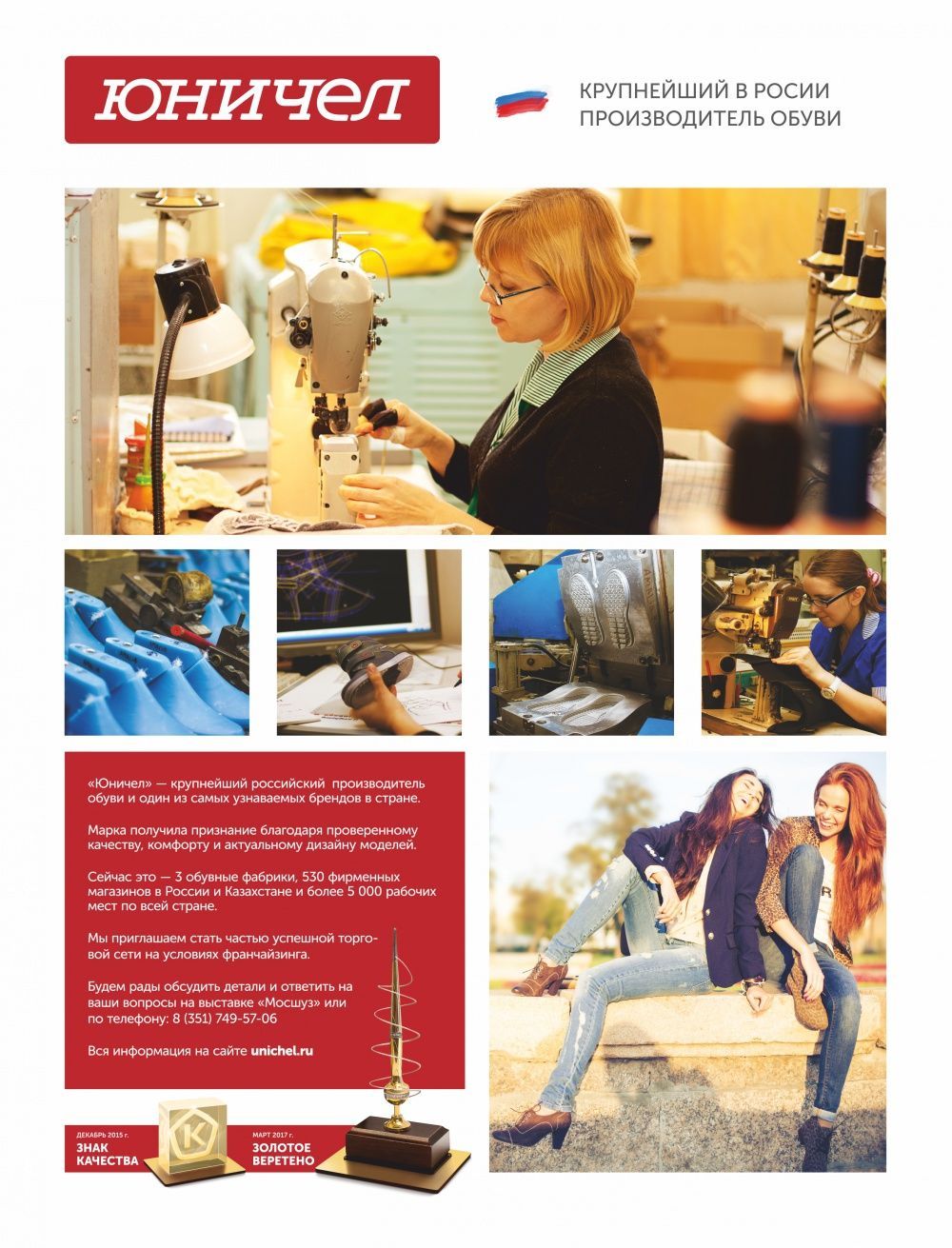 Advertising
15.08.2017
6226
Unichel invites to cooperate on a franchise basis
About 3 million pairs of high-quality leather shoes leave the conveyors of the Unichel Chelyabinsk shoe factory annually. This is the largest Russian light industry enterprise, which, in essence, is a kind of shoe cluster: models are being developed here, pads, insoles, soles are produced, all incoming materials and components are checked for quality and compliance with standards, there is a logistics service of its own.
The shoe company unites three factories: in Chelyabinsk, Orenburg and Zlatoust. According to Rosstat, Unicel is the leader in terms of the volume of natural leather footwear production. This is the only enterprise in the country that offers such a wide range for all ages: men's, women's, school and small footwear for boys and girls, sports and indoor footwear, models for sports, outdoor recreation. In addition, Unicel footwear has a number of advantages for Russian buyers: affordable price, wider size range, pads that take into account the physiological characteristics of the foot of Russian buyers, and a pronounced seasonality of collections.
Creating collections, Unichel designers adhere to simplicity in cut, functionality and style, which is timeless. Unichel models are always relevant and relevant.
In February 2017, the Unichel shoe company became a laureate of the Golden Spindle National Fashion Industry Award. This mark of recognition demonstrates the relevance and competitiveness of the collection. It should be noted that Unichel baby shoes were one of the first in Russia to be awarded the state Quality Mark.
According to analytical data, 80% of Unichel customers are regular, and 86% acquire three or more pairs of brand shoes and are willing to recommend it to friends and acquaintances.
Today, under the Unichel brand, 530 stores operate throughout the country. Your company can share the success of the Unichel brand by concluding a partnership agreement.
You can discuss the terms of cooperation and the possibility of wholesale supply of shoes with company representatives at the Mosshoes exhibition from 5-8 of September 2017 of the year, which will be held at the Crocus Expo Exhibition Center (Pavilion No.3 Hall No.17), as well as by email sales @ unichel.ru.
Annually, about 3 million pairs of high-quality leather shoes come off the conveyors of the Chelyabinsk shoe factory "Unicel".
Editorial Office Shoes Report