To determine your target audience, there are many different methods, one of them is building a "price rhombus", understanding the value of goods for which buyers vote in rubles. About how to build a price rhombus tells expert SR, chief consultant for business technology in retail at FCG Natalia Chinenova.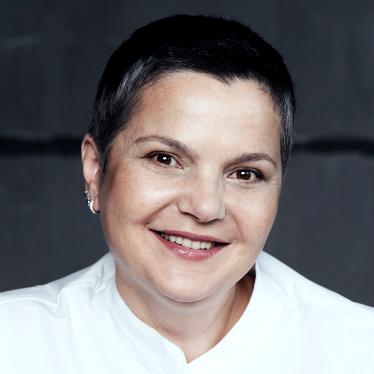 Natalya Chinenova
-
Natalia Chinenova, chief business technology consultant in retail at Fashion Consulting Group.
Instagram: @in_retail, @fcgmedia
Why does the store need analytics (price rhombs of sales)
Today they talk and write a lot about changes in the behavior of Russian consumers. Sales fell to the level of 2005 of the year and it is clear that there will be no return to the past - the era of "overconsumption" and spontaneous purchases is over. For managers and owners of the retail business, it is time to start a new life: to revise store areas, change visual merchandising and loyalty programs, form your own target audience or adjust to the priorities of existing customers. Everything would be fine, but how do you understand what these priorities are, and how exactly to isolate them from general customer wishes?
To determine your target audience (CA), there are many different methods, one of them is building a "price rhombus", understanding the value of goods for which customers vote in rubles. We will talk about how to build a price rhombus in this article.
Average spread
Each store, regardless of its location, has its own target audience of customers who visit this particular outlet. We will build a price rhombus for a brand whose products are intended for the target audience with a "middle" income.
Buyers with an affluence of "average" are not a homogeneous mass of consumers: someone belongs to the "average minus" segment, someone refers to the "average plus", and someone refers to the "average" in its purest form. Today, a middle-class buyer is a Russian resident with an income per family member per month from 30 to 150 thousand rubles (Institute of Sociology (IP), Russian Academy of Sciences, 2015). Moreover, the purchasing power in the "medium" corridor differs significantly. If a consumer with an affluence of "average minus" spends no more than 6% per month on clothes and shoes, then the "average" is ready to spend 25%, and the "average plus" up to 40%. Accordingly, the cost per unit of goods for each of these groups will vary from inexpensive to almost premium. For example, men's shoes for the buyer "average minus" are relevant if their cost does not exceed 3 000 - 5 000 rubles, for a buyer with a sufficient income "average" this cost increases to 6 000 - 8 000 rubles, and I'll be ready to pay for shoes from 12 to 30 thousand.
The price rhombus allows you to determine the percentage of the number of shoes of different price corridors, depending on the preferences of the target audience, that is, it allows you to understand which of the middle-class segments of the buyers prevail among your regular visitors.
Building a price rhombus
In order to build a price rhombus, it is necessary to choose a specific period of time, preferably at least one season (ideally for analytics, it is better to choose two similar seasons). At the same time, we take into account the period of sales, promotions and other activities related to changes in the value of the product at the actual price. That is, at the price for which the buyers purchased the shoes, and not at the price for which you planned to sell it.
Now you can build a report - create a table containing numerical data, grouped and structured in such a way that it is convenient to analyze, determine dynamics, trends, dependencies and draw conclusions.
In order to build a price rhombus, it is not enough to operate on existing sales prices; it is necessary to group goods in accordance with the actual width of the price step.
Price step width is a fixed price range. The minimum step width is 200 rubles, the maximum is 500 rubles. Summarize the number of products sold within each price range (see Fig. 1).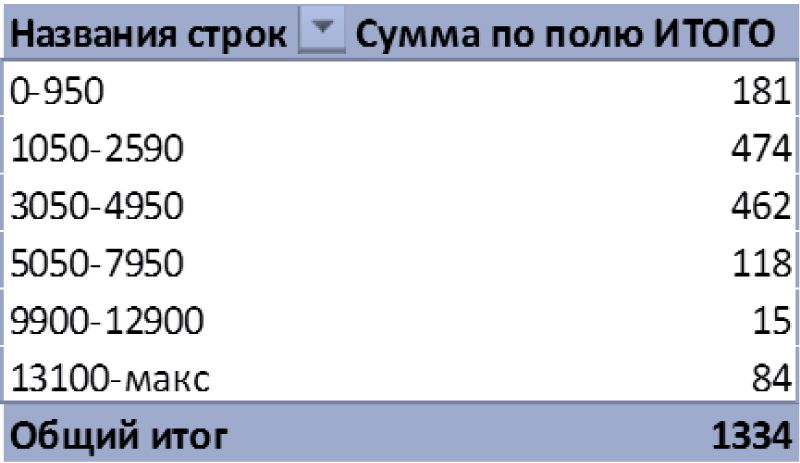 Based on the table you can build a specific price rhombus of your store (see. Fig. 2).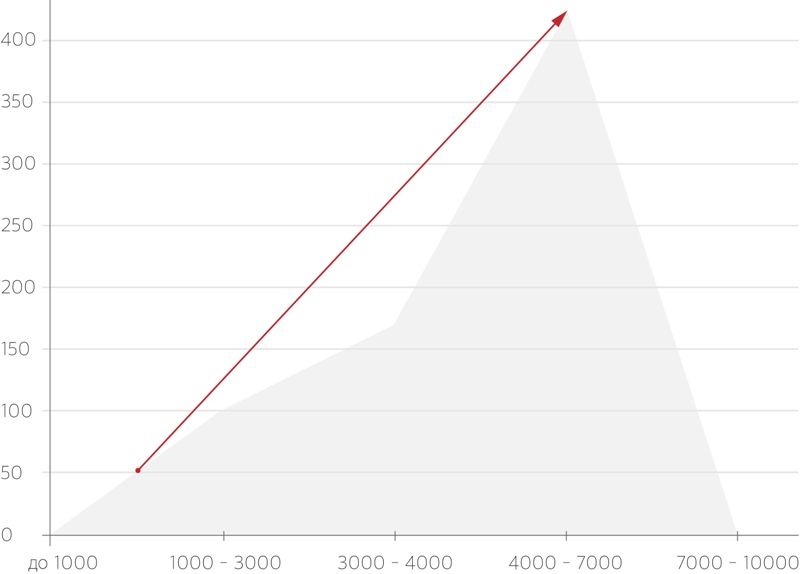 From the resulting price rhombus it can be seen that the sales leaders in our store are men's shoes at prices ranging from 6 to 8 thousand rubles. Accordingly, the target audience of our company is the very middle of the buyers of the "average" segment. For this target audience, the price-quality ratio, the presence of natural materials in the product, the softness and flexibility of the product are important.
Moreover, in price ranges from one to five thousand and more than 10 thousand rubles, a failure is visible. That is, there are few buyers of the "medium plus" segment who come to our store and buyers of the "medium plus" segment do not enter at all.
What are the next steps to take the store from our specific example?
Firstly, take a picture of your customers and evaluate the correctness of the compliance of analytics with actual consumers of products.
Secondly, to evaluate the environment in which the store is located: in what price range competitors and related stores trade.
Thirdly, to limit the purchase of goods at a price in excess of 10 000 rubles and analyze the quality and appearance of products at a price of up to 5 000 rubles.
Further, it would be nice to lure in your store both buyers with an income of "average minus" and buyers with an income of "average plus".
Accordingly, for CA "average minus", it is necessary to designate the cost of the best shoes (the best in quality demanded by consumers with an affluence of "average") with a sufficiently noticeable price tag and place these shoes in the visibility zone from the entrance to the store. And for consumers, the "average plus" needs to improve the quality of services, the convenience of being in the store and the presentation of each unit of goods.
In general, you and I understood how it is possible not to spend money on the purchase of goods that are not most in demand, in what price range should the bulk of goods be located and what needs to be improved to increase sales in this particular store.
The methods for constructing price rhombs are good not only for understanding your target audience, but also for evaluating the work of buyers or buyers, designers (if you have your own brand) and store personnel.
This article was published in the 147 issue of the print version of the magazine.
To determine your target audience, there are many different methods, one of them is building a "price rhombus", understanding the value of goods for which buyers vote in rubles. About,…