Hundreds of new designers are fighting for the attention of sellers looking for something beautiful and unique in today's footwear market. They are not embarrassed by the competition with real artists and the test of time. British Pakistani Meher Kakaliya is one of them.
The idea to design shoes came to her mind after Meher gained sales experience. Once, traveling to her native Pakistan, the forty-year-old Meher Kakaliya was shocked by the traditions of making shoes in her native country. At that time, she already held a shoe store studio in London's Brixton. But Meher was carried away by the idea of ​​creating her own shoes and opened another studio store in her native Pakistani city of Karachi. For him, she organized the production of shoes according to ancient technologies and exclusively by hand.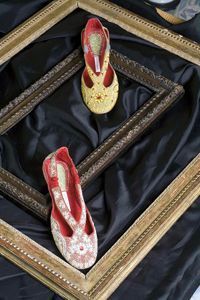 "Shoe-making traditions are different in all villages in Pakistan," says Meher, who moved to London in 1993. - As a rule, earlier shoes were made for the local nobility. A shoemaker could only make 2-3 pairs of shoes a month, and these products could not simply be bought on the street. One artisan from Kahror Pakka (a place in the east of Pakistan) told me that he makes shoes exclusively as a gift. He gives a couple to the owner and, according to the Eastern tradition, he will definitely receive something in return. It can be money or, for example, a mango garden - which he was once given for a wonderful pair of shoes. "
Meher uses 500-year-old technology of weaving various threads directly into the leather. She studied the traditions of making shoes in the east for a long time, and then delivered her verdict: only natural materials, only manual labor. Bright woolen and silk threads are woven directly into the leather to create a unique design and original texture. These shoes can not be treated simply as a commercial product - it is almost jewelry work, which is crowned with the creation of real jewelry. This shoe is sewn and pulled onto the block by hand. Moreover, the use of glue is not at all welcomed, it would interfere with the lively sensations of genuine leather. As a result, the master has something unique in his hands: the history and culture of the eastern country is woven into every detail of shoes along with threads. One of the reminders of the origin of this shoe may be a small V-shaped toe. This is all that remains of the traditional large hooked-up oriental toe shoe. Meher's corporate identity - stitches from Indian threads of own twist. On each pair of shoes is the stamp of the master who made it.
The personnel issue is solved using an individual search for masters. Offering his craftsmen a high salary and confidence in the future, Kakaliya seduces shoemakers to leave their native villages and work for her in a workshop shop. She is proud that, even living in another country, she remains involved in the national culture and, moreover, can bring good financial benefits to her compatriots.
"My craftsmen get a good salary and feel great - it couldn't be otherwise!" Says Kakalia, who until recently worked as the manager of one of the funds in the City of London. She now runs a master training program to attract more talented people from all over Pakistan to their production. Last year, demand for her shoes, which are sold in boutiques in Italy, Russia, the USA and Japan, grew from 500 pairs a year to 6000. Does it make sense to talk about the start of conveyor production of shoes? "No no and one more time no! - Meher says. "I focus on the uniqueness and beauty of my shoes and I'm not going to change course."
Fortunately, Meher has a serious support group.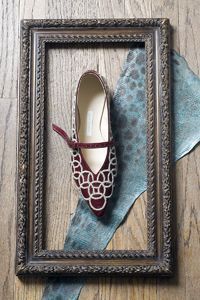 The three whales that Meher's workshop in Karachi holds on to are a supervisor who shares her enthusiasm for bringing national traditions to the world market; production manager, engaged in the selection of new masters; procurement manager who works directly with material manufacturing plants.
Meher lives in two houses and two countries. And if she doesn't wear sweat and soap in Karachi in search of new talents, then she checks somewhere in London the quality of the pads made in Northampton, sends sketches for making to the Pakistan workshop, looks for exotic fabrics and materials. Many of them are located in Pakistan, the rest are often located in the same remote places from world fashion centers. The highest quality leather is brought from Italy, but Meher goes to Iceland in search of scales of salmon or sea wolf. In order to at least determine where to find materials for just one pair of shoes, it takes up to three days.
Kakaliya treats each pair of shoes as a true work of art. The designer's trademark is the popular Queen Bee slippers, made of velvet with natural silver threads intertwined, as well as the equally popular "Genghis Khan's shoes". In addition to unusual shoes, Meher Kakaliya also offers its customers bags, clutches, wallets - all of them are handmade from exotic materials. Meher's bright, embroidered and decorated products are a great addition to the collection of another designer - Selina Blow, whose shop sells the collection of the Pakistani designer. Meher Kakali's shoes and accessories can be found in London's The Cross, Milan's Vetrina di Beryl, New York's Takashimaya, Japan's Aussie, Zurich's Brunello and Moscow's Berezka.
Hundreds of new designers are fighting for the attention of sellers who are looking for something beautiful and unique in the modern shoe market. They are not confused by competition with real artists and checking ...