There are legends about the quality of shoe workshops in Armenia, where shoes are only made to order. Levon Karapetyan, designer of the G&L Handmade Shoes brand, who creates the most exquisite handmade shoes together with his brother Gevorg, has also become a legend. The brothers managed to put shoes on the president and ministers of Armenia and their wives, became famous all over the world, and then made their Australian boutique a secret shoe Mecca for celebrities, designers and stylists. In Russia, G&L brand shoes can be found only in the Cara & Co concept store. Levon himself told Anna Komissarova about his wanderings and dizzying career.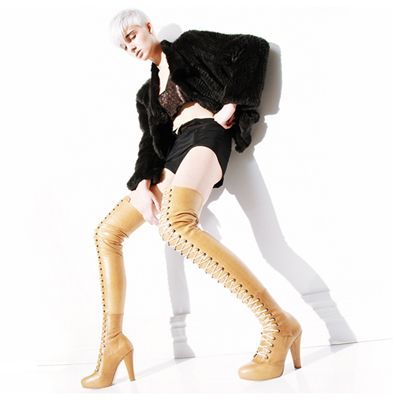 - You decided to open your own business when you were 17 years old. What was the impetus?
- Then it was only temporary work for the summer. But we suddenly realized that we have amazing skills and love everything related to shoe business. Intuitively, we knew that this could be the beginning of something extraordinary.
- From Armenia to France and from France to Australia - this is a very winding trajectory. Do you feel cosmopolitan? How comfortable are you in this condition?
- Exactly! While working in Paris, we felt that we were absorbing the experience of craft owners, craftsmen, and this was very inspiring. Although when we reached exceptional heights in European design, we realized that it was the school of the main shoe masters of Armenia that prepared us to achieve the impossible. We felt that for our creativity there are no boundaries. We created collections for the main designers of Europe, Australia and New Zealand, thanks to the ability to capture the essence of fantasy, limited by technology.
- How did your block become a prototype for Prada, Celine, Gucci?
"We never made pads for these brands, but over the past seven years we have developed heel styles that could influence the work of other designers." We have developed the most practical version of high heels that would not contradict comfort and aesthetics.
- How is the issue of materials, leather?
- We are well aware of all the offers in the market of leather shoes, but, among other things, we require environmentally friendly materials from our suppliers. Exotic leathers still play a big role in our design, but we want it to have as little impact on environmental degradation and animal extermination as possible.
- You are collaborating with members of Australian Fashion Week. Your shoes appeared on the catwalks of London and New York Fashion Weeks. In your estimates, how effective is this way of brand promotion? How did he influence recognition? For sale?
"In terms of brand promotion, the entire design world is familiar with our footwear through presentations in Paris, London and New York. Our models appear in L'Officiel, Harper's Bazaar and Vogue as illustrations of the latest trends and designs. Australian Fashion Week is widely covered by all types of media, and our shoes are shown both on television and on the covers of magazines, participating in the Week is a real opportunity to become recognized. Our limited edition collections have been particularly popular in recent years. The elite wants a high-quality and unique product, and we propose changing models according to individual wishes. Our brand is known all over the world to the most demanding customers. We sell our shoes only in four corners of the world, but people come there from all over the world.
- What qualities, in your opinion, are necessary for a good seller of your shoes?
- He must be sure that our shoes are the best. And we do not exaggerate when we talk about quality and design uniqueness. We come from an exotic country, brought up by life itself and value what it has given us. Our shoes are inspired by environmental concerns and fresh ideas. We travel a lot and see thousands of people. For us, one of the most important sources of inspiration is ideas born of travel. Each country, city, square has its own special energy, and we appreciate the impulses emanating from each specific place, which give us the opportunity to create our own style.
- Will your brand shoes appear at Russian fashion weeks?
"Absolutely." I look forward to the beginning of direct cooperation with Russian designers. The Russian approach to fashion is unique. Design aesthetics are highly intelligent, and now they are much higher than the mentality of the market for ready-made clothing in the rest of the world. Working closely with designers from all over the world is a long-awaited dream!
- For shoe design, the creative side of the issue is primarily important. But still without a market knowledge, accurate calculation and the ability to establish contacts with suppliers and customers, no serious business can be raised. How are the rights and responsibilities of the creator and manager distributed in your tandem?
- They are inseparable. You cannot conquer the market without business common sense. You can be a good designer, but a bad businessman. In our company, the creative aspect is logically combined with a focus on environmental friendliness and a personalized approach to customers.
We have been sharing a joint business with our brother for twenty years, and our cooperation is very productive, we constantly communicate and exchange ideas. I focus on design projects with leading fashion designers, and also manage wholesale and retail sales. My brother, in turn, oversees the development of style and production, and also regulates the work of 20 chief masters.
- Family business in Europe still remains a guarantee of reliability for the customer. Do you think family ties help or hinder business?
- Family is the most important thing. She explains the origin of our thoughts. The most valuable thing in the family business is the ability to understand each other perfectly. If a business unites relatives, misunderstandings are quickly and painlessly resolved. Our business completely captures us, my brother and I have a lot to strive for. It is very easy to work with someone who has been with you for many years of design craziness.
- Nikita Mikhalkov once said that the first half of a person's life works for a name, and the second - a person's name works. Can you say that the name is already working for you? Or do you want to remain a secret Mecca for stylists?
- I think that we are still working in the name of, but we are still young and love what we do. I guess one of the signs that a name works for you is your impressive age. Our brand works with designers and stylists. This type of cooperation is always curious in terms of ideas that are born as a result. Depending on the project, we always find the best solutions for both sides. I know that people with cutting-edge ideas move fashion forward. I want to be at the center of design and always open to ideas.
- Does Australian fashion have its own face? How would you describe it?
- The uniqueness of Australia lies in the fact that young people do not take themselves seriously, choose natural materials and care about the environment. Australia, away from the main fashion capitals, is a unique laboratory for innovation and experimentation. You may feel that the main trends come from Europe and the USA, but here they are given a different interpretation corresponding to the local climate and national lifestyle on the sunny coast. We also like to emphasize the originality of Australia in our works.
And the face of Australian fashion can be, for example, Miss Australia 2006. She is also the face of Australia's premier department store and enjoys great support from the Australian public. By the way, we sewed shoes for her even before she became the winner of the competition.
- The Australian shoe business is known only to us by ugg boots and the Churinga network. How do you assess the competition in the footwear sector in this country - from the point of view of production, design, from the point of view of trade? How wide and deep is the choice?
- I think it is very cool to have a diverse product range from a particular country, as this provides the customer with a choice. But what we do is not made by other Australian brands, namely shoes that are born as a result of cooperation with individual Australian and New Zealand designers, which contributes to the development of design and the quality of aesthetics.
- Do you yourself work more for export or sell your collections domestically too? How do you position your brand?
- We exhibit along with Australian and New Zealand designers, and at the same time we have our own boutique in the fashion center of Australia. This allows us to present our own project along with the ideas of the main local designers. What we do is a quality handmade designer product. Our ideas are very strong, but at the same time, we provide the brand with constant development precisely through cooperation with other major fashion designers.
- Australia is now one of the most prosperous countries. By the 2020 year in Australia, according to UN forecasts, there will be the highest index of happiness. Do you feel happy in this country now?
- Australia is very creative, it gives us the freedom to edit our shoe design ball, we LOVE IT !!! She is very supportive of local design and ideas. Remarkably, when a country is a whole continent, it is very inspiring. And then, people are very receptive to all our new ideas. Europe sometimes seems like a conservative old woman with respect to exotic leather and fancy leather solutions.
There are legends about the quality of shoe workshops in Armenia, where shoes are only made to order. Levon Karapetyan, designer of the G&L Handmade Shoes brand, who creates the most exquisite ...