How is design born and what inspires creators? Two companies, two designers, two different stories about becoming a profession. He is from Germany, she is from Russia. Both artists do not share the concepts of work and hobby: they live their own business.
Not many dare to venture into the production of shoes in Russia: a complex labor-intensive process, difficult conditions, high competition from European and Asian companies. Yes, and the notorious "Made in ..." still magically affects most domestic consumers. But you need to take into account consumer tastes here and now: quickly respond to demand, make allowances for difficult weather conditions and not lose touch with the buyer. Thomas Frank, the designer of Obuv Rossii, has worked in Germany most of the time, but he has to come to Novosibirsk without fail, while Inna Khramtsova, the leader of Unichel, has been working at the Chelyabinsk shoe factory for more than 20 years.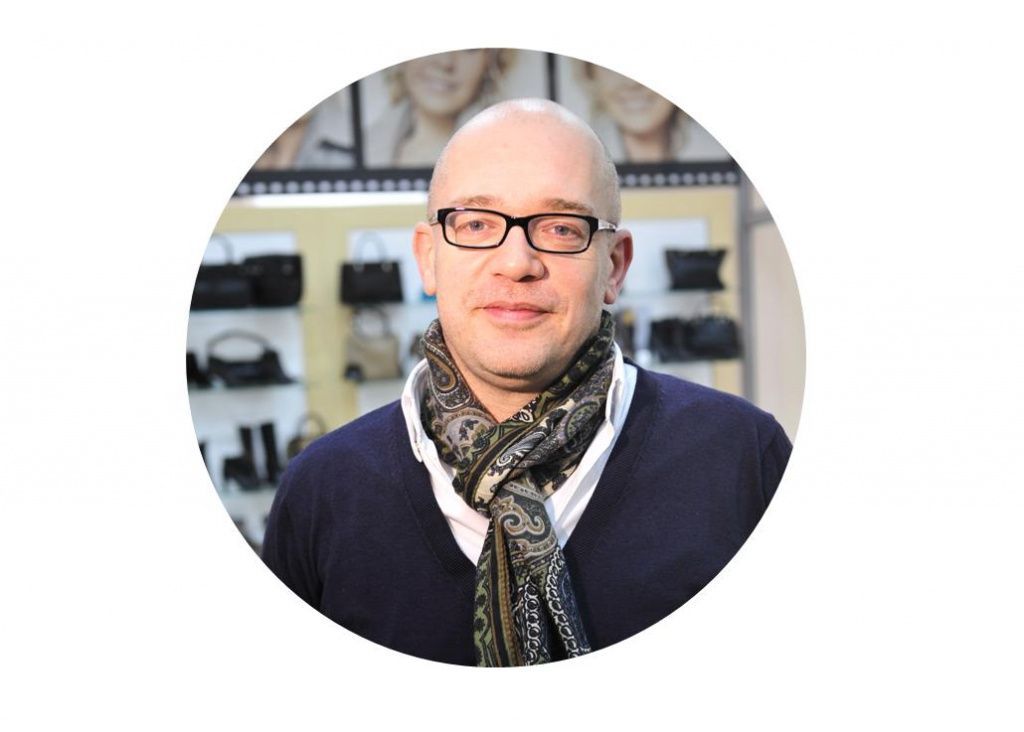 Thomas Frank: "I am a practical designer"
Westfalika chain chief designer Thomas Frank told the Shoes Report about the designer's role in the modern shoe industry, about his favorite shoes of Russian women and his sweet trends.
For almost three years, Thomas Frank has been the chief designer of the Westfalika network of the Obuv Rossii group of companies. Thomas graduated from the higher professional school of shoe designers, lives and works in his own design studio in Pirmasens, the historical center of the shoe industry in Germany. For over 20 years he has been cooperating with such European brands as Peter Kaiser, Ara, Dockers. In Obuv Rossii Thomas Frank is engaged not only in the creation and improvement of Westfaliki collections, but also in brand development.
About shoe preferences of Russians
"When I started working with Obuv Rossii, it was a great discovery for me that women in Russia prefer high-heeled shoes, sometimes even to the detriment of comfort. Moreover, it does not matter for them, in the courtyard there are hot summers or snowy winters. Undoubtedly, stilettos are the most popular among Russians. I was also very surprised how much women in Russia love decor and original accessories: rhinestones, buckles, zippers. In Europe, they prefer a concise and calm design.
In Russia, they do not like bright demi-season shoes. Europeans choose mainly colored shoes regardless of the season, and in Russia, as I have noticed, they prefer shoes of universal colors - black, brown, gray. This is understandable: in Russia they buy much less shoes than in Europe, so it should be practical, match the color scheme to the main wardrobe.
Compared to European consumers, Russians are more concerned about the quality of shoes. Recently, Europeans are increasingly buying shoes made of synthetic materials for one season. In Russia, the choice of customers is always dictated by climatic conditions, which is why quality shoes made from natural materials are valued here. When developing collections for Russian consumers, it is first of all necessary to take into account the peculiarities of weather.
About design in Russia
"I would not say that there is a certain concept of Russian design. In general, European shoes are not very different from Russian ones, because fashion trends are the same everywhere. And thanks to the Internet, information about current trends is distributed instantly across the globe. In my opinion, only the preferences of people differ. If in Europe they prefer more fashionable models, then in Russia they choose more practical and universal ones.
I am a practical designer and try to make models that will be primarily convenient and commercially successful. The Westfalika concept fits my vision of good shoes: elegant, comfortable, but at the same time in line with the latest fashion trends. "
About creating collections
"When developing a new collection, I first build on the history of sales, study which models were most in demand in the previous season and which were not popular. Thanks to clear planning, we never had situations when some models completely "failed" in sales. If we introduce trendy new products to our assortment, we never launch large batches. First, we look at how interesting this assortment is to customers, and then we draw conclusions whether to sell such shoes in larger quantities or, on the contrary, abandon it. "
About the profession of designer in the modern world
"If earlier the designer was only developing sketches, now the range of his duties and functions has expanded greatly. The modern designer is responsible for the development of the brand, advises technologists and marketers, thinks about which models will sell well. Now the designer tracks the entire way of the shoe model from a sketch on a piece of paper to a shelf in a store. I not only draw collections, but also go to factories with technologists and control the production process. Today, a designer is a brand manager, marketer, technologist and consultant all rolled into one. "
About favorite shoes
"My favorite shoes are sneakers, they go well with casual clothes. Sneakers are ideal shoes for those who like jeans. In Russia, for business meetings, men still tend to choose suits. In Europe, there have long been no such strict requirements for business style, and jeans with sneakers can be safely worn with a shirt and a jacket. I call this style smart casual. "
About the best trends
"My hobby is to ride a motorcycle, so I like the biker style in clothes and shoes. And in the summer season, biker elements will be popular: rivets, aged leather, bright hardware for metal. I also like that animal prints return to shoe design: imitation of tiger, leopard, zebra fur. These shoes are incredibly sexy! "
About Russia
"Twice a year I come to Novosibirsk on a business trip. I like the city, but even more I like the people who live here: friendly, open, sincere. Here, even in severe frost and ice, high-heeled boots are worn. Beauty is above all! "
Inna Khramtsova: "Shoes are my passion!"
The leading designer of Unichel has been creating shoes for more than 20 years. Like no one else, she knows what was popular in Russia yesterday, and what shoes will be chosen tomorrow. About the passion of Russian women for high heels, the trends of the current and future seasons and dreams of Italy - she said in an interview with Shoes Report.
Inna Khramtsova - designer of the Russian shoe company Unichel.
She graduated from the Moscow Institute of Light Industry (now the Moscow University of Technology and Design) with a degree in shoe designer, and the School of Design and Modeling of Shoes ARS sutoria. He works as a designer at the Chelyabinsk shoe factory 20 years.
Career and dreams
"When I graduated from the Institute, there were difficult 90s in the yard: the enterprises of the light industry of the Soviet period practically did not work, and new ones did not appear yet. The industry was going through very difficult times, the Chelyabinsk shoe factory, where I came to work, was one of the few afloat. I have been working as a designer here for more than 20 years. By the way, my professional anniversary coincided with the 80 anniversary of the factory, which we celebrated a year ago. Later, I graduated from the famous Italian school of design and modeling of shoes ARS sutoria. In shoe business, no matter how much you work, you won't understand all the subtleties to the end: materials are changing, technologies are being improved. Only the shape of the leg does not change. I always had a dream to work in a good Italian factory with centuries-old traditions and hereditary shoe makers to absorb the whole experience of great craftsmanship. I hope the plan will ever come true. The Italians are the legislators of shoe fashion in the world, unsurpassed masters of their craft. Making shoes is in their blood. Therefore, I always really wanted to speak the same language with them, understand them, bypassing the translator. So a few years ago, I started learning Italian. I go to this goal step by step, the benefit is practice: specialized exhibitions in Italy, visits to the factory of Italian colleagues - suppliers of components and equipment. I also dream of organizing a stream at the factory where exclusive handmade shoes would be produced. A very limited number of couples, an exclusive collection! "
Trends: yesterday, today, tomorrow
"The most popular model in Russia can be surely called women's pumps with high heels and stilettos. So far, this is the most popular shoes. Russian women are ready all day, to the detriment of comfort and convenience, to go in high heels. But recently, this trend has begun to change: we are seeing that interest in hairpins began to weaken. More and more women prefer more comfortable models. Perhaps this is due to the new pace and rhythm of life, and possibly to the increased independence and emancipation of women who can solve their problems without any help. But I am sure that interest in heels will never pass, because the heel is unusually sexy, beautiful and incredibly attractive for a man. It should be noted that Russian women are prone to embellishment, decor, bright accessories, love to be bright and attract attention. Still, our eastern roots speak in us. Therefore, stones, crystals, applications, flowers, jewelry, a combination of bright contrasting colors are a distinctive feature of Russian shoe fashion, European - in this sense, more calm and restrained.
Brogues are the most current trend of this season and, I think, it will be at the peak of popularity throughout the next season. This spring, brogues are present in both women's and men's collections. British classics are actively mixing with other trends, for example, a bold hybrid of brogs and creepers has appeared in our new collection. The top is a strict classic with perforation and lacing, the bottom is a massive, aggressive sole.
Another noteworthy trend of the season, which will be increasingly developed in the next seasons, is the toe of the shoe! Shoe silhouettes go from a rounded toe to a longer one. The buyer is still poorly responsive to such a major change, yet we have been choosing shoes with a rounded toe for ten years. The most fashionable model of this season is an elegant pointed toe and a low heel shot glass. "
New fashion
"Oddly enough, lately the most popular models in Russia have become Russian boots and rubber boots. This, of course, is not the boots that our grandmothers and great-grandmothers wore. The centuries-old history of this shoe was rethought by designers and redesigned taking into account modern materials, technologies and fashion trends. We did not expect that these felt products, invented many years ago, would have such success and such demand today. For two years in a row, we have been developing models of female and girl's boots and they diverge "with a bang". The same story with rubber boots. Modern technology allows you to experiment with shape and color. Over the past two years, we have launched three completely new styles of rubber boots and all of them cause great interest among buyers, not only with their practicality, but also with courage. "
Experiments: ups and downs
"For several seasons in a row in the women's fashion, harsh biker boots with a glamorous decor occupy a leading position. They are present in all fashion collections, at all world exhibitions and shows. Despite the fact that the Russian buyer is very susceptible to fashion, its changes and new trends, such a model has not yet taken root in us.
Another unpredictable situation occurred last summer. We have developed a new model - summer sandals on a high wedge-shaped sole made of thermoplastic elastomer. It was a know-how, the model was made in the spirit of Italian design, at a high European level. Unfortunately, it was completely misunderstood by our customers.
If we talk about men's fashion, you can only complain: Russian men are intolerable conservatives! World exhibitions offer a huge amount, for example, suede - gray, green, dark blue, but in stores only black models are in demand. Recently, fortunately, men carefully and carefully began to try brown and blue loafers, light beige sandals, but the movement in this direction is extremely slow. "
Shoes as a hobby
"Like most women, I'm a shopaholic, especially when it comes to shoes. I have a lot of pairs of shoes, how many - I don't know, I have long lost count. As for the purchase of shoes, I am unstoppable, a terrible spender, this is passion, this is a great temptation, this is a fetish. I like Italian brands and French very much - this is a particularly sophisticated sophistication and chic. More than half of the collection is Unichel models, some I buy at the store, some at the experimental workshop, which did not go into mass production for various reasons. If the Arts Council does not evaluate them, I purchase them and wear them with pleasure myself. Mostly I give preference to the classics. I always admired the taste of Coco Chanel, this is a timeless fashion. Her style is always interesting to me, although it may seem boring. "
Great designers of the shoe world
Christian Louboutin, with his famous "Louboutins", captivating more than one female heart, stopping more than one male look! And, of course, Salvatore Ferragamo, who in the harsh post-war period invented the wedge-shaped sole, which is relevant to this day. Women always wanted to walk in heels and rise above reality, but in post-war Italy there was a catastrophic lack of metal for the manufacture of arch support. The wedge-shaped sole, then wooden and not very light, allowed the Italians to walk in heels, no matter what. In general, thanks to Ferragamo, the very concept appeared - a shoe designer, before that there were shoe makers. It was he who lifted the shoes to the pedestal, made it an independent unit, introduced it to the catwalks, and raised it to the level of high fashion.
How is design born and what inspires creators? Two companies, two designers, two different stories about becoming a profession. He is from Germany, she is from Russia. Both artists do not share the concept of work ...