About two years ago, we launched a series of materials called "New Russian shoe brands". Among the heroes of the section were shoe master Andrei Zhakevich with his brand of handmade shoes Gottlieb schwarz, shoe designer Leon Crayfish with a shoe brand NotMySizewe talked about brands Void Shoes, Portal and Mislistudio. All these brands, fortunately, successfully continue their development. And other names are added to the list of "new Russian brands".
One of them is the name of Kim Malygin and his own brand of handmade shoes. The young master has been sewing shoes for about seven years. His models are distinguished by their original "artistic" design, they are interesting in form and texture, and it seems that this master has great potential for development in different areas of shoe making. Shoes Report met with Kim Malygin in his workshop in Moscow to talk about the creativity, business and development of his young brand.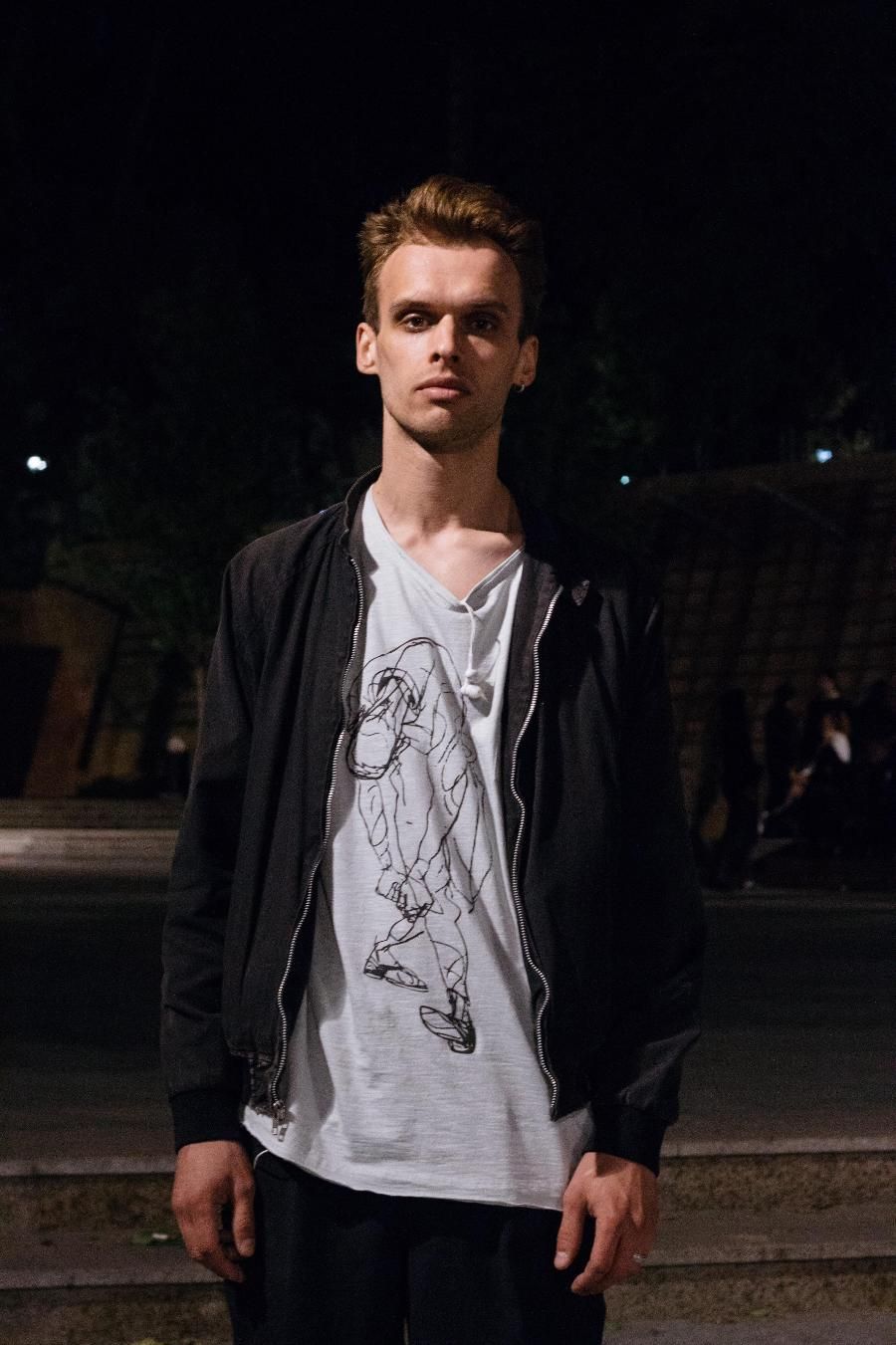 Kim, Not MySize brand designer Leon Krayfish first told me about you. It seems you are from the same region with him, the Komi Republic is the place where shoe-makers are now born?

Indeed, Leon and I are from the same city from Ukhta, but we learned about it while in Moscow and met here when both were already engaged in shoes. Oddly enough for me, shoe business began with a passion for skateboarding. In my youth I was about to skate professionally, there were even some sponsors. But when I was twenty, I thought about my business. I wanted to be creative, but which one? - I didn't really imagine that. I abandoned the institute, and somehow purely by chance I met a guy who sewed shoes himself, and this craft turned out to be a big revelation for me.
Interested in the fact that shoes can be sewn by hand, without any machines. A friend showed how the material, the tool looks, gave a link to video tutorials in Youtube.com. One such lesson in assembling shoes was divided into five parts, which reflect the five stages of the process, I watched this lesson endlessly, day and night. He climbed into the forums of shoe makers, read topics - how to glue, how the sole is fastened. As soon as I understood the assembly technology, I just started riveting in a half-pair - one, another, third ... It was impossible to stop - I needed more and more new models. That's how it all began.
Then there was time, the huge popularity of the fashionable Moscow club Solyanka, all my friends went to listen to electronic music, and here the information about the fact that I make shoes spread around the regulars of Solyanka. At the same time, my first collaboration with the skate brand Absurd was launched. We released two models of shoes in ten pairs. It was something like a weekend skate shoe, it was sold at the Druzhba store sketches store for the ridiculous price of 3500 rubles, and no one made anything from it. The quality of the shoes was rather low then, but it was the first step towards the commercialization of my activity, I began to make shoes more complicated, the first orders went.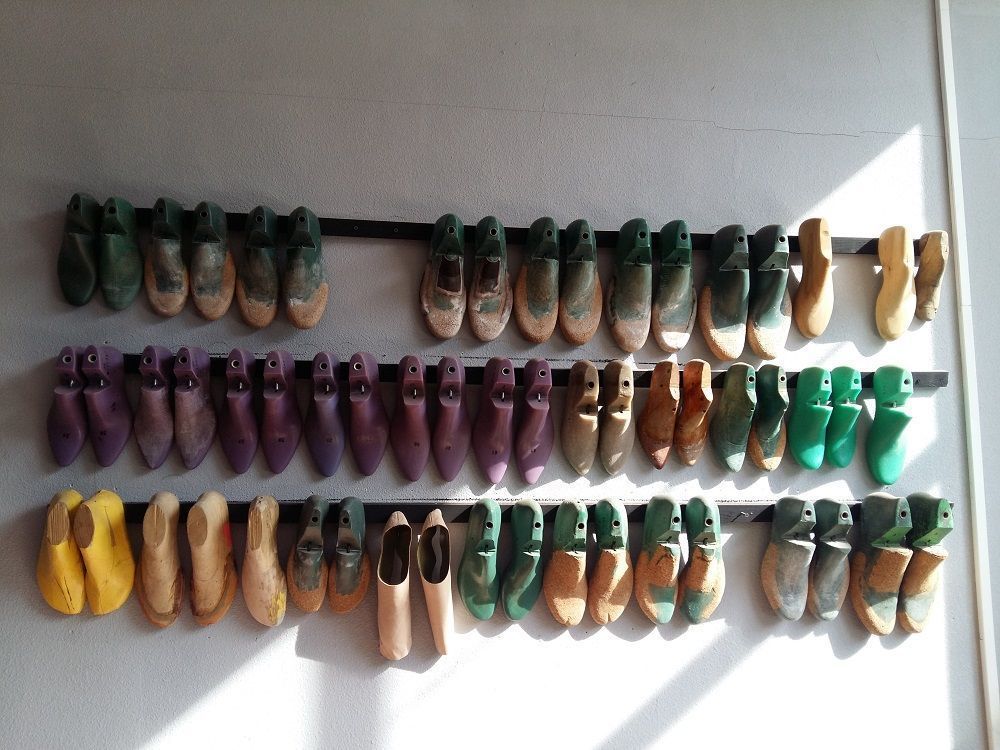 In total, have you been doing this for five years?

Sew about six to seven years. The first time, about a year and a half, sewed for himself and for friends. In 2012, I created a VKontakte group, started a Facebook page, a couple of years later I went to Instagram. NotMySize's approach to tailoring shoes to order is similar, only Leon has his own store, and I sew only on order - I take measurements, customize the shoe. We discuss the details of the order with the client and I get to work. The client comes already for the finished model.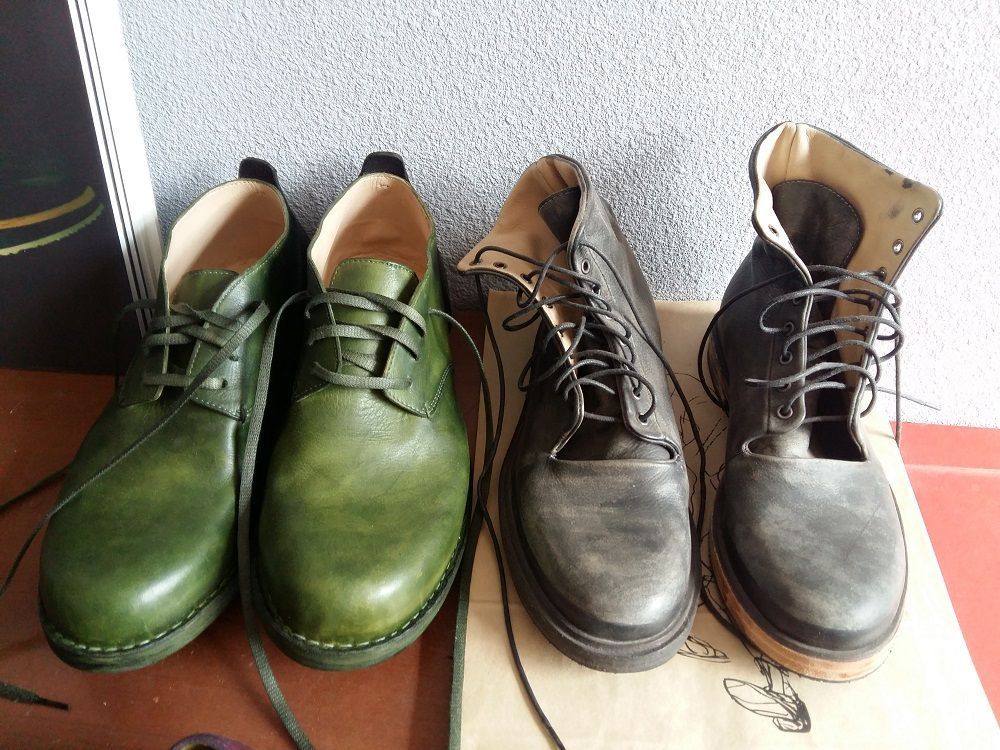 Do you work mainly with men's shoes?

Mostly sewing for men, but there is also a female one - pointed chelsea shoes, Kiza sandals. Often custom-made shoes are made by those with non-standard feet. The most difficult thing is if the foot is short, let's say the size of the legs is 42, and in bunches it is 44. To create a model so that it matches the desired composition is difficult in this case. Often you have to make a decorative allowance. And if the shoe is processed, it can sit heavily in bunches. Then you have to explain to the person that at first the shoes can be reaped a little, but after a couple of days they will sit completely.

Do you paint them yourself?

Yes, all shoes are painted with different techniques. This is vegetable-tanned leather, it is considered lining, but I put it on both the lining and the top. After assembly, the shoes are painted in different ways - it is etched with acetones, different solvents. Creams, oils, fats ... - all of them give their effect.

And how long does it take to make one pair?

It all depends on the complexity. Suppose these boots with an additional method of attachment are quite complex. On average, it takes three days to assemble - six hours - five per day. The fourth day is finishing - coloring, polishing, applying cream, etc.

Were there any shoe designers that inspired you, inspire you?

It seems to me that it is more correct to draw inspiration from some other things. For example, I drew inspiration for the Kiza shoe series from hip-hop culture, Japanese sports cars and basketball. But this does not mean that I wanted to make shoes for sports or for driving a car. I needed this to determine the general concept. The top of Kiza shoes is leather, there is embossing, inserts imitating the shape of the car body. Now I am working on a new series of these shoes, with a more dynamic design.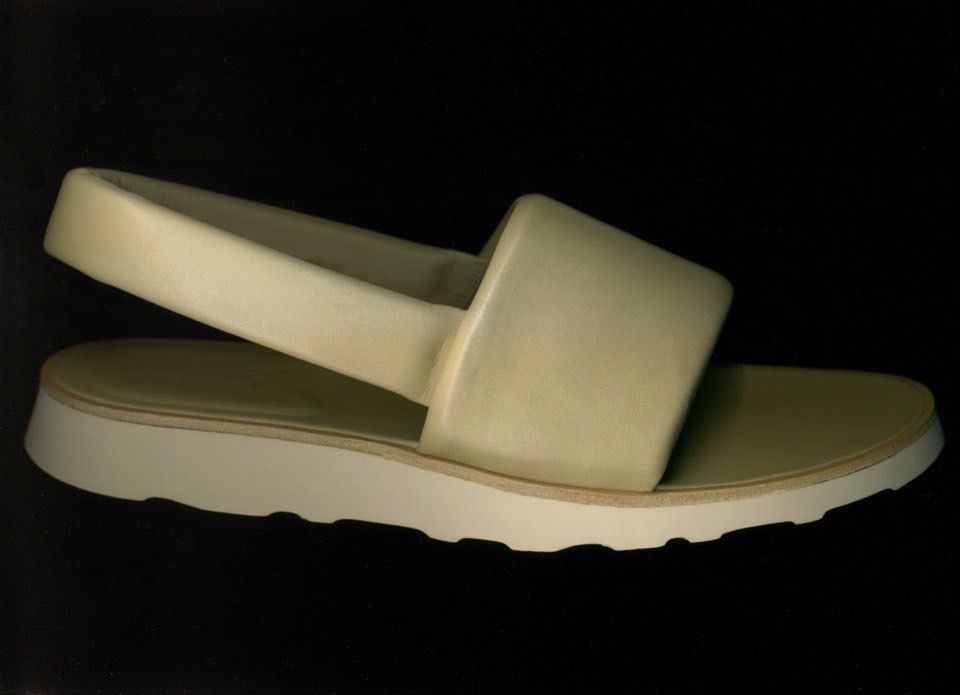 Kiza Women's Sandal Model (Kim Malygin)
And the sole is purchased?

Yes, this is a common micropore used in older Adidas Air Max models.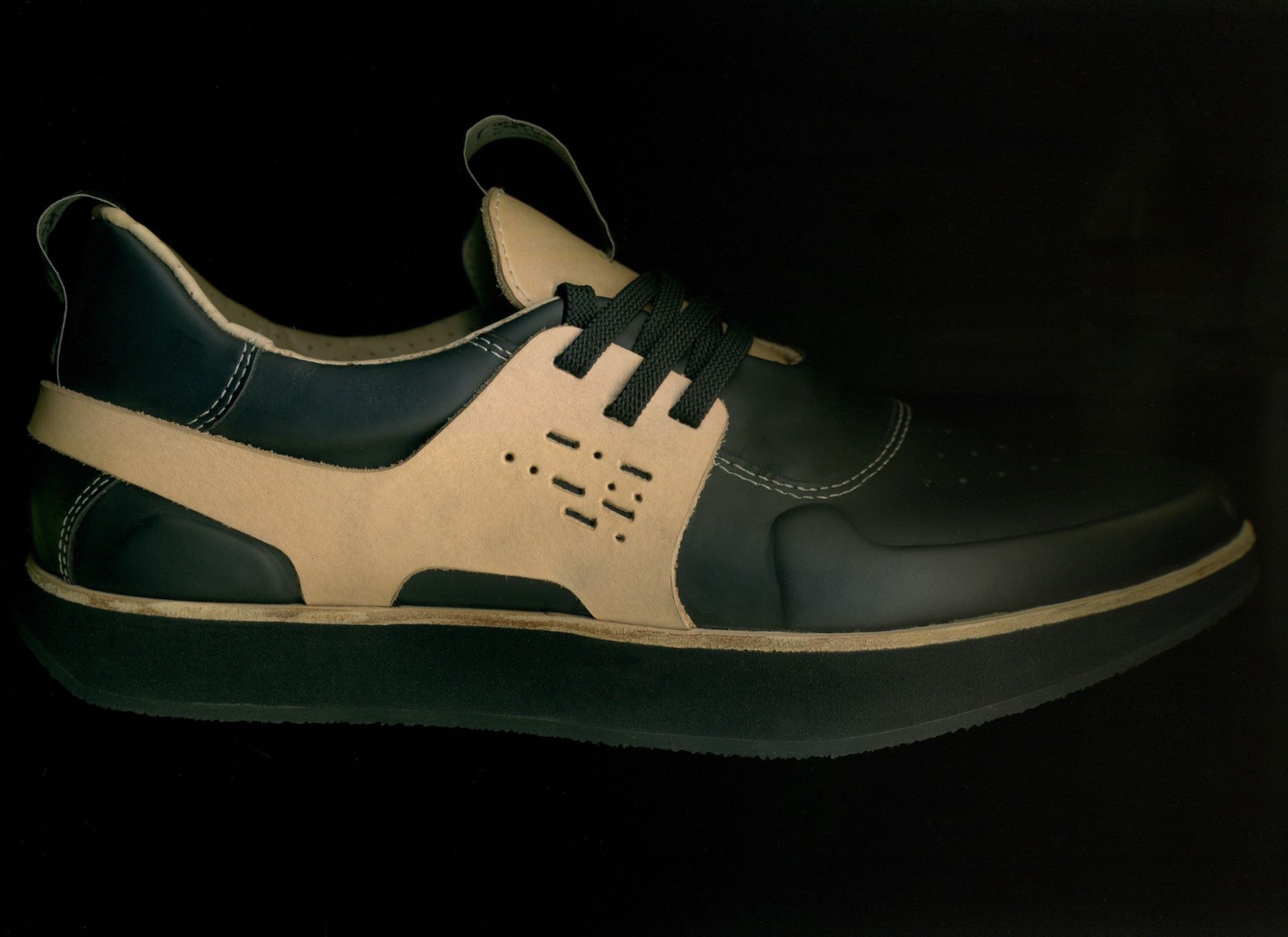 Kiza sneaker model (Kim Malygin)
Do I need to be able to draw in order to create such models?

I painted once in my childhood. But, with regard to design, it is more important not to draw, but to feel the shape, have a composition in the head.
Of course, there are shoe brands that initially influenced me. When you start doing something, looking at your colleagues is quite natural. At first, I was looking for some people in Russia who make more or less interesting shoes, and stumbled upon Nutsa Modebadze shoes. This is a rather famous master, she used to live in Moscow, and six years ago she moved to Bali, where she now has her own production. In general, I think that of the Russian shoe designers, she is the coolest. She has a ready-made brand, ready-made vision, ready-made concept.
My first models were similar to what Nutsa does, it was necessary to build on something. Other favorite brands are Guidi, Marsel. I have great respect for the Spanish shoe master Carol Christian Poell. It happens that I make different experimental models. There is such a Japanese designer Kei Kagami, he creates practically unbearable things, but they are interesting as art objects. Under his influence, I made these "shoes". They can be worn, but not comfortable, because in the center they bend. But when I designed this model, I did not have a goal to create shoes for socks, this is just an art object. My other installation with shoes could be seen at a recent presentation of our collaboration with NotMySize at the Bread Factory.
Do customers come through Instagram?

In various ways, Instagram is a convenient platform for familiarization, it works well as a business card. Quite a lot of people come from the Vkontate social network. From there they come to training, and customers for tailoring accumulate from all three social networks.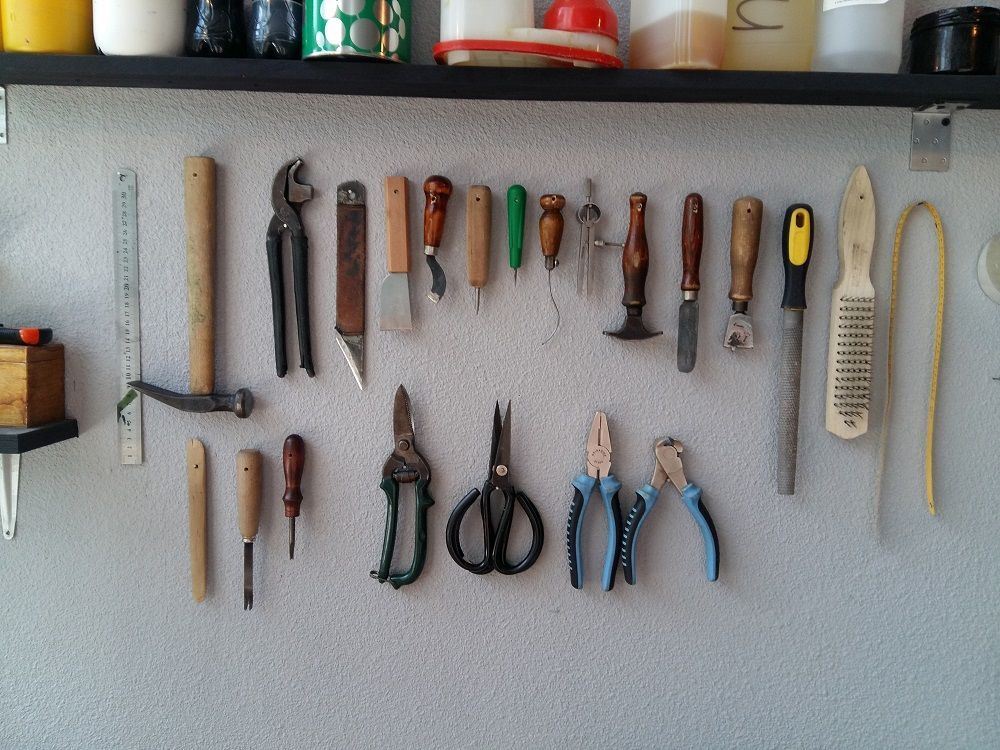 And the shoe business itself has already begun in Moscow?

Yes. The first couple of years I generally worked in the kitchen. I didn't have a workshop, I lived with my mother, who at first very much supported me in my endeavor. We are colleagues to some extent, she is a seamstress. But then I had to move. The first workshop was a loft at the Electrozavod, where I could live and work, where I spent about four years.
At some point, it became clear that living and working in one place is quite difficult - either you always work or you always rest, it depends on how much you like, what you do. For example, I really like it, and if I have some kind of task for the day, I will definitely complete it. As a result, my work was almost around the clock.
There was a kind of creative cluster at the Electrozavod, and here are cafes and friends. At first, I really liked all this, just for some 20 thousand rubles a month I had a place where I could live and work. But after a while I wanted a more relaxed life. I started to rent a room and a separate workshop, and I realized that this is ideal. There is a point "A" and a point "B", and the distance between them that you overcome day by day. During this period you can meet someone, ride a skateboard, take a walk, think ... There must be some balance. With the advent of the workshop, I began to teach, and although I do not particularly advertise it, the lessons give a good extra work.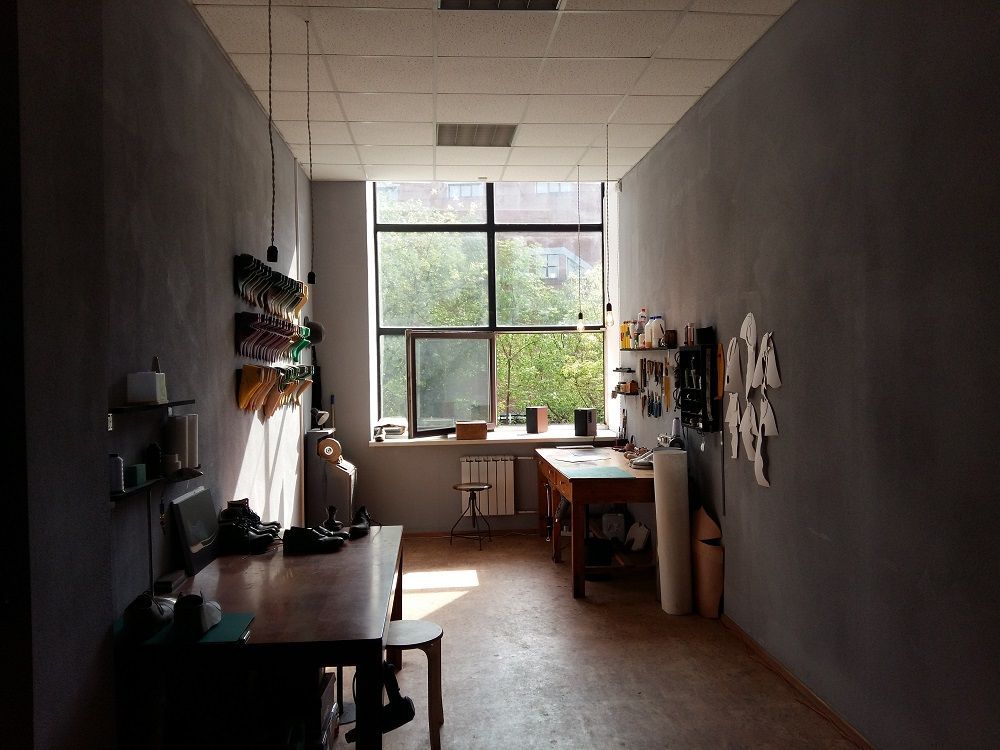 Who comes to study?

Completely different people by profession and by age - from 18 years - to "beyond 50". Someone is learning to sew shoes for themselves and friends, someone is looking for some sort of outlet in life. There were a couple of guys who were trained and started to sew shoes professionally. For example, Nikita Kovalev Shoes, his shoes are a bit like mine, almost all models are welded on leather soles. But he has a more classic style, he loves derby, brogues, uncle boots.

Green color often ordered?

Yes. I did not plan this, but green has become some sort of my signature chip. Many say - "here you have green!". But green goes well in spring and summer; in winter, as a rule, they choose something quieter.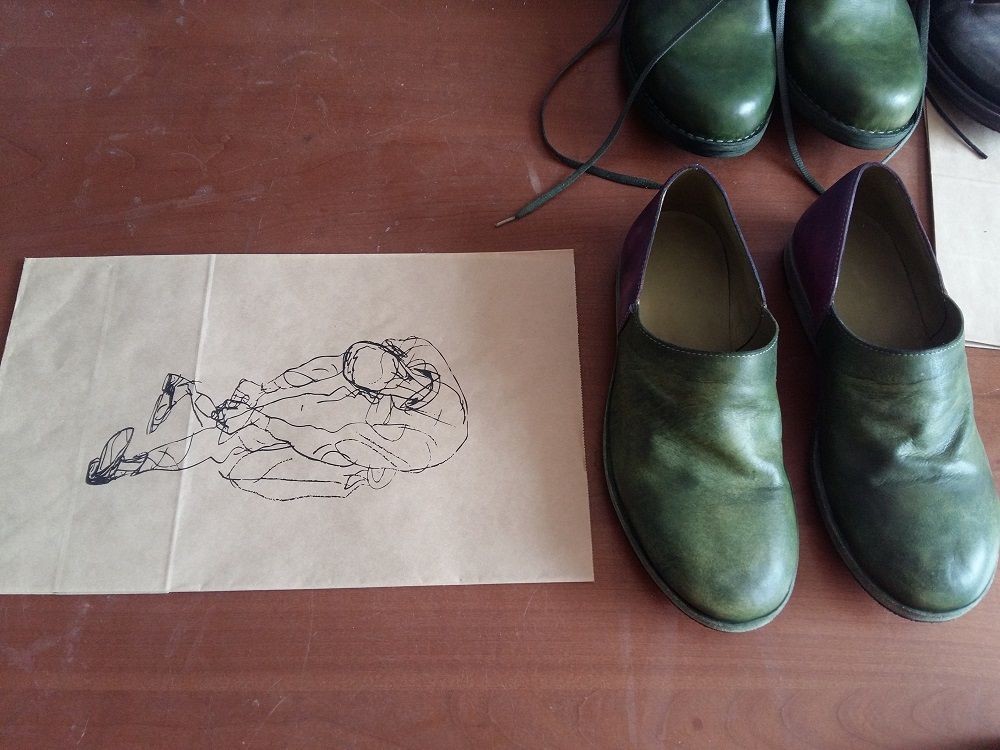 How much is one pair?

From about 13 to 20 thousand rubles. Prices are very affordable, and many scold me for this. But the fact is that lately people in Russia are not ready to buy shoes more expensive than 20 thousand rubles, they simply do not have money. The cost of materials is growing, in theory, the price of shoes should also increase, but you have to reduce it on the contrary.

And there was no desire to try to cooperate with any major shoe manufacturer?

It would be interesting, but I do not have such offers and contacts. To work with Nike or Adidas is a high level, it is very cool. But with whom I could cooperate in Russia, I do not know.

But in skate culture, the same Gosha Rubchinsky said that he was going to open some kind of big skate shop in Moscow?

Yes, in my opinion, it opens in June. This is interesting, but with sports shoes everything is much more complicated, there is a lot of competition in this market.
In skate shoes, the most important is the sole. Gathering the top is not difficult, but to make the sole ... not to order and polish the logo on Aliexpress, but to make your own. At the same time, skaters have no money, their budget limit is 3 thousand rubles, and they have the choice to take shoes of little-known Russian designer or shoes of Nike or Emerika brands. Most often, young people choose brands. So you can make shoes, but you still need to sell them.

But there are no problems with materials when making shoes?

As part of what I'm doing, no. I work with leather crust, I like it because it has life in it. It is perfect for the shoes that I do. This leather has no spraying, it is an honest material. On it you can see traces of scars, cuts, animal bites, it can sunbathe in the sun. And many reject the leather only because there are some marks on it. But this is precisely what makes the material original, unique, close to nature, to the earth. This is good leather, it just looks not so even, not so clean. All I need can be bought in Moscow in one store - chemistry, tools, materials.

Men's shoes model Kim Malygin
Have you ever thought of learning somewhere?

Raise skill level? I have such a character, I don't like being taught something. In this regard, even with the school at one time there were problems. Now youthful maximalism has subsided, but still, it seems to me, I can learn the theory myself, read something somewhere, look, ask for advice, and I will work out the practice myself.
I like the idea of ​​combining my activities with NotMySize. Leon invited me to be a brand designer, and promotion and sales would be his. We have already tried to release one joint collection of shoes "Fenomenum".
And ideally, I would like to have my own workshop - a store where you could sew and sell, some kind of space that would fully reflect what you are doing. So that in the back room there was a workshop and mini-production, and people came and immediately imbued with a certain mood.
At the same time, I could easily give some models to factory production, for example, the Kiza model. I do not see the value in the manual work that the machine can repeat. Manually you need to do what the machine can not do - crawl somewhere, make some kind of stitch, make the sole, which is impossible to produce at the factory.
But there are shoes that require control of the manufacture of the author and designer in each pair. For example, I have a model of "Leshiy" shoes, it is impossible to give it to production to another person, because it is not covered with scissors or a knife, it is all torn. There are patterns by which the master tears material. The uniqueness of this model is that it never repeats, its sole does not have a clear polished edge, it is all as if chopped with an ax. Therefore, each line, each blockhouse, each section of this shoe is yours.
You can certainly tell the master where to cut something, but he will do it his own way anyway. And the whole composition of these shoes is built from small details, and only I know how to make them, so I express my vision. These shoes can only be sewn to order.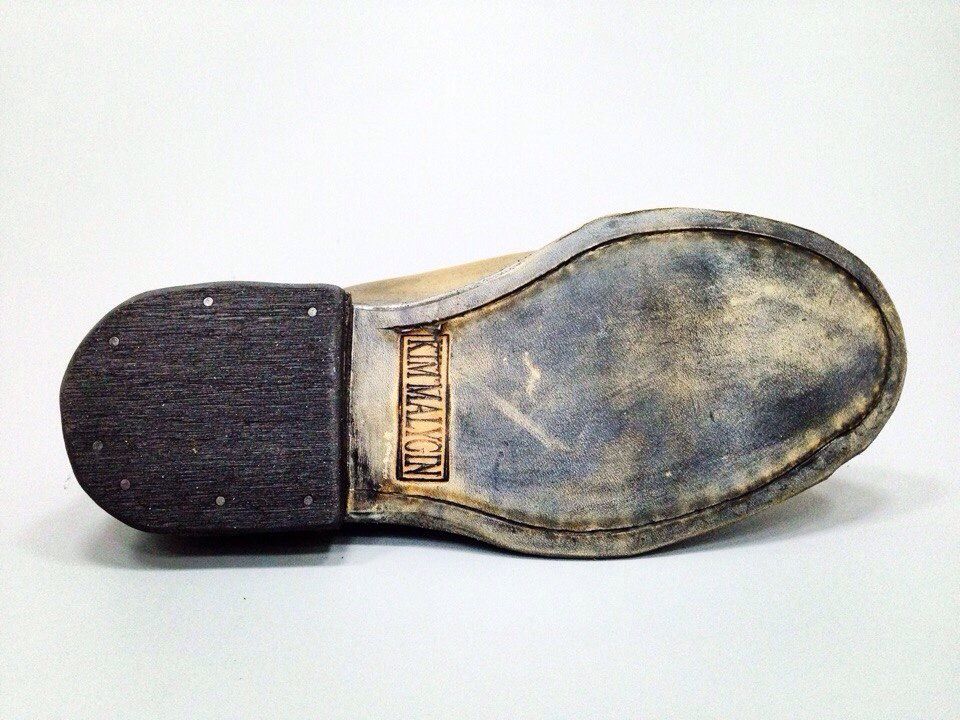 About two years ago, we launched a series of materials called "New Russian shoe brands".