In the previous issue, we wrote that for the FW 2020/21 season, the FASHIONSNOOPS.com trend bureau offers 3 fashionable themes for the men's shoes segment, but experts added one more to them, and as a result, 4 main trends were formed for the next cold season: TEMPEST, JETTISON, OUTRÉ, DOMINION. Expert SR, Galina Kravchenko, director of the assortment department and head of trend analytics at FCG / FashionSnoops, spoke in detail about the first two topics on the pages of the magazine. In this issue, she discusses two more topics in detail - OUTRÉ and DOMINION.
Galina Kravchenko
- Director of the Assortment Department and Head of the FCG Representative Office of the FashionSnoops.com international trend bureau. Former Director of Marketing and Member of the Board of Directors of Zenden. He specializes in the development of commercial collections of clothing and footwear, assortment management in retail chains and wholesale companies. Introduces international experience in fashion product development into the practice of Russian companies. Author and host of a series of training-workshops and a course of lectures on assortment management and fashion trends for the HSE. In Fashion Consulting Group, she has implemented successful consulting and training projects for companies in the clothing and footwear segments, including: Unicel, Rossita (TM Lisette), Sursil Orto, butik.ru, Cavaletto, Vitacci, Nikamed, Ekonika, Cablook.ru, 2fellini.ru, Gretta (Eleganzza retail chain), Leo Ventoni, Lamoda, Otto Group, Muschel (showroom), Wild Orchid, Oodji (Almeo Group, Kazakhstan) , "Sport-master", Sela, "Holding Center", Vito Ponti, TM Fest, TM Golub, Luisa Cerano, Molito Group (chain retailer of Molito, Baltman, Mosaik brands), Westland, and others.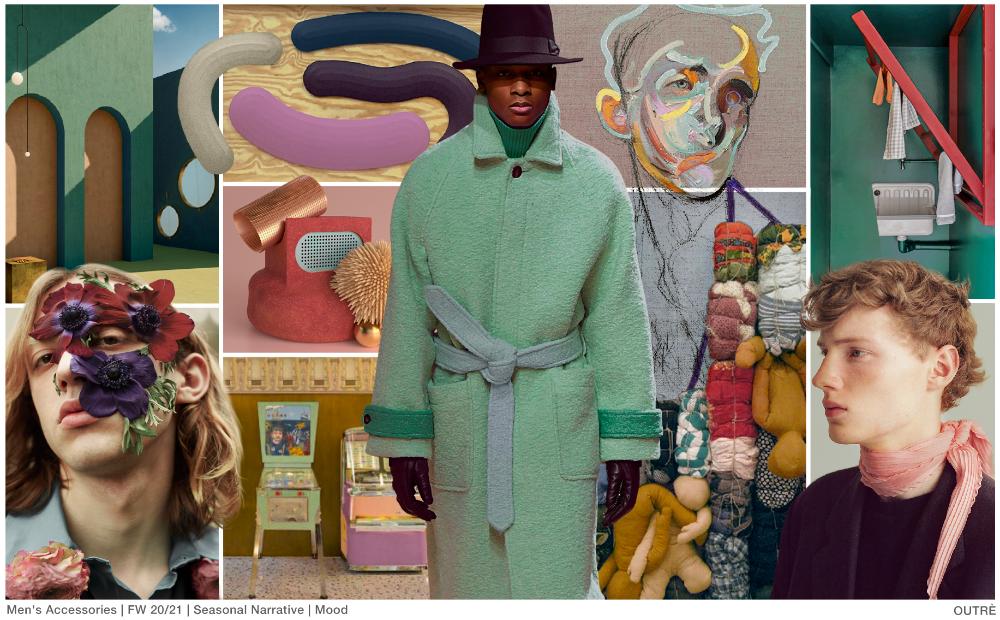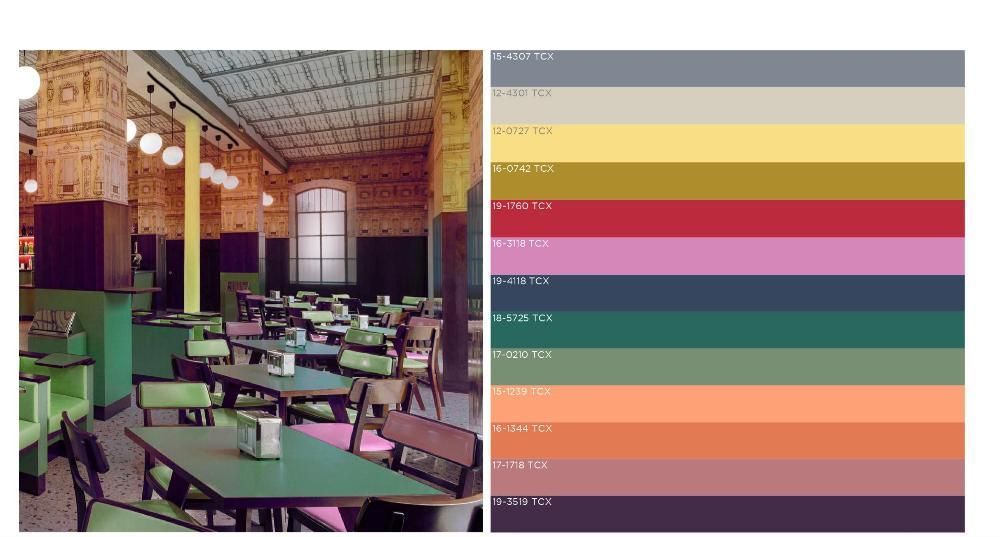 OUTRÉ - Eccentricity
Outré's trendy theme shows how fancy and unusual shoes become the norm in everyday life. It is worth recalling the Ugly Sneakers that appeared on sale in 2017, which influenced the standard volumetric sole and the exaggerated silhouette of not just sneakers, but shoes in general. So in the fashionable theme Outré blurred the line between the traditional look at the festive and everyday, male and female, monochrome and colorful. This trendy theme looks both shocking, romantic and playful against the background of the rest.
The color palette may seem defiant for the men's assortment, it is rich, bright and varied: light mint, grassy green, yellow, cream, peach, muted pink, in contrast to which are dark saturated gray-blue, condensed grape and stone gray.
Outré's fashionable theme involves luxurious materials such as silk satin, smooth leather, lining, velveteen and fur. Finishes, contrasting piping, gold hardware, trim, silk laces, ribbons and even bows are very important.
Sneakers and sneakers
Sneakers and sneakers in the fashionable Outré theme are presented as a very bright and visible category of assortment. Designers offer to pay attention to such active colors as pink or canary yellow, and paint the upper of the shoe and sole in one color. For a change of design, inserts with animal print are offered. The use of rubberized material makes the shoe models suitable for wet weather. For drier weather conditions, velvet top models are available.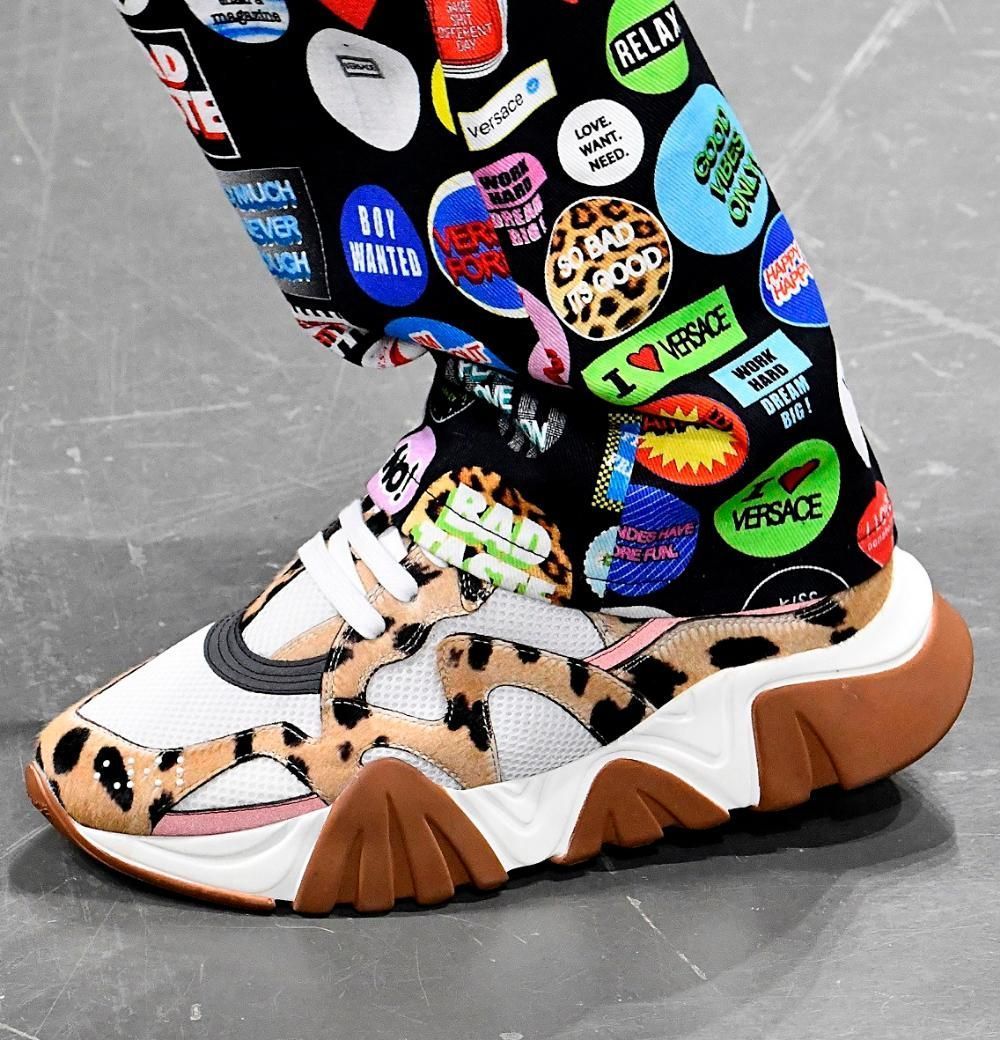 Decor: animalic inserts Sole: massive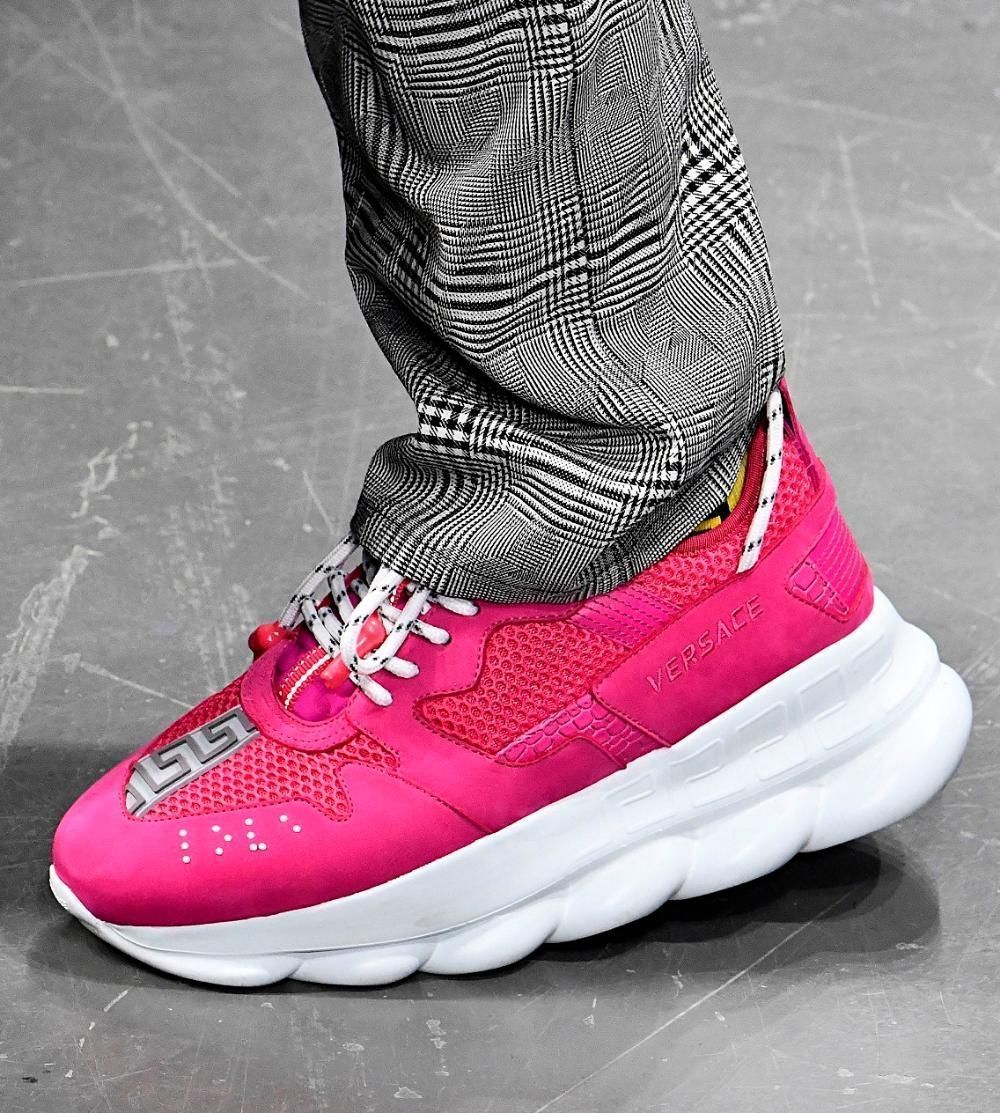 Decor: mesh inserts + appliqué on the nose of the model Sole: massive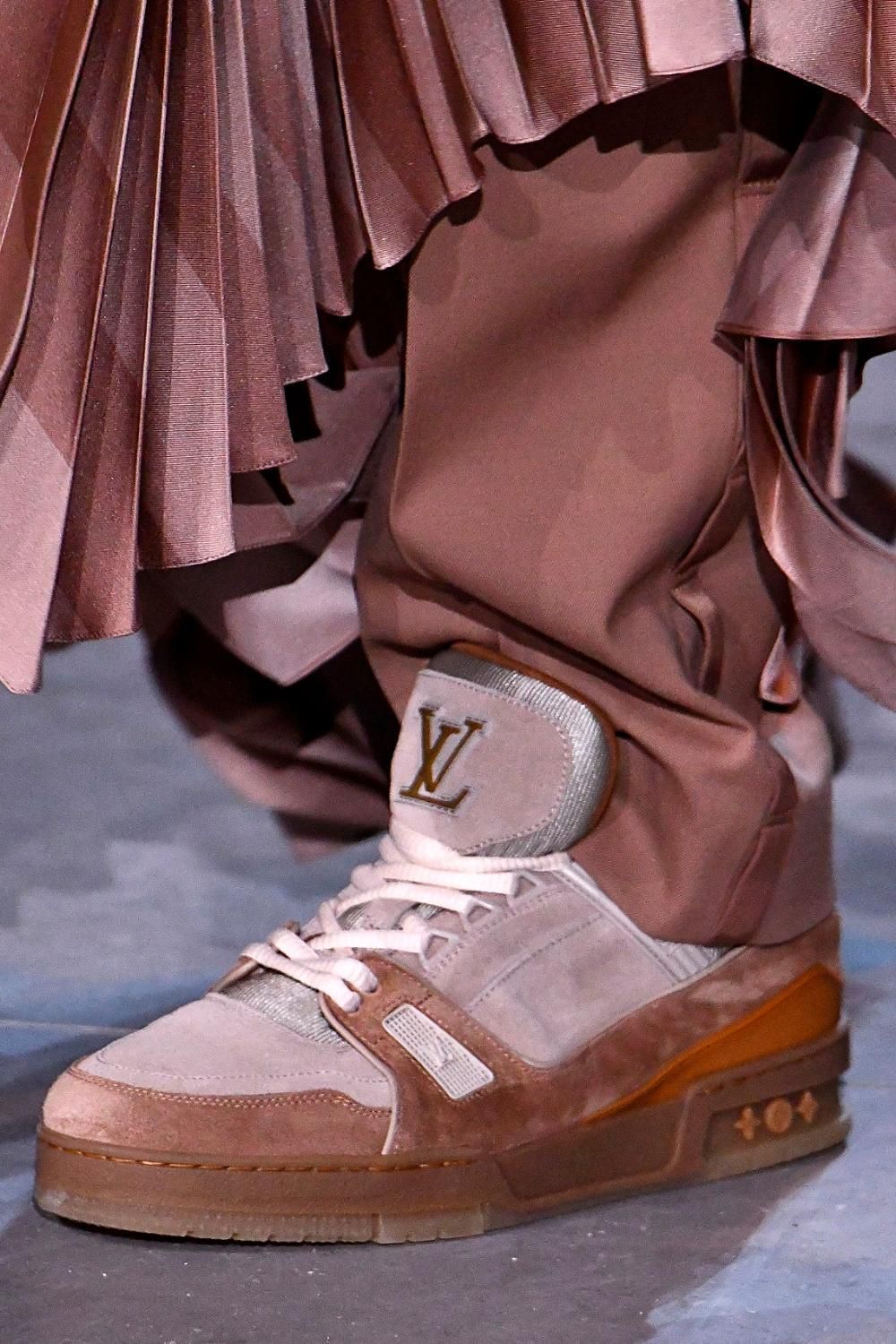 Decor: velvet inserts
Low shoes
For the FW 2020/21 season in the fashionable Outré theme, shoe models are presented in fairly classic designs of oxfords, loafers and sleepers, which are modified due to the decor and the materials used. Vibrant leather in bright colors or transparent inserts with an unusual texture for the pellicle film is an excellent creative solution that adds a "Wow effect" to this shocking theme. As in the women's assortment, in men's shoes, the use of pile material of opoeka is welcomed to create models of classic loafers. For sleepers, options are offered that resemble ball shoes for men of the 17th century: material - velvet, decor - satin and silk bows, accessories - buckles with stones.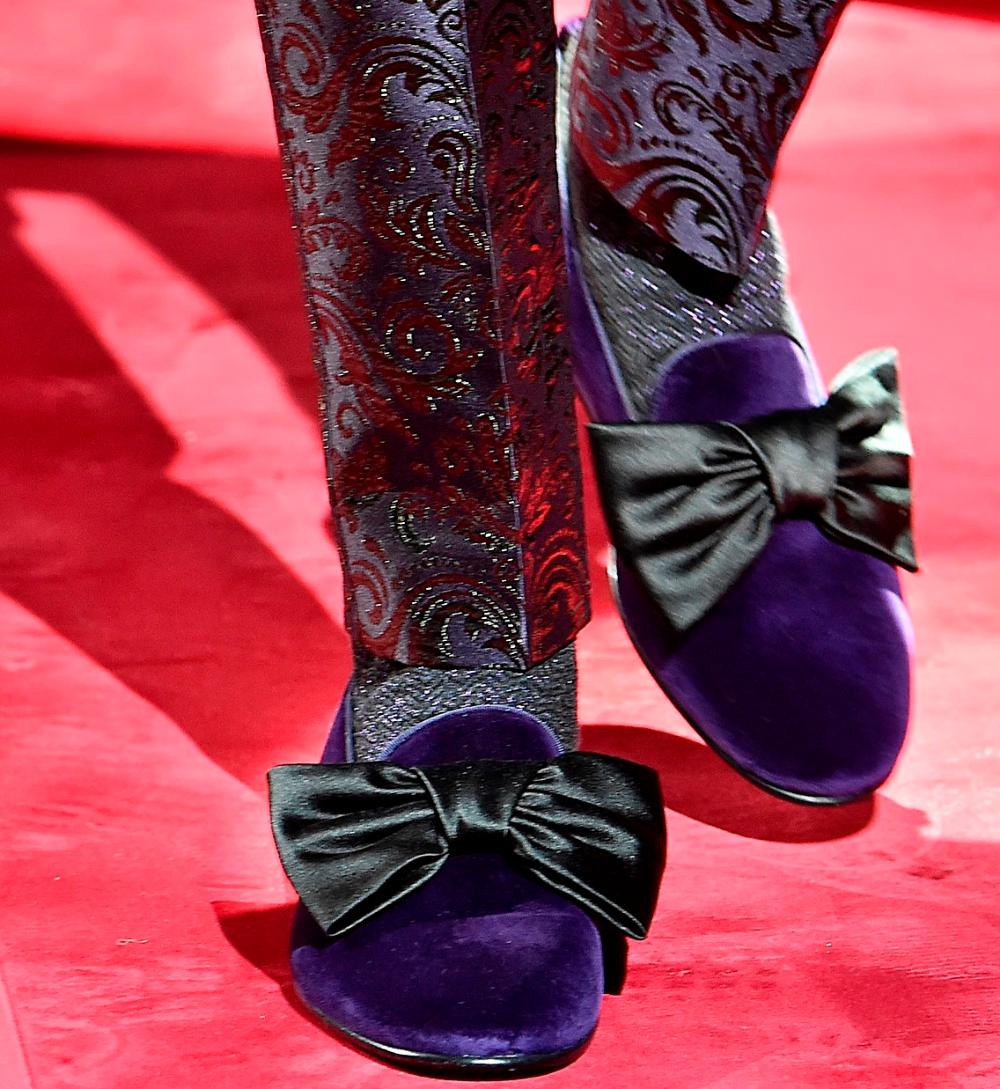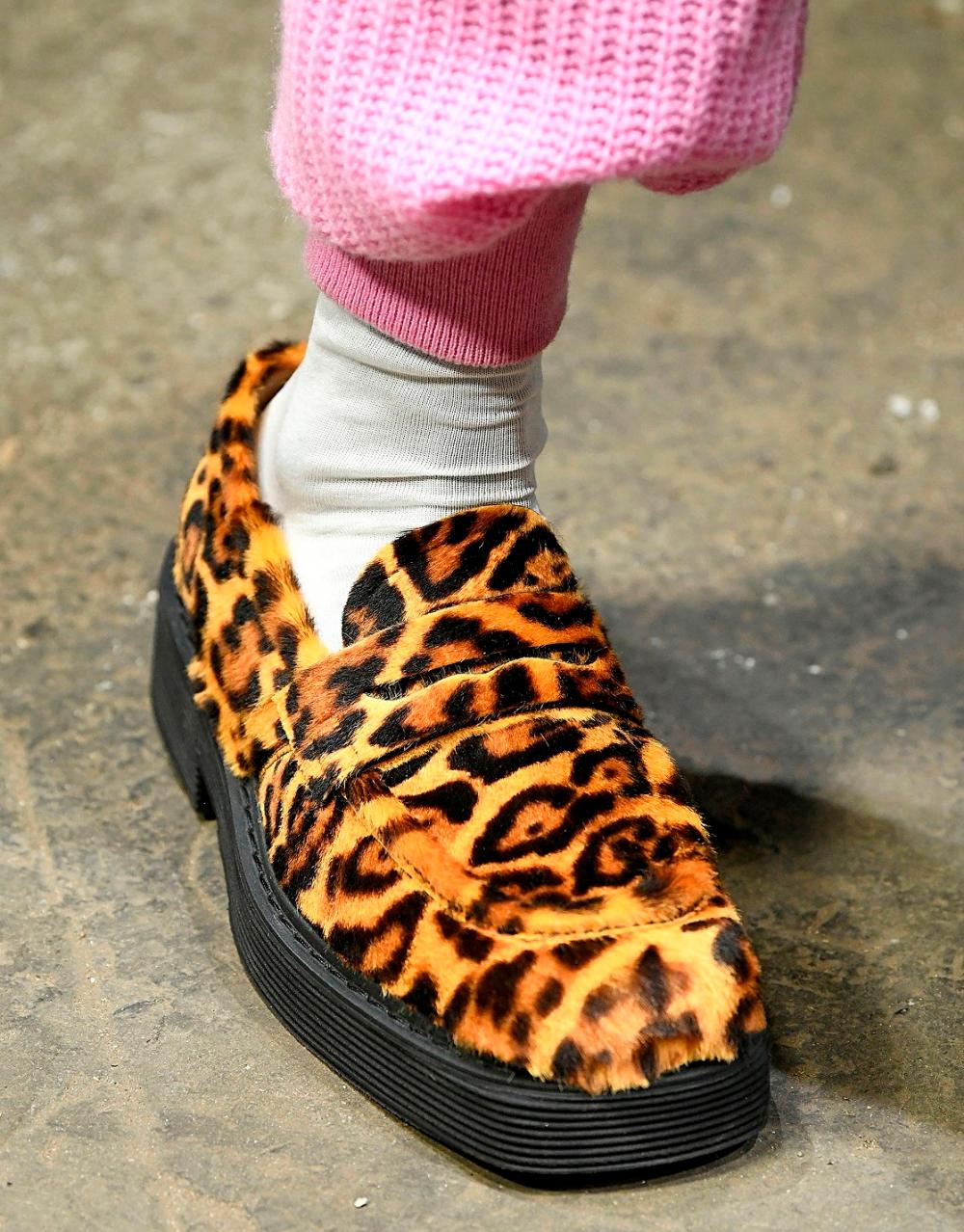 Material: gingham Decor: animal print
Construction: Square Nose Loafers
Boots
Shoes are an integral part of the men's wardrobe for the autumn-winter period. More classic and familiar models are updated thanks to the vibrant color. Of the new - the use of the opoeck light gray; a combination of materials such as patent leather and velvet, white patent leather. Metallic leather with embossed reptile, as in the women's assortment, is one of the main trends of the FW 2020/21 season.
Also, designers offer to pay attention to unusual models of massive shape due to a hidden wedge heel.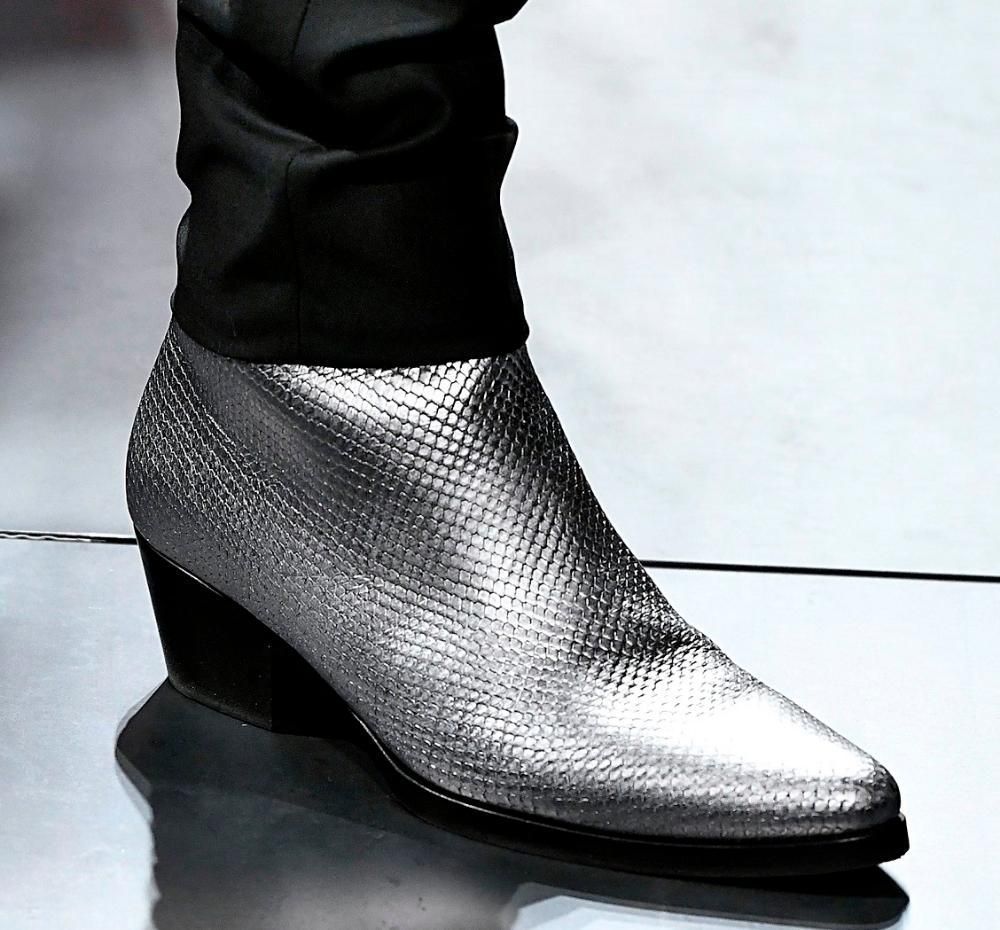 Material: reptile-embossed metallic leather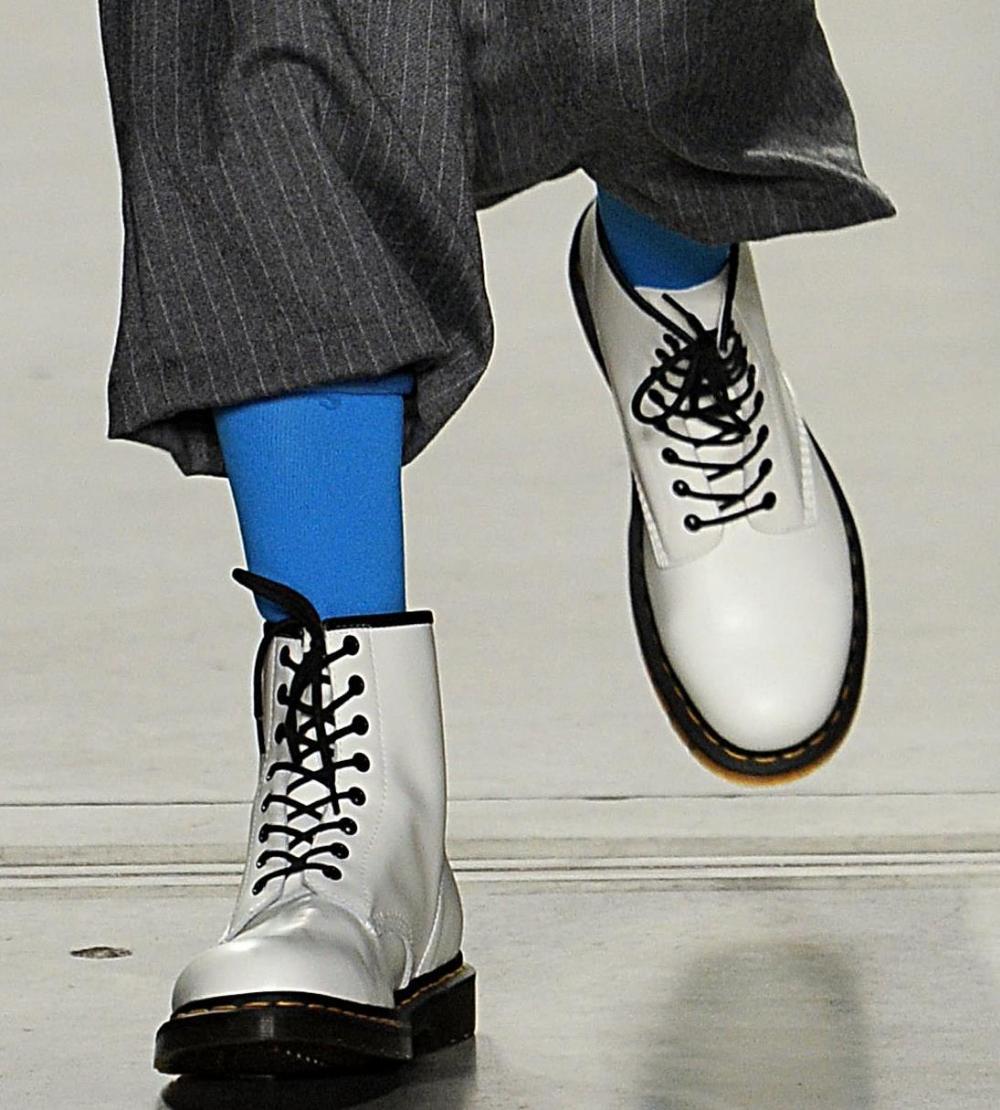 Material: Patent Leather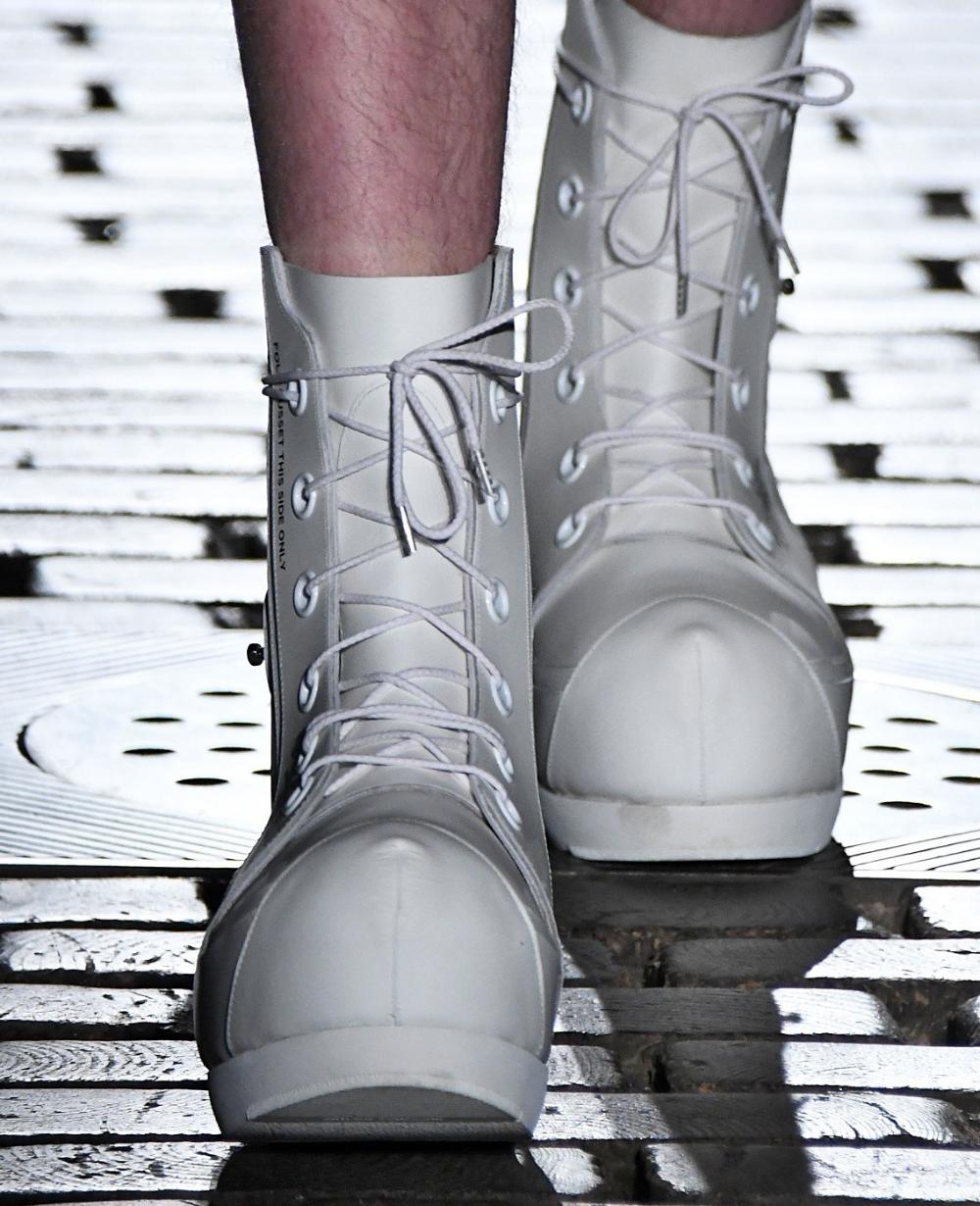 Design: massive nose due to hidden wedge heels
DOMINION - Futurism
The fashionable Dominion theme is saturated with modern technology, but avoids the cliché motifs of microsteps and plastic. Instead, the trend illustrates a postmodern image that is much more individual than in previous decades. The combination of luxury and technology creates a new image of a man's wardrobe, expressed in shoes through uniforms and futuristic surfaces, changing the classic designs of low shoes. Aesthetics of fashionable themes refers to the origins of Italian futurism, when being a rebel, modern and young was extremely popular.
The history of futurism began with a manifesto published on February 20, 1909 in the French Le Figaro. The Italian poet Filippo Tommaso Marinetti outlined the artistic principles of the flow in the document: "We announce that the magnificence of the world has been enriched by a new beauty: the beauty of speed!" He described "a formula that would reflect the new age." In poetry, this formula became vers libre - a free verse that allows you to express feelings freely and dynamically. And in painting - a completely new style, praising anarchism, cars, courage, noise and cities, the denial of the traditions of the past and contempt for women.
The color palette conveys the mood of retro futurism: a wide palette of grays - from steel to warmer; deep saturated blue and cyan shades - colors that are certainly associated with HI TECH; rich accents are saturated yellow and red.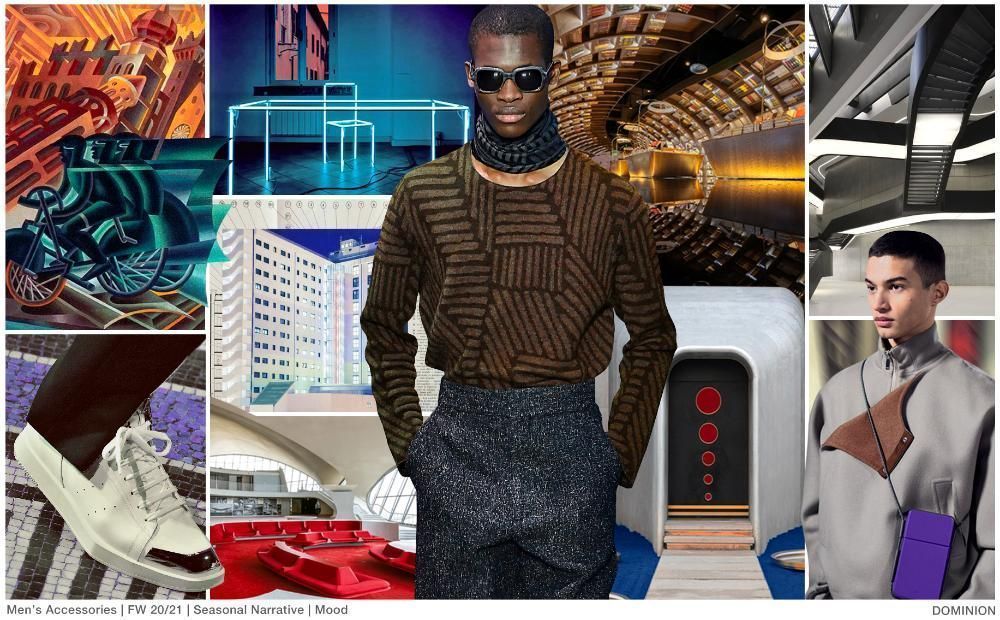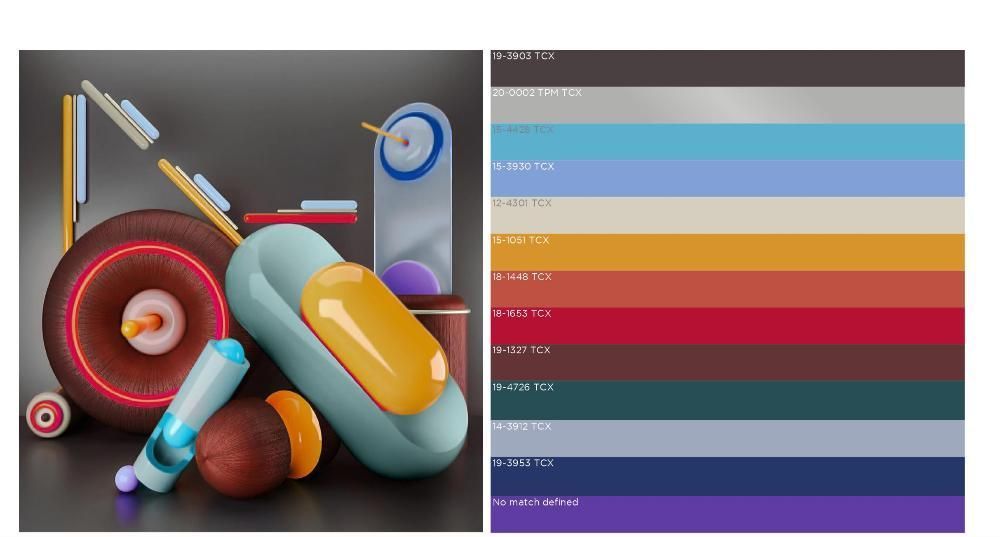 Sneakers and sneakers
In the fashionable DOMINION theme, sneakers and sneakers for the FW 2020/21 season are presented as a new reading of the classics. The usual designs of sneakers and sneakers were transformed thanks to the graphics, materials and decor. For example, classic sneakers made of fleecy material look much more interesting, and white models look more creative due to the effect of paint sprayed from a spray can. New white sneakers feature a geometric sole. For those who prefer to experiment, models with an open heel are offered.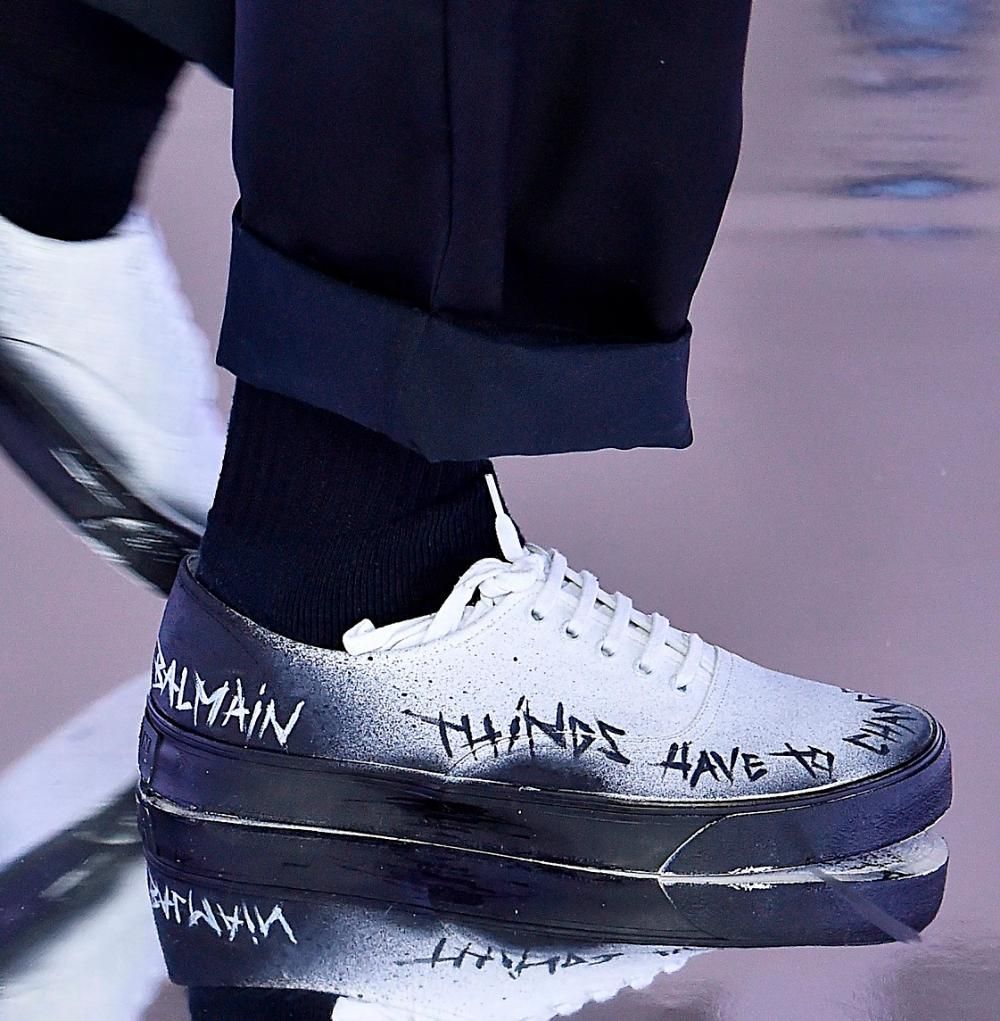 Decor: imitation of spray paint + lettering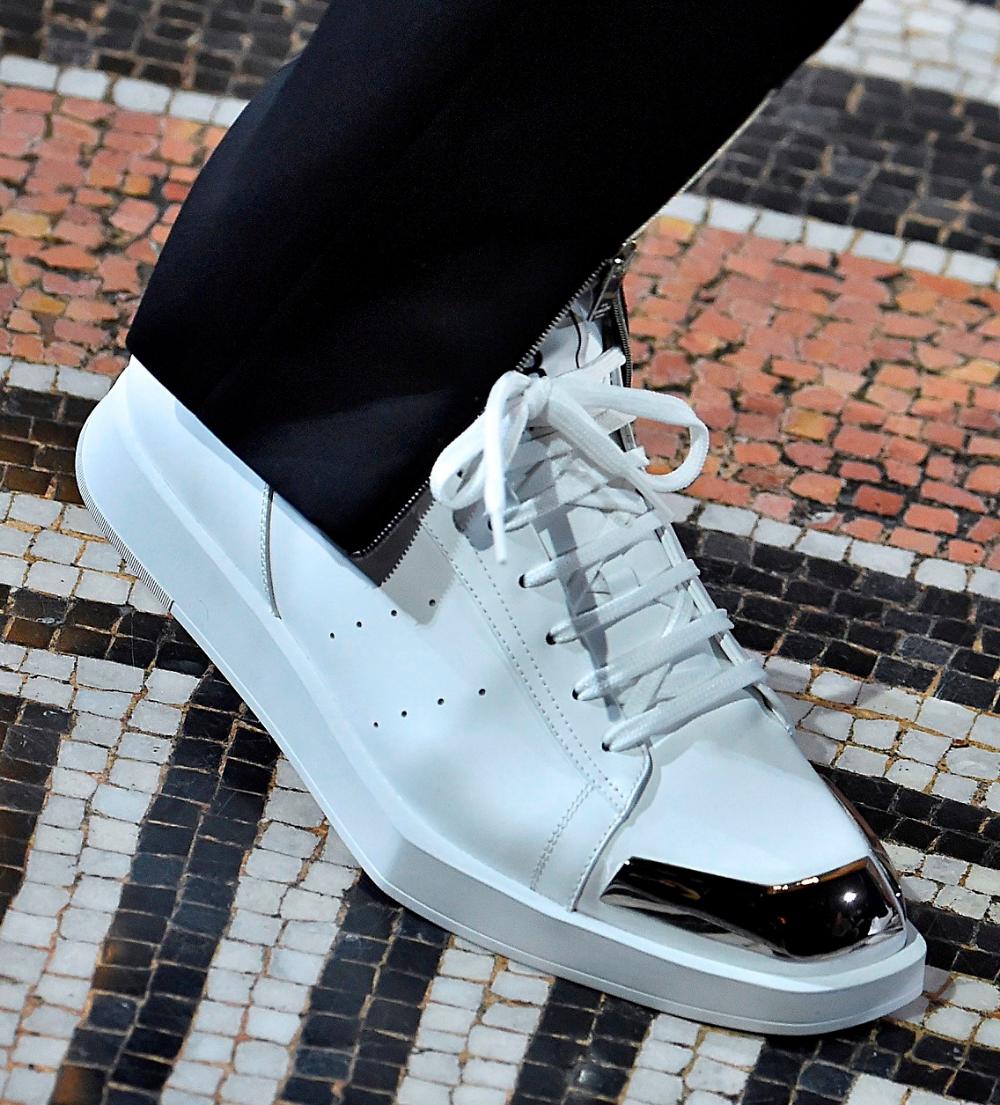 Decor: metal nose Design: geometric sole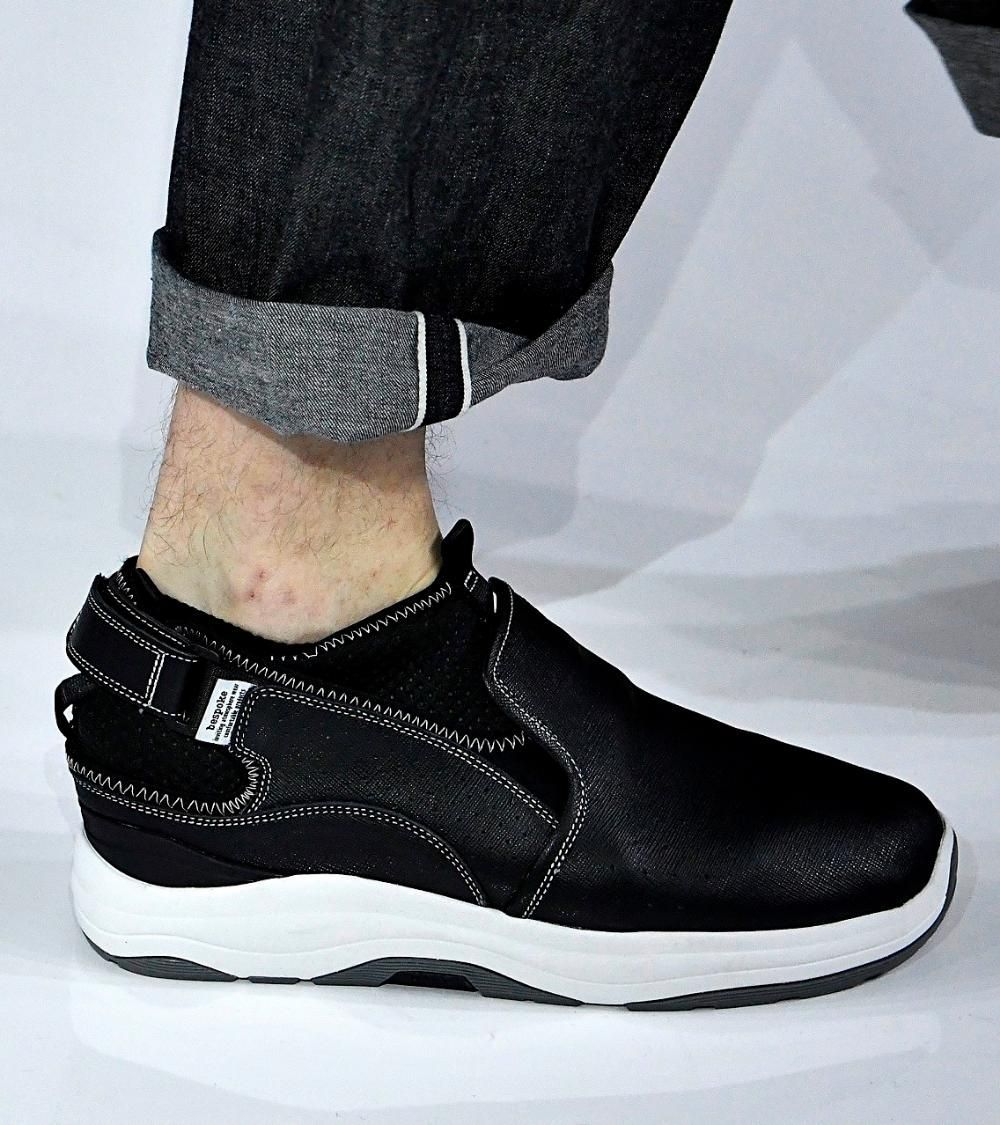 Construction: Open heel with Velcro closure
Low shoes
For the next fall-winter season, the DOMINION fashion theme offers classic models of low shoes in the form of loafers. As the main materials, we see patent leather, embossed leather, fleecy material. Classical accessories in the form of chains are redesigned by embossing and nailing. Metallic spraying over the entire surface of the model and rounded rivets also look interesting.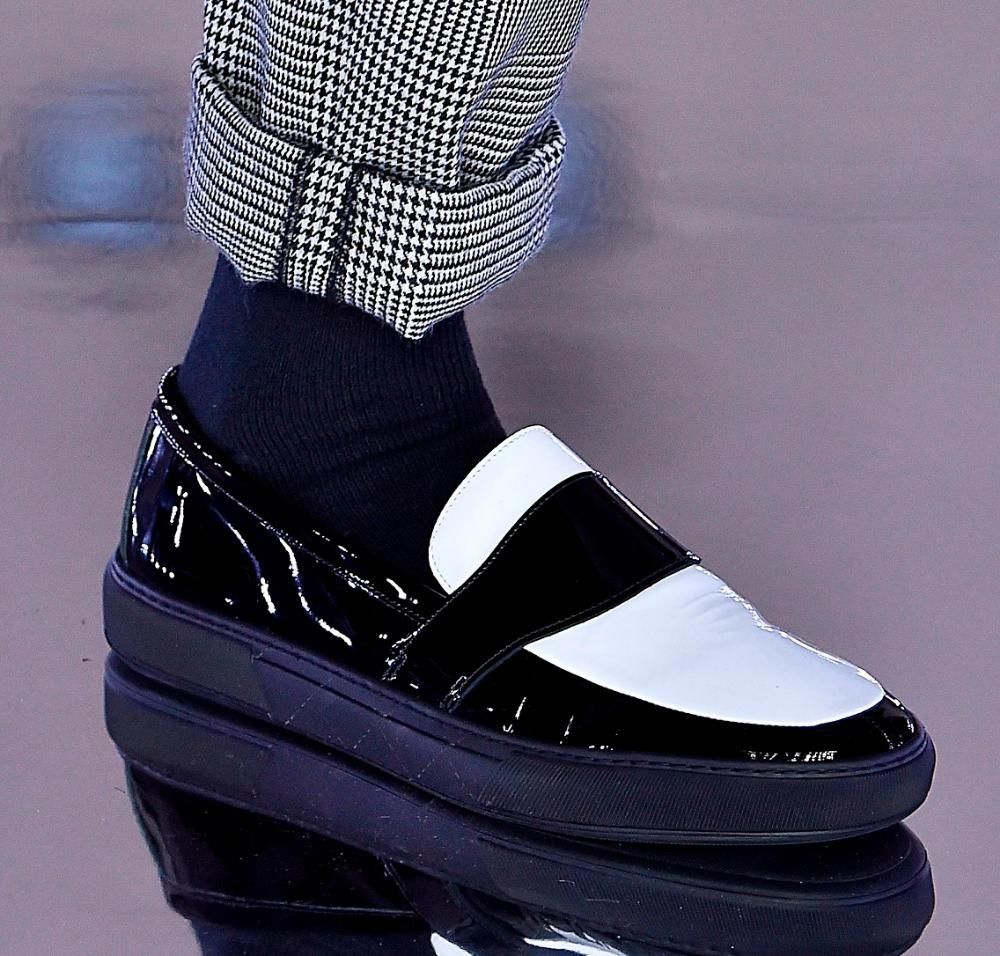 Material: reptile embossed patent leather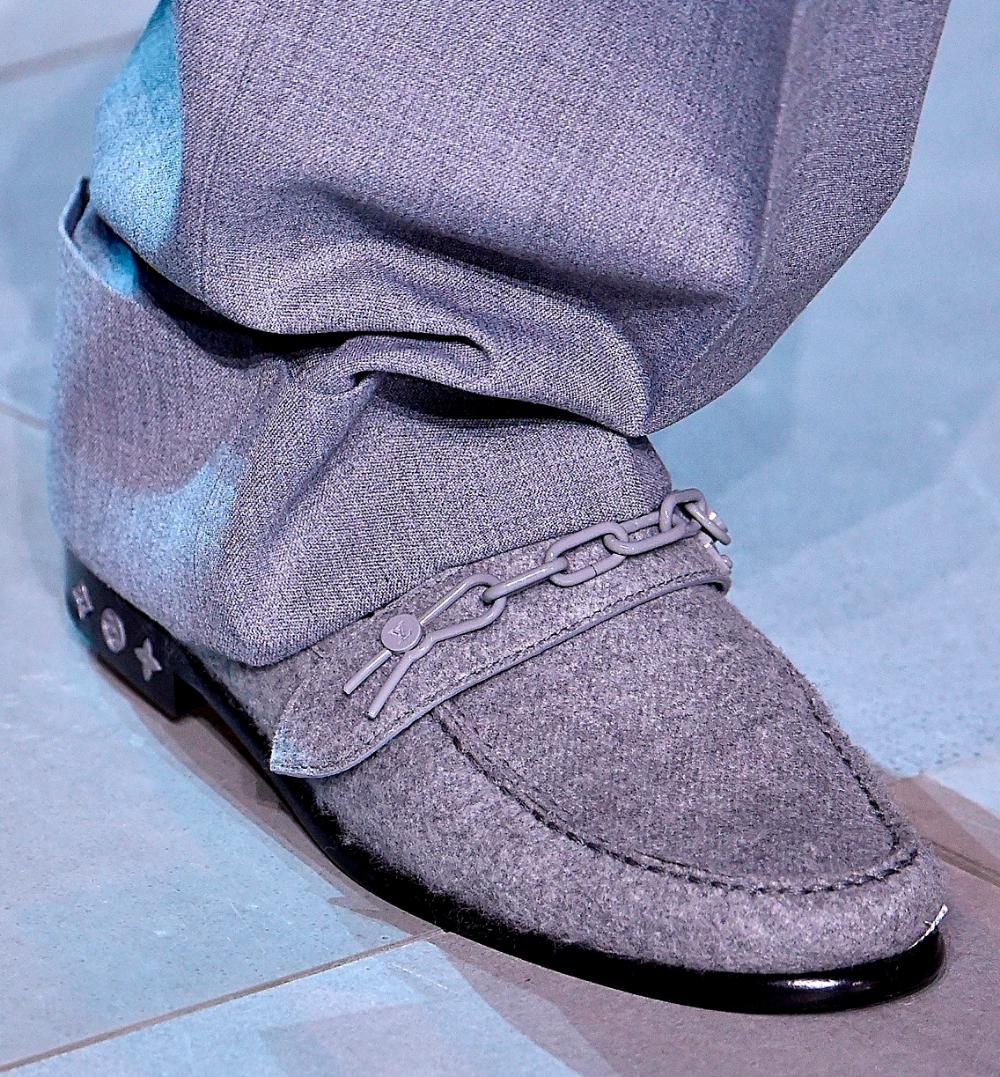 Material: fleecy Decor: Chain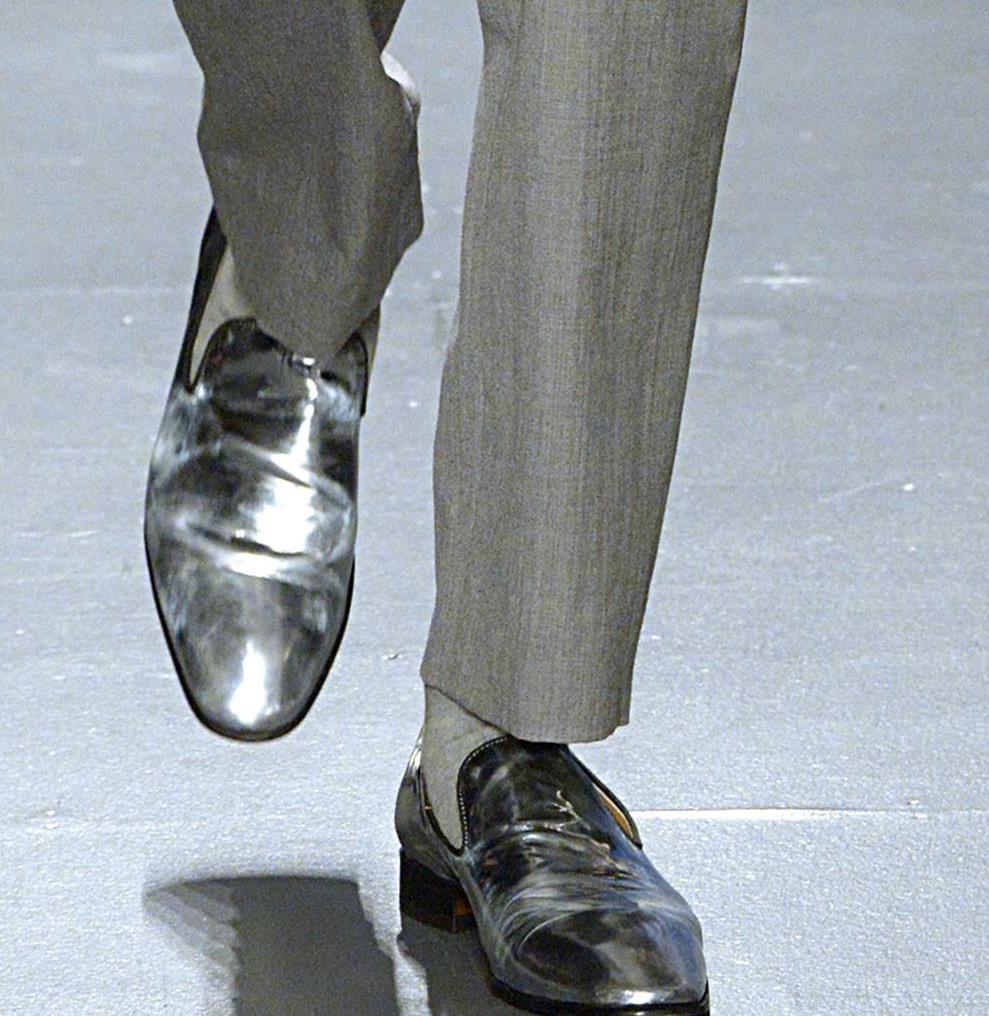 Design: loafers Decor: metallic spraying
Boots
Men's shoes in this thread can be described as comfortable and moisture-proof. The use of rubberized material is an excellent solution for rainy pores. A quilted material for covering the top of a classic model - as an unusual solution for classic boots. Leather with embossed reptile is still in trend, as well as selective use of embossing in certain parts of the boot (can be made as a logo of the manufacturer).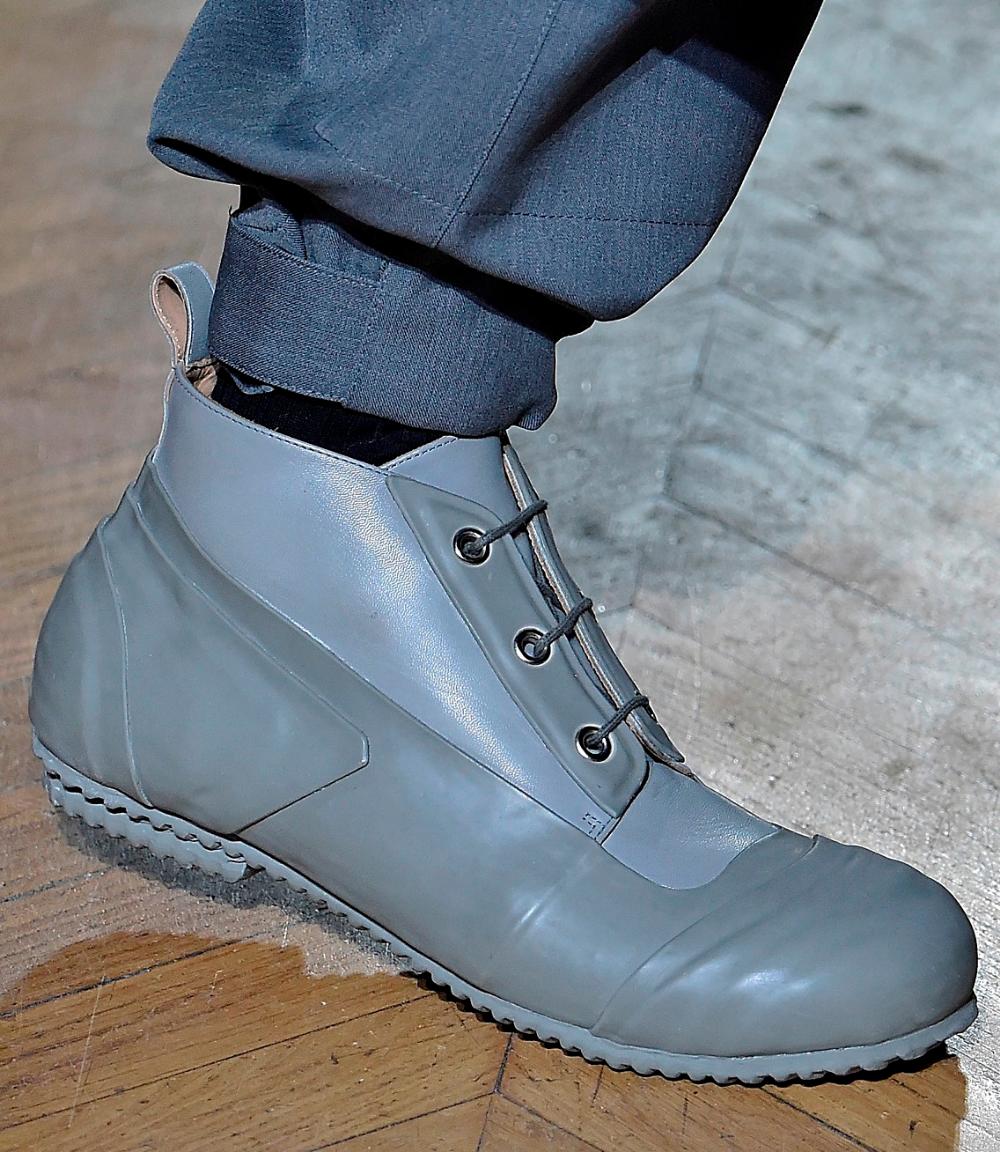 Material: rubberized material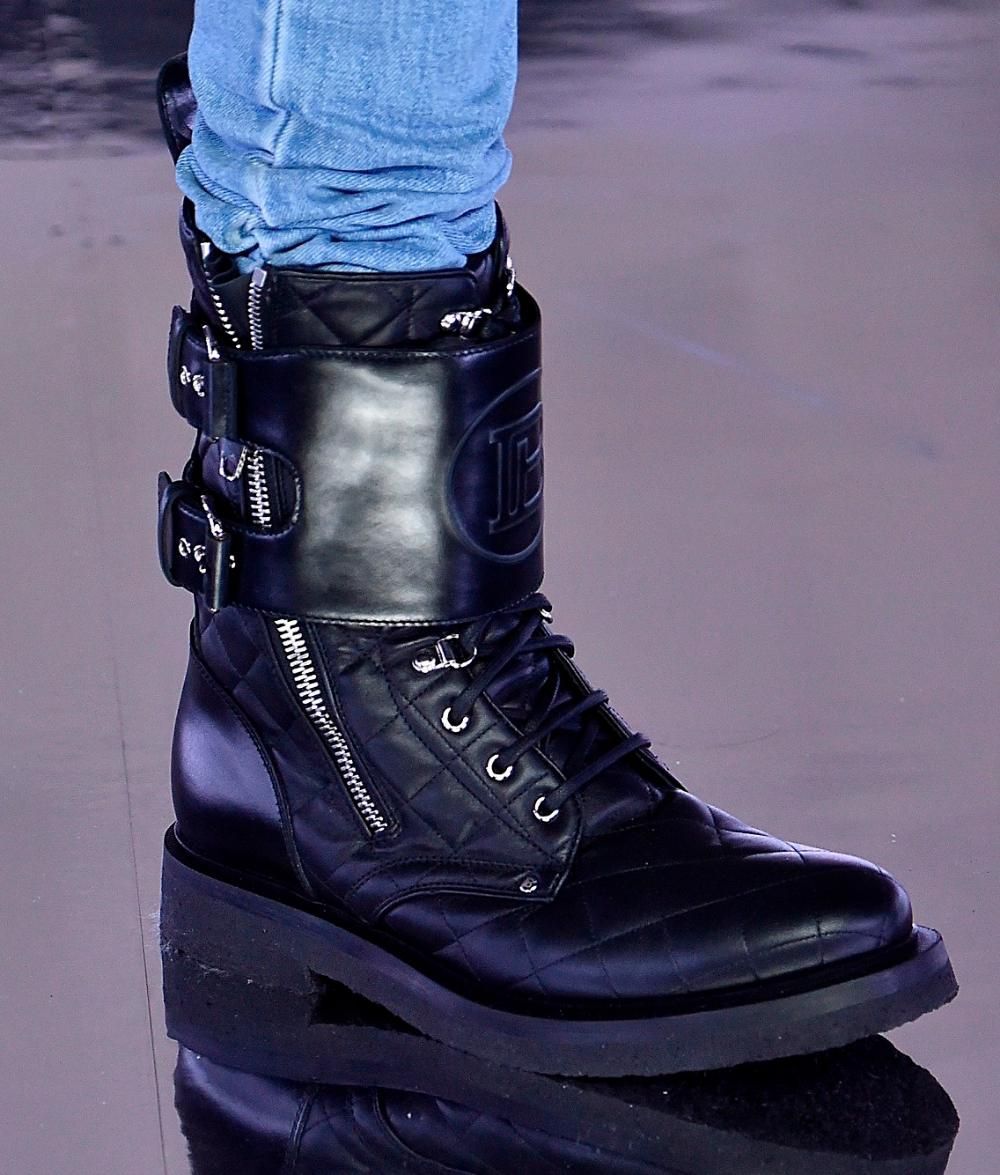 Decor: stitch and strap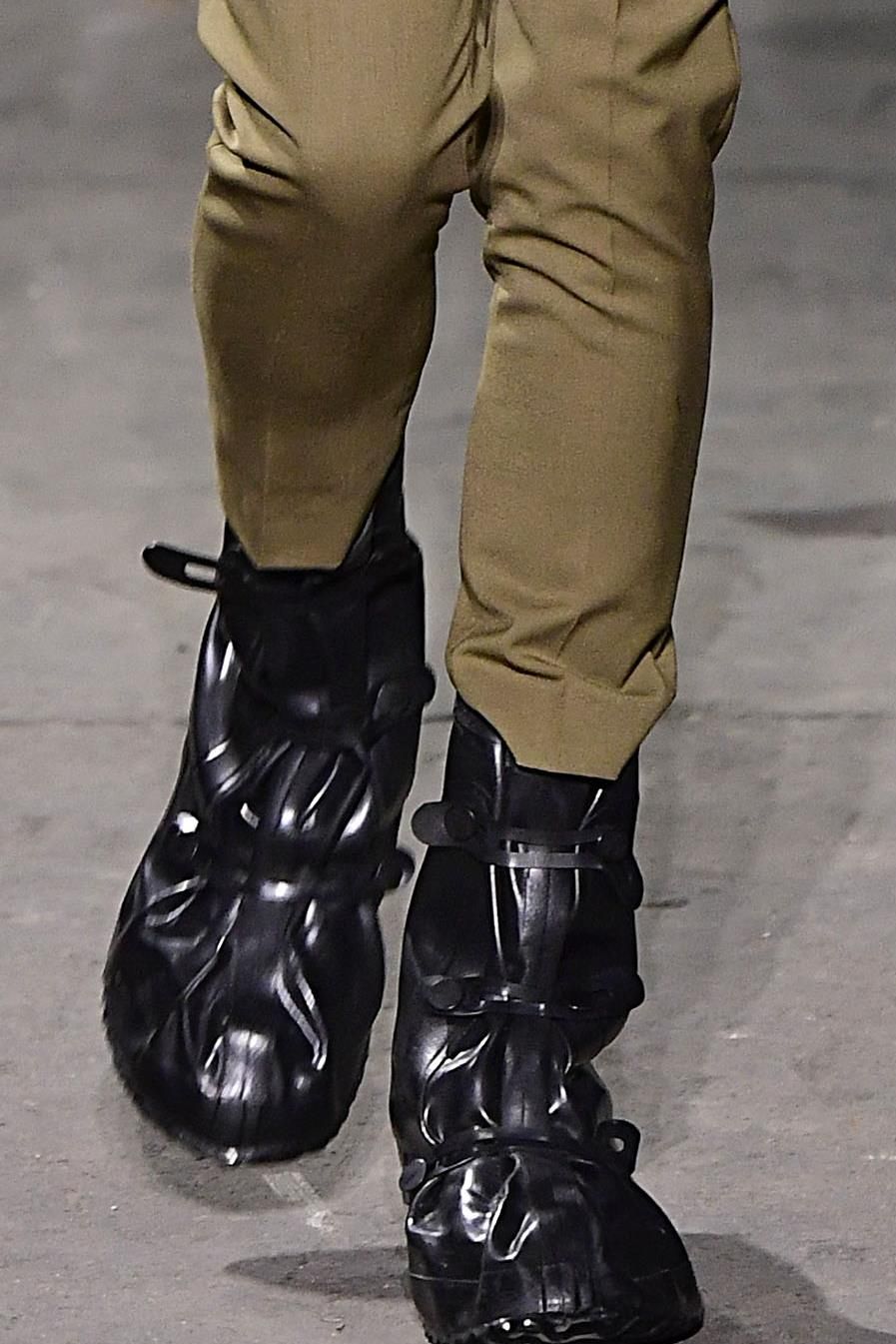 Construction: using puffs
In the previous issue, we wrote that for the FW 2020/21 season, the FASHIONSNOOPS.com trend bureau offers 3 fashionable themes for the men's shoe segment, but experts added one more to them, and as a result the next ...