The fashionable theme of the season is the image that a woman tries on herself, with whom she associates herself, and the ideal that she aspires to. We present four key topics for the future spring-summer season, which will be described by Galina Kravchenko, assortment and forecasting director of Fashion Consulting Group and representative of the online trend bureau Fashionsnoops.com.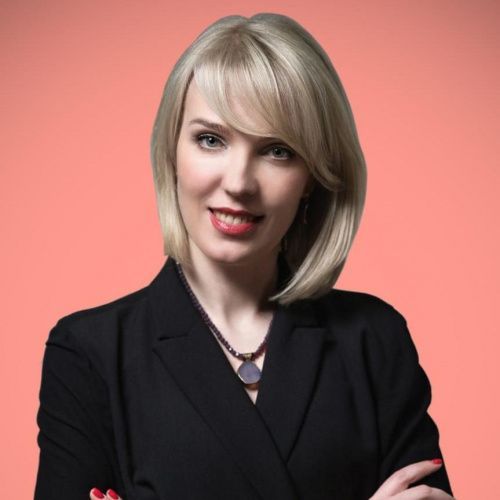 Galina Kravchenko
-
Director of the Assortment Department, Fashion Consulting Group, representative of the international online trend bureau FashionSnoops.com.
@ galina_kravchenko79, @fcgmedia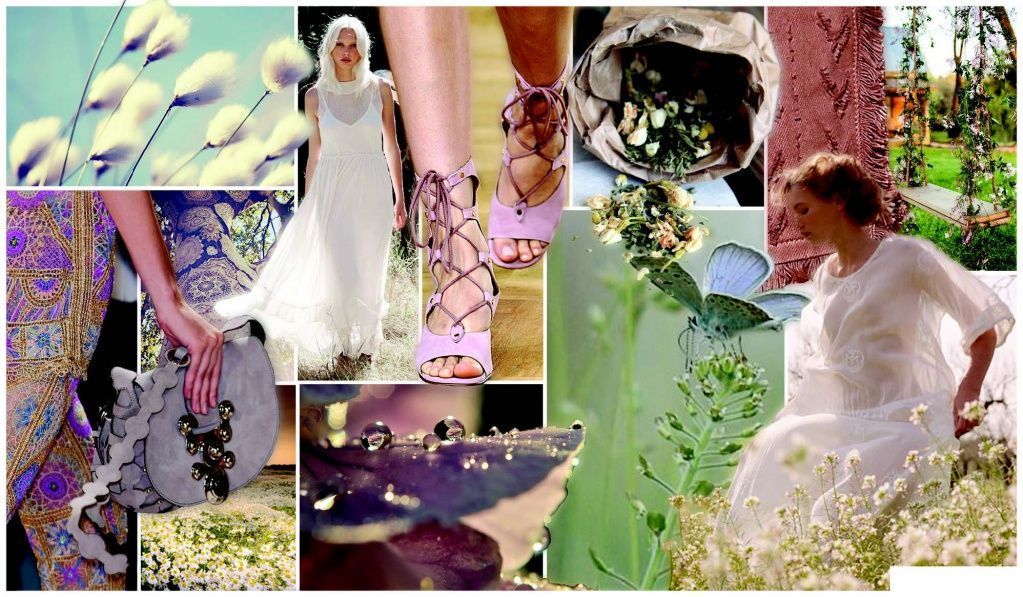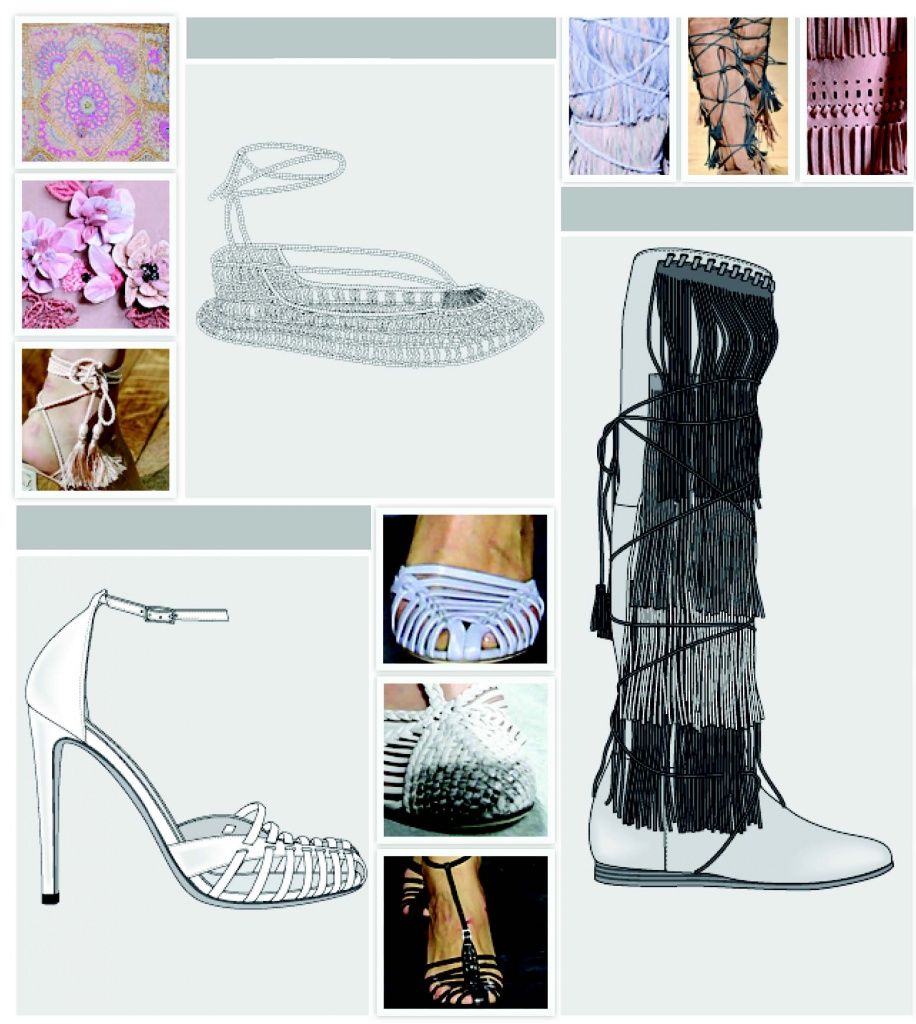 Freedom
The theme embodies the story of a bohemian girl who lives today, surrounding herself with the music of Carly Simon and Joni Mitchell. She is beautiful with her natural beauty and vitality. She captivates with her femininity and shares her attitude through her songs. Incredibly sweet and tender, this girl loves to spend lazy warm evenings, swimming in the rays of the setting sun on the shores of a quiet lake. Her character perfectly reflects a palette filled with soft muted tones of pink, lavender and blue. Accessories once again emphasize her femininity: among the materials you can find thin lace crochet, decorated with beads, delicate suede, as well as leather perforated with floral patterns. As decoration details, accents on additional hanging elements, rainbow fringe and tassels, as well as voluminous floral applications. She especially appreciates her accessories - a carved hair comb, a knitted belt decorated with a beaded collar. She wears elegant ballet flats or slippers of fine lace knitting, laced sandals, and woven high-heeled shoes, decorated with floral embroidery and voluminous appliqués.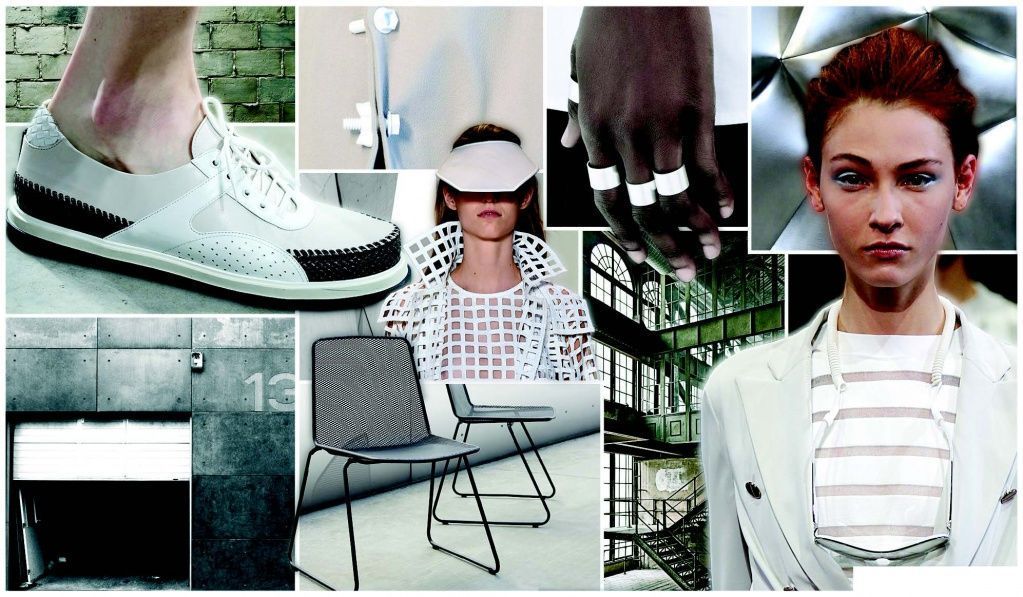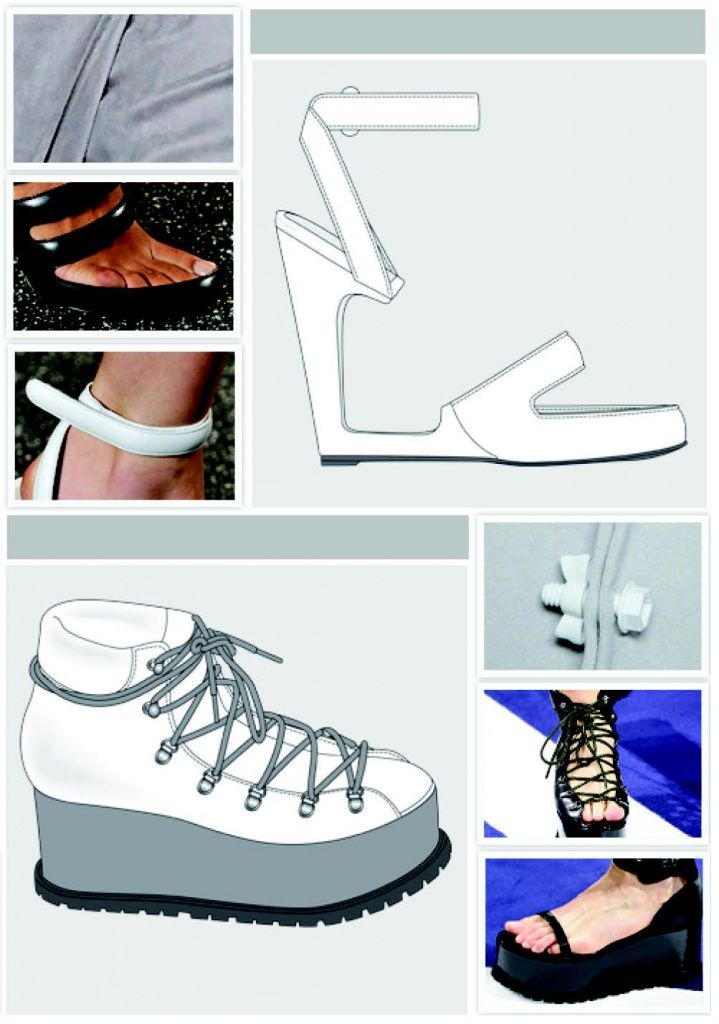 Dominated by the metropolis
This woman is absorbed in modern urban life, which is filled with bustle and is surrounded by the complex architecture of a modern metropolis. She leads an urban lifestyle - rhythmic and fleeting. Her workspace is an industrial loft set up on the site of a former factory. Most of all she is inspired by the atmosphere of this place, the shape and character of the factory windows through which she looks into the sunlight. Her style combines architectural and geometric shapes and materials. She is an absolute connoisseur of functional style and an active lifestyle. The black and white color palette combines muted tones with accents of olive and indigo. Among the materials, the most characteristic are synthetic mesh, nylon, various types of leather: calfleather, patent leather, perforated. In detail, it is important to note functional and decorative tags and loops, metal ends on laces and various types of decorative lacing and weaving. Shoes are the epitome of comfort and should be versatile. As a rule, these are flat-soled models: sandals with a thong strap, lace-up sandals with large embossed soles, various sneakers. There are also models raised on a high flat platform. We should also mention the model - a hybrid of sandals with heels and sneakers, combining the characteristic rise of a sandal and a flat platform of sneakers. Shoes are distinguished by various types of lacing, as well as functional straps.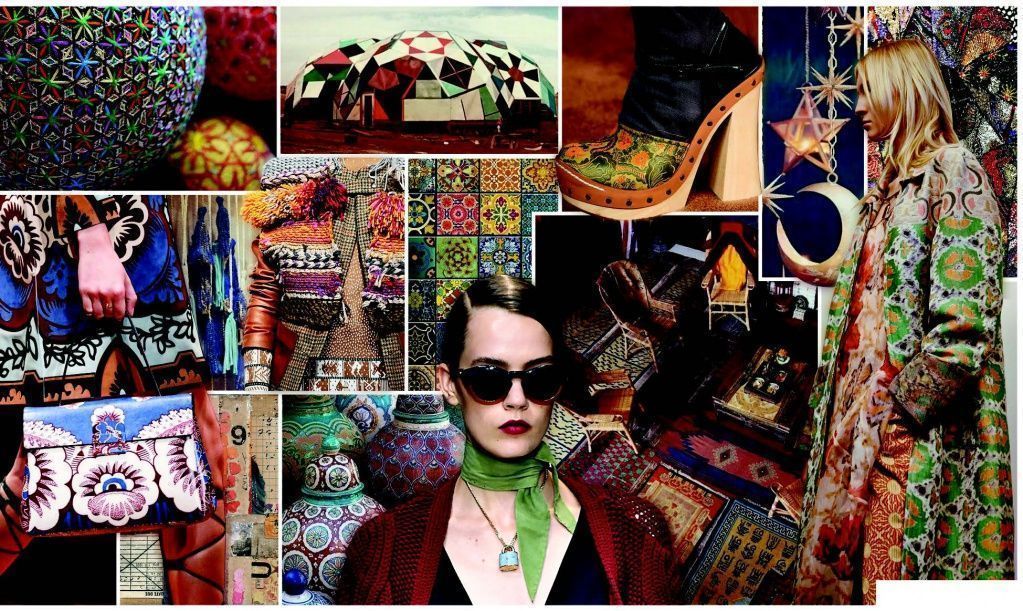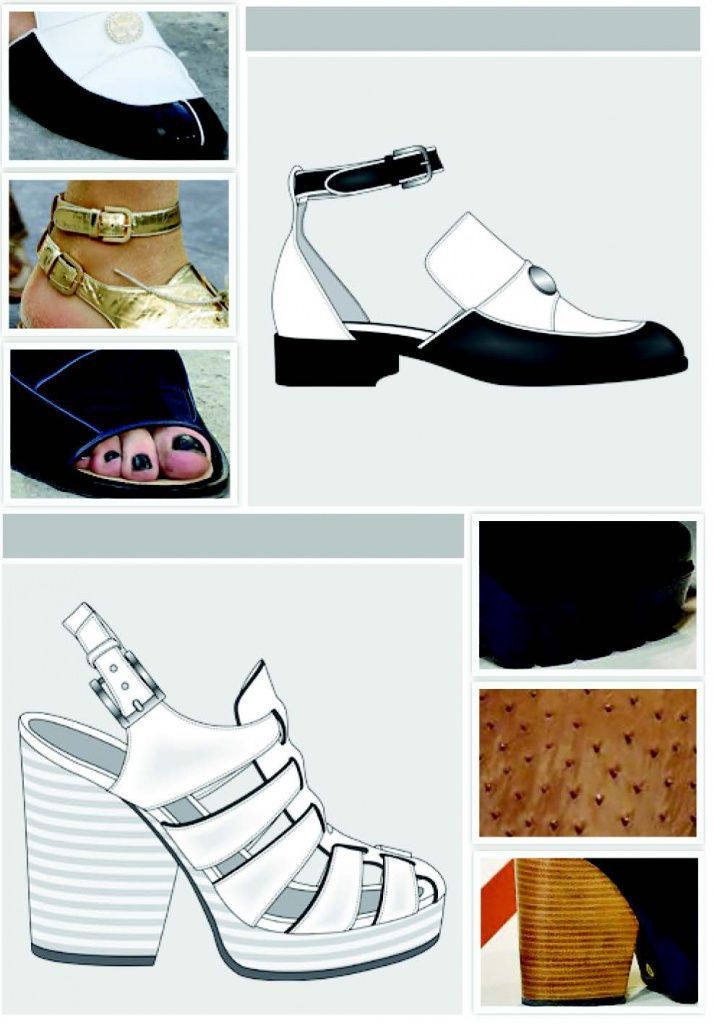 Traveler
This is the story of a girl who travels a lot around the world, exploring various national crafts and artistic features, studying and collecting bit by bit an extensive knowledge of the world culture of different nations. She travels in search of inspiration, not only in order to enjoy the views, but in order to learn something new and special about the structure of the world. The "Traveler" immerses herself in the culture of another people and especially appreciates her meetings with local artisans and craftsmen , because it gives her the opportunity to see and appreciate the little-known and saturated with local culture creativity. When she returns home, she brings with her not only souvenirs, but a large pile of stories about people she met on her journey. Her style is a bold mixture of ethnic elements with products of modern Art Nouveau or Chinese style, in which there are woven tapestry materials, various knitted techniques, patchwork and hand made elements. She moves a lot, so her shoes are characterized by functionality and comfort. The products are characterized by straps and fastenings on the heel, whether it be sandals (flat or woven on the heel) or the summer version of open loafers with lacing around the ankles. As for models with a lift, they are distinguished, first of all, by a wide steady heel, for example, Mary Jane shoes, ankle boots or clogs.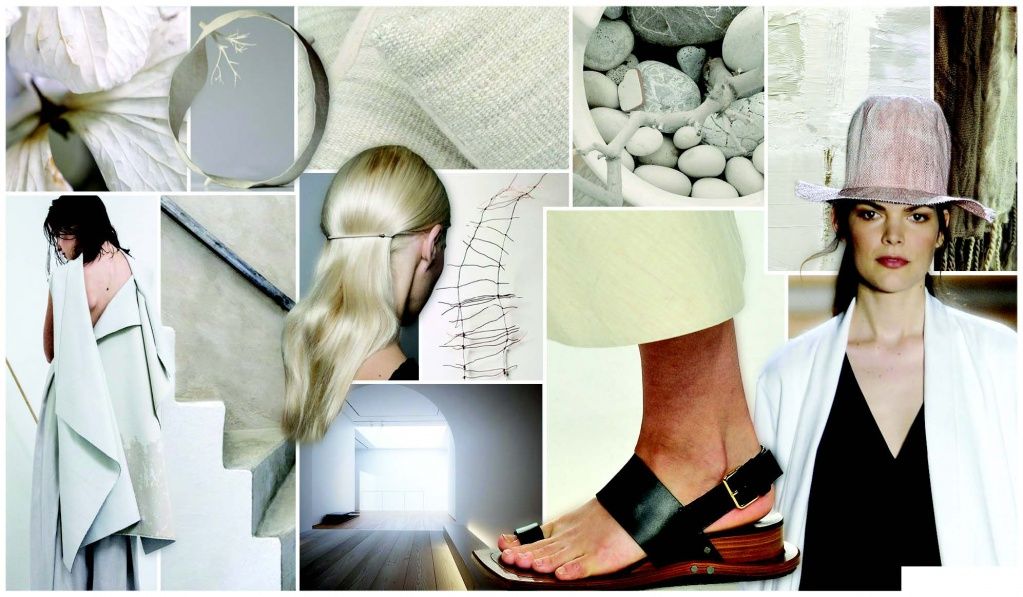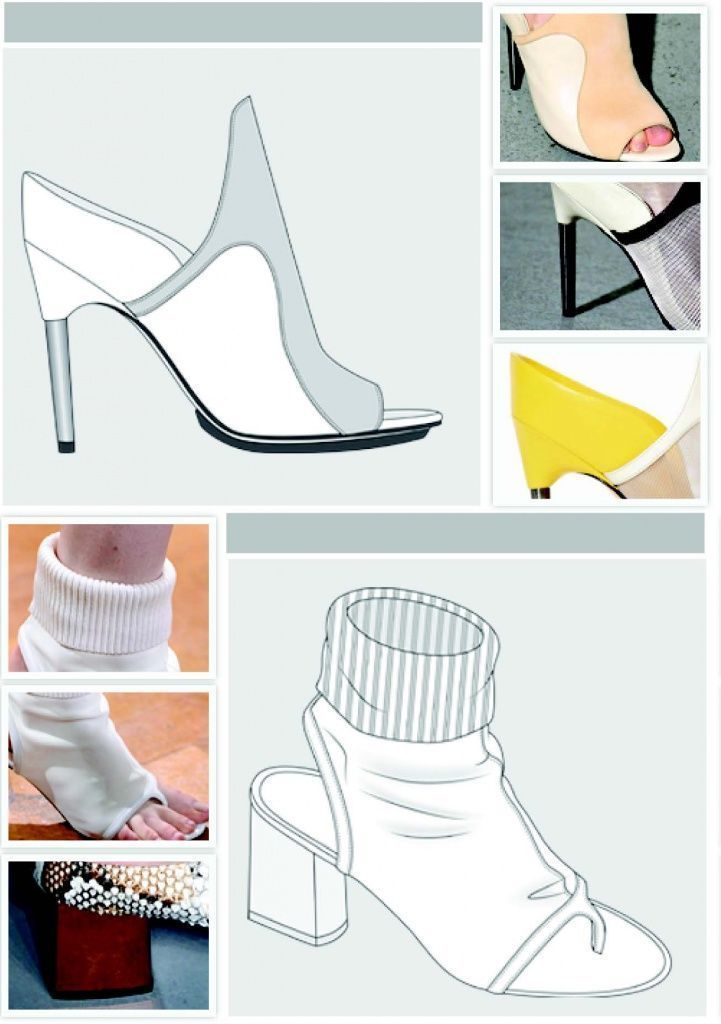 Meditation
The theme draws the image of a girl who lives in peace and harmony with herself and the world around her. Her life is full of fuss and everyday problems, but she knows how to pause in time, abstract from what is happening around and devote time only to herself and restore her peace of mind. She practices yoga and visits the spa, her journey deep into herself is an escape from the hustle and bustle to a beautiful world of calm and harmony. The images of deserted beaches and foggy lagoons remote from the bustle of the city inspire the color palette of natural, natural sand tones, such as pale pink powder, dusty light gray, blurry cream-sand, lavender and charcoal gray. As decoration details you can find rough rough edges, handmade elements, for example, decorative knots and satin stitch embroidery. Shoe models also emphasize the emphasis on comfort and convenience. In the wardrobe of the girl personifying this theme, one can find various models of flat sandals, slippers and ballet shoes made of elastic material or with the use of elastic inserts. In heeled models, there are mules, sandals with lacing around the ankles, and even a model with a soft textile boot that resembles a sock. The shoe trim details are functional and focused on comfort: extra insoles, double soles, elastic trim. Download PDF
The fashionable theme of the season is the image that a woman tries on herself, with which she associates herself, and the ideal to which ...