Calm beige, shining purple, blood red, energizing orange, clear blue, menthol, indigo, algae color and a sophisticated green-gray color ... This is the color scheme for the clothing and shoe collections in 2017-2019. The international trend bureau FASHIONSNOOPS.COM presents a long-term forecast of TOP-10 key colors for the next three seasons: fall-winter 2017 / 18, spring-summer 2018 and fall-winter 2018 / 19.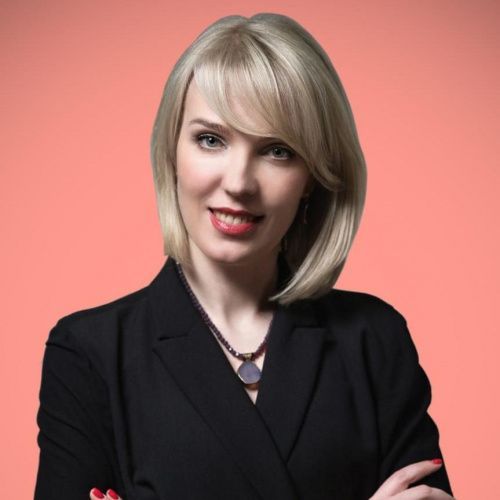 Galina Kravchenko
-
independent trend expert. Specializes in the development of commercial collections of clothing and footwear, assortment management in retail chains and wholesale companies. Introduces international experience in fashion product development into the practice of Russian companies. Successful consulting and training projects were implemented for companies in the Clothing and Footwear segments, including: Unichel, Econika, SALAMANDER, Kotofey, Lamoda, Otto Group, Gretta (ELEGANZZA retail chain), Leo Ventoni , Luxottica, Gloria Jeans, Holding Center, Oodji (ALMEO GROUP, Kazakhstan), Sportmaster, Shop&Show TV channel, 1001 DRESS, Sela, Wild Orchid, Conte and others. Author and presenter of a series of training workshops and a course of lectures on assortment management and fashion trends. He has numerous publications in b2b publications: Shoes Report, PROfashion, FashionUnited, Fashion Magazin, General Director, etc.
Refined beige

Parchment is a natural gray-beige shade (translated from English - "parchment"). This sophisticated and light color resembles such natural materials as cotton, wool, linen. The consumer associates it with organic products, which he appreciates and considers extra-quality. Also, this color is in tune with the modern theme of eco-responsibility of society in general and sustainable-fashion (eco-responsible fashion) in particular.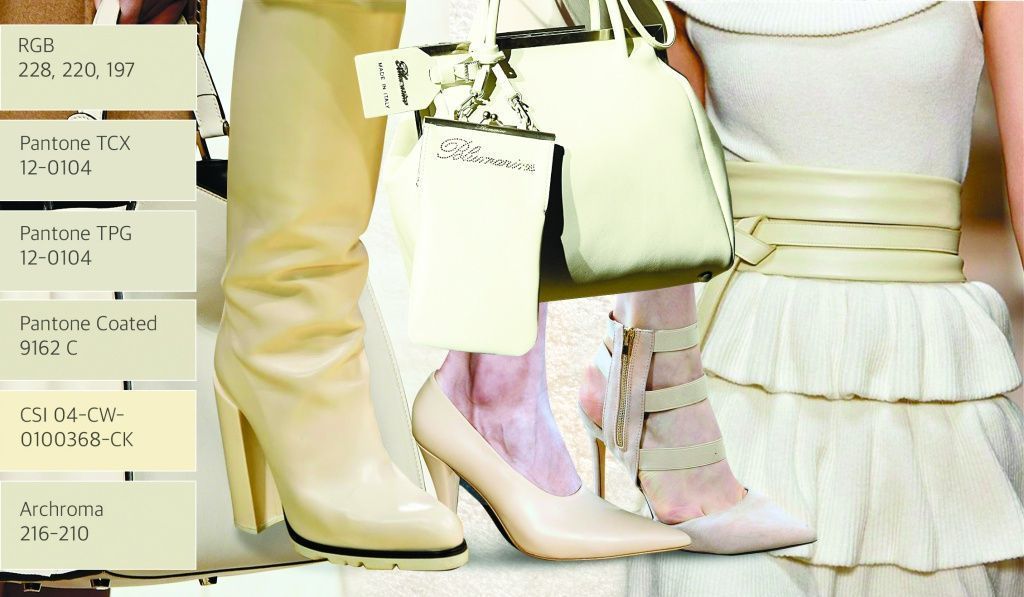 Emotional violet

The emotional color VIRTUAL ("virtual") reminds us of the radiant purple color that is associated with the seventh Sahasrara chakra. It helps to be in a constant active search for resources for a happy life and optimism, to strive to get rid of unnecessary informational garbage, to reach a whole new level of consciousness and to be in harmony with oneself and the world.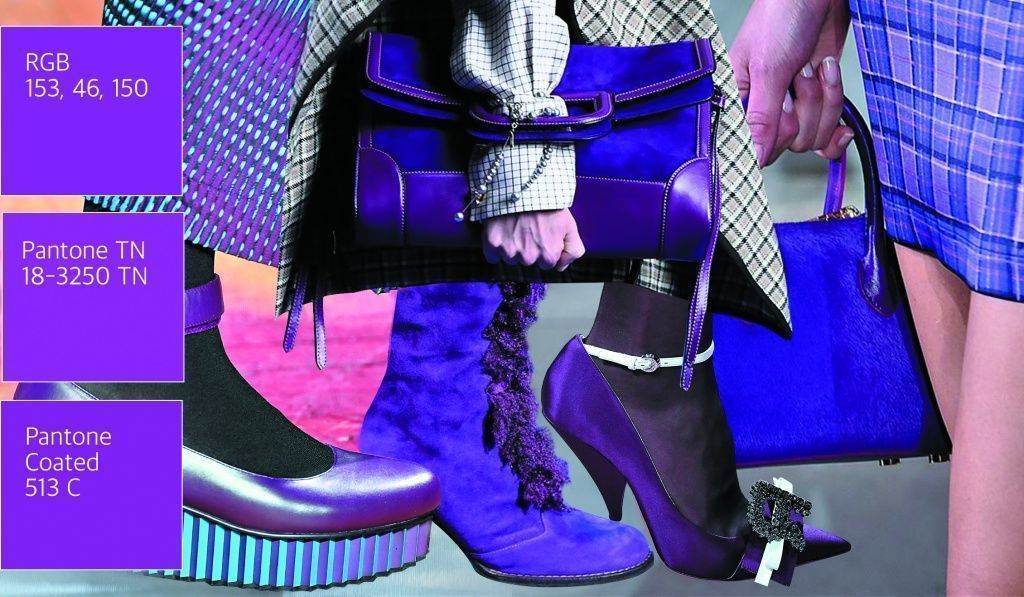 Sensual red

The burning red color of Dichotomy ("dichotomy", "bifurcation") seems to challenge us and shout that the world needs female energy and qualities such as compassion, love, intuition, sensuality and gentleness.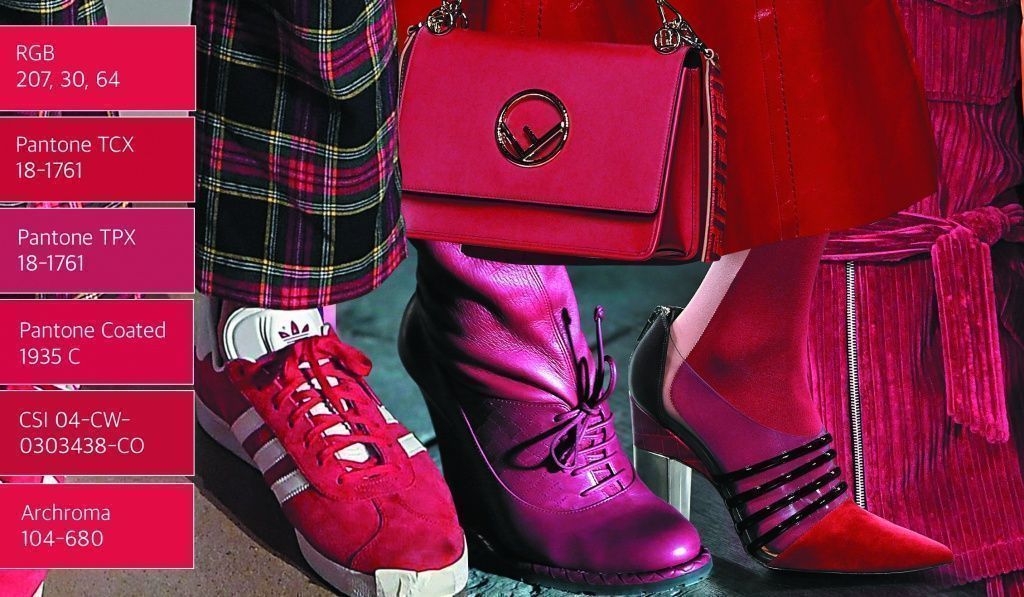 Deep red

The deep saturated color of venous blood ID is dedicated to the subject "I". The color ID tells us that we are all "of the same blood", and this is the "red thread" that connects all people. Discovering a personality in himself, each person shows the world his own "I", his ID. If we are ready to be ourselves and develop, improve ourselves, then we can influence the world around us and change it.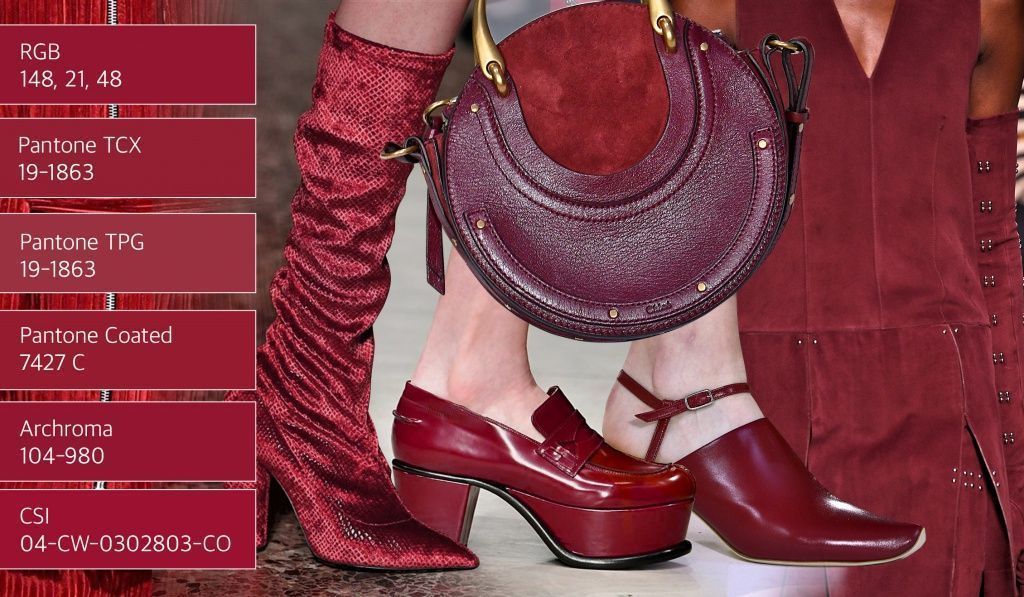 Positive orange
The energetic and cheerful color of red color WOKE ("awakening") conveys well the active spirit of a modern person, his desire to act, break down barriers and influence the current situation, participate in the discussion and solution of significant issues of world significance or his country and create a successful future. All these goals and actions are shown through a positive caramel-red color, similar to the pure color of genuine leather.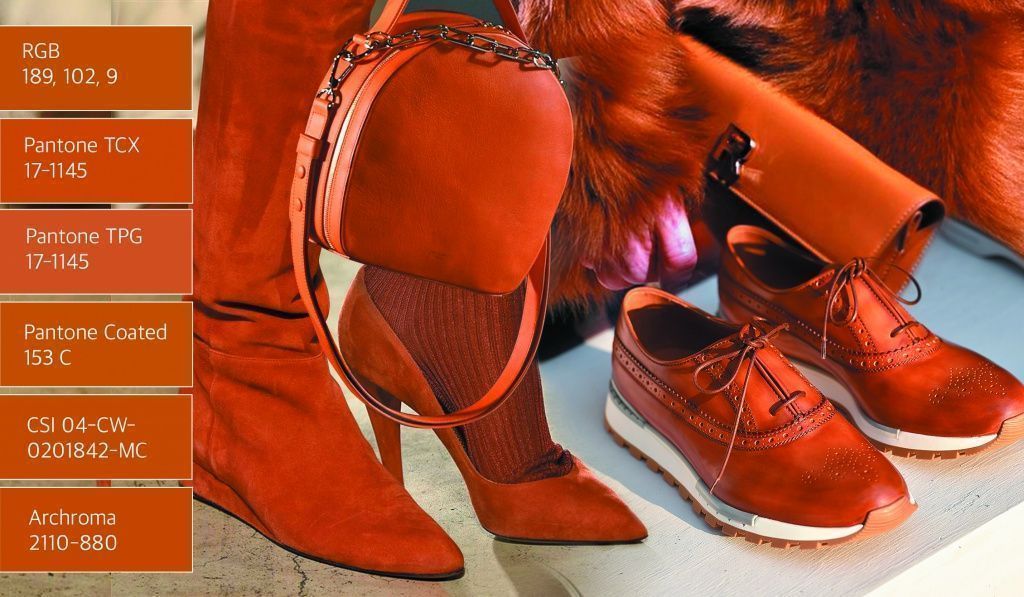 Transparent sky blue

The transparent blue color LAB ("laboratory") is a color showing a new reality in which the "transparent", imperceptible boundaries between man and machines, as well as true and false information. Cold and strict, as if the invisible color of LAB is our new reality, where we ourselves set the boundaries and frames, form a clean and robust view of the information, cutting off everything that is superfluous and false. Or vice versa, we are erasing borders and merging with technology. Already created: a prosthesis controlled by the power of thought, "electronic leather" e-leather, which turned the human body into a display.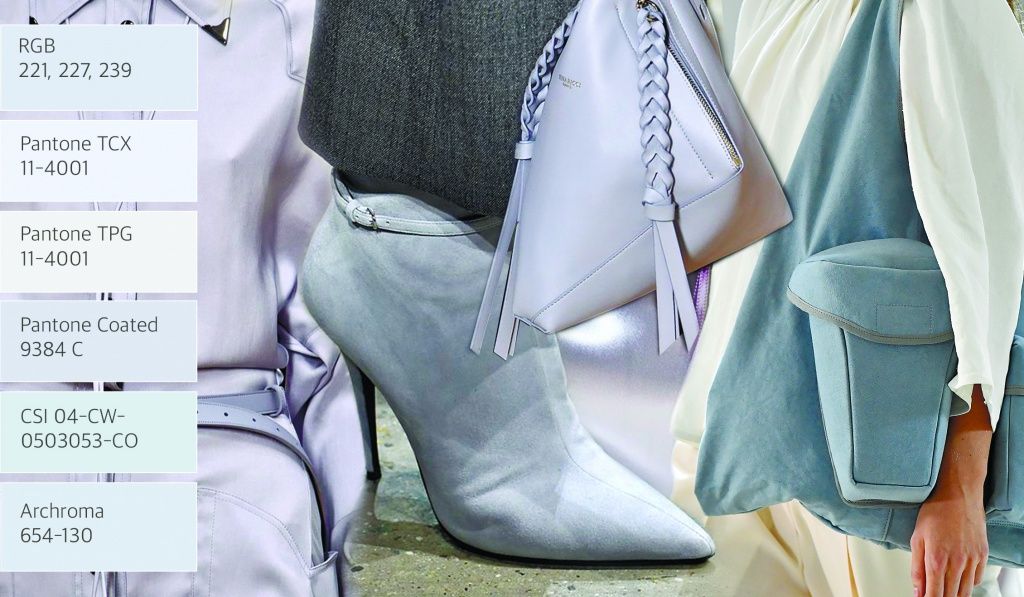 Mint green

TECH menthol color demonstrates the "fake" nature of our modern society. Due to progressive innovations that affect our lives, sometimes, we seriously start to doubt reality and cannot distinguish the virtual world from the real, natural naturalness from synthetics. TECH color combines the green hue as the natural spirit of cold countries and the Arctic, the technological blue and the menthol hue, which just reflects the "fake", because the real mint is green, and the fashion industry calls the mint shade of blue.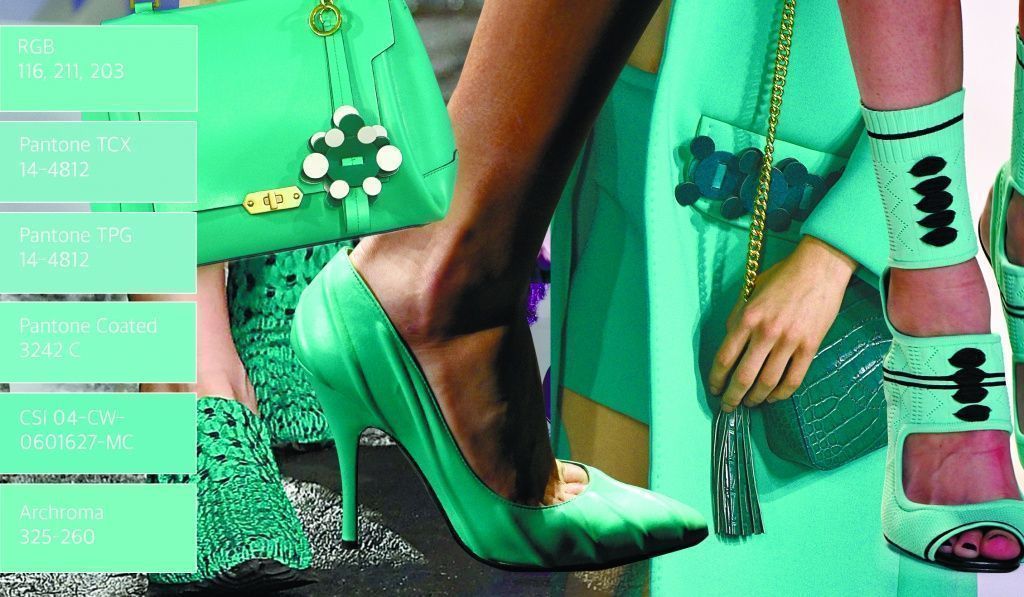 Deep indigo

The macro color KNOWING ("cognition") is a deep shade of indigo that conveys trust, calmness and prudence. It is about the connection of our generation with the generations of our ancestors. We must create something new, not forgetting their knowledge and experience. KNOWING is the new indigo color. A color linking generations, showing the wisdom of the past and its experience for the future.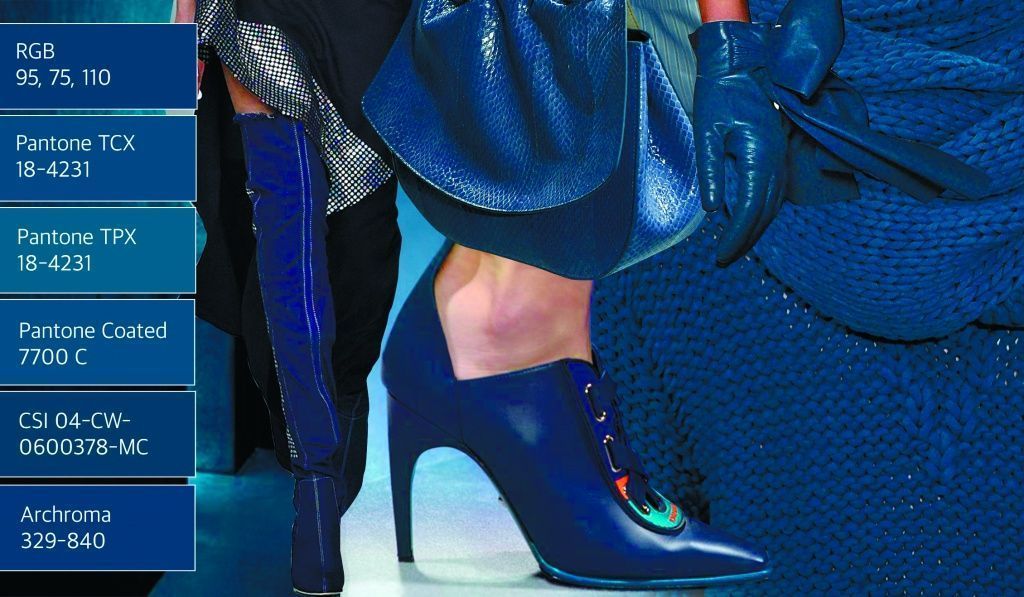 Soft shade of algae

The soft shade of young green ALGAE (algae) is dedicated to the conservation and protection of our planet, and the creation of a safe environment. Man and nature are a single organism, which means that our future directly depends on how we relate to nature today. A warm shade of green indicates harmony and balance between the world of technology and wildlife.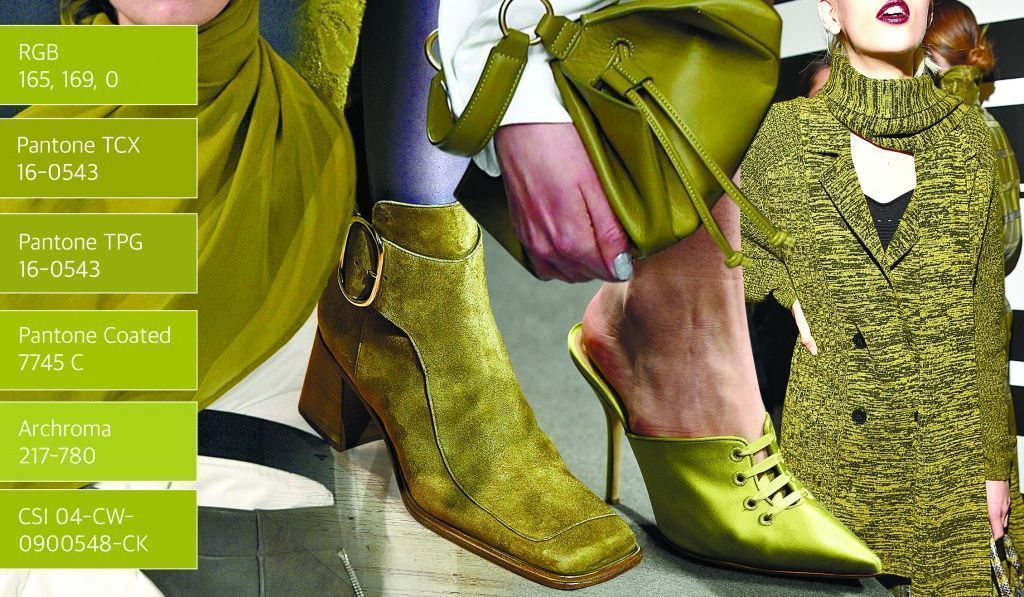 Dark gray green

The Catalyst color is a complex dark color that mixes the darker shades of gray and green. It symbolizes the transition from the old to the new, the displacement of outdated rules and the rethinking of existing dogmas.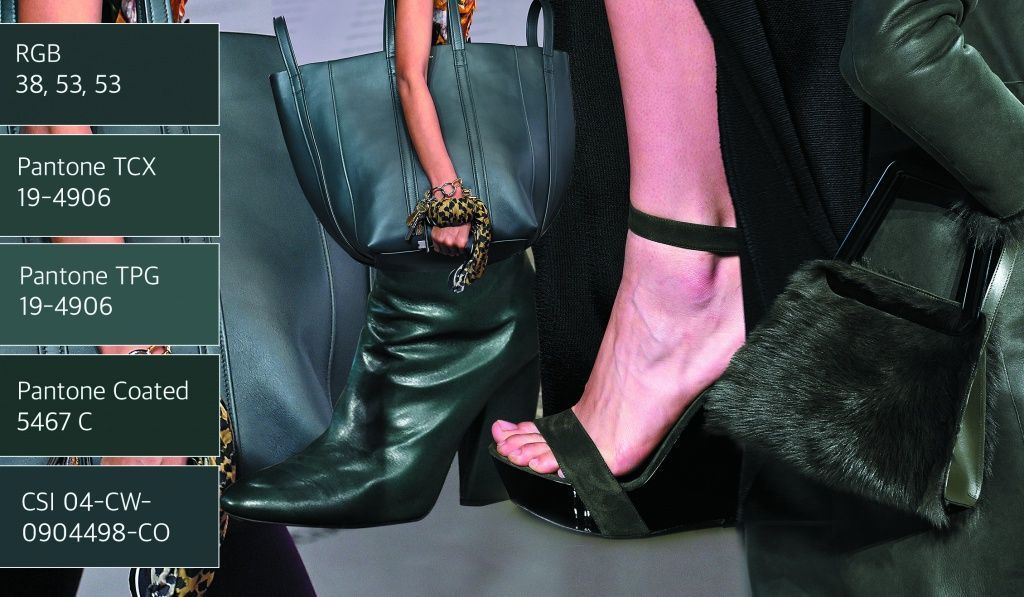 This article was published in the 148 issue of the print version of the magazine.
Calm beige, shining violet, blood red, energizing orange, transparent blue, menthol, indigo, algae and complex green-gray ...